Commentary
Rookie Watch: Week 12
Originally Published:
December 1, 2009
By
Jeremy Green
| Scouts Inc.
Kenny Britt's game-winning touchdown catch not only gave the Tennessee Titans their fifth straight win but also vaulted the WR into the latest Rookie Watch.
Preseason
|
Week 1
|
2
|
3
|
4
|
5
|
6
|
7
|
8
|
9
|
10
|
11
Rookie Watch
Ranking
Player, position (draft position)
Status
Last week

1.

Percy Harvin, Vikings WR (first round, No. 22)
He led all Vikings receivers this past Sunday with six receptions for 101 yards. It was the first 100-yard game he has posted this season. He has developed into a complete receiver in the passing game and is showing the ability to make plays downfield in traffic.
1

2.

Brian Cushing, Texans OLB (first round, No. 15)
Turned in another outstanding performance in a devastating loss to the Indianapolis Colts. He led the Texans with 11 tackles and added another interception to his résumé. From a fan's perspective, he is fun to watch because of his instincts and play-making ability. It is not common for young players to be vocal leaders, but he is going to have to become more forceful next season if this team is going to take the next step.
3

3.

Michael Oher, Ravens RT (first round, No. 23)
He got beat for a couple of sacks on Sunday night against the Steelers, but that is going to happen to a rookie when he faces one of the best defensive front sevens in the NFL. He is excellent at protecting his outside edge, but when he gets beat, it is usually by a double move or a bull rush.
2

4.

James Laurinaitis, Rams LB (second round, No. 3)
He led the Rams with nine tackles this past week. He also had a nice sack on an inside stunt blitz. We really like the way they are moving him around in the defense and allowing him to do more things. As this defense gets better, he is going to be a great player.
4

5.

Knowshon Moreno, Broncos RB (first round, No. 12)
We talked in recent weeks about getting him more touches and that happened on Thanksgiving against the Giants. He had 19 carries for 88 yards and a TD. He is a physical inside runner who makes yards after contact. He also had two catches for 19 yards in the passing game and is improving every week with his blitz pickups.
7

6.

Jairus Byrd, Bills FS (second round, No. 10)
He stays on the list because of his overall play throughout the season, but he has not made many plays in the last few weeks. This past week he had only one tackle and missed a few as well as the Bills' defense struggled to slow RB Ricky Williams. He could fall off this list in the next few weeks if he does not start making plays.
5

7.

Clay Matthews, Packers LB (first round, No. 26)
He added another sack in their Thanksgiving Day win over the Lions. Only had two tackles for the game but appeared to be doing a better job against the run in terms of taking and getting off blocks to either force the run back inside or get in on the tackle.
6

8.

Kenny Britt, Titans WR (first round, No. 30)
Was on this list early in the season and returns after his monster game against Arizona on Sunday that included seven receptions for 128 yards and a game-winning TD as time expired. He has great size and hands. The Titans need to use him just like they did on the TD toss, and that is by throwing it up and letting him go get it, especially inside the red zone.
NR

9.

DeAndre Levy, Lions LB (third round, No. 12)
After hovering around the No. 11 and 12 spot, he moves back into the top 10 after a solid performance against the Packers. He was second on the Lions with eight tackles last week.
NR

10.

Louis Delmas, Lions S (second round, No. 1)
He had six tackles and a tackle for loss in a solid effort against the Packers on Thanksgiving Day. He was also rightly flagged for a flagrant late hit on TE Donald Lee over the middle of the field, but it was a bone-jarring hit that showed just how physical Delmas has been all season.
10
SPONSORED HEADLINES
MORE NFL HEADLINES
MOST SENT STORIES ON ESPN.COM
NFL WEEK 13 PREVIEW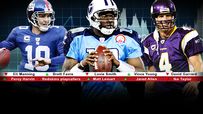 PICKS
FINAL WORD
POWER RANKINGS
MICHAEL VICK: Return to Atlanta
HOT READ
COLUMNS/BLOG POSTS
COLTS, SAINTS: PERFECTION?
PAGE 2
SCOUTS INC.
FANTASY