Henry, 26, dies day after dispute
Updated:
December 17, 2009, 10:10 PM ET
ESPN.com news services
CHARLOTTE, N.C. -- Cincinnati Bengals receiver Chris Henry has died, one day after falling out of the back of a pickup truck in what authorities described as a domestic dispute with his fiancée.
Henry was no stranger to trouble.
[+] Enlarge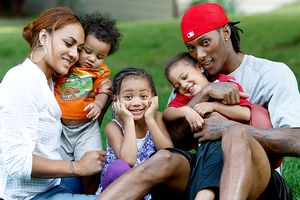 The Enquirer/Jeff SwingerChris Henry, pictured in September with fiancée Loleini Tonga and the children they were raising: from left, DeMarcus, 10 months; Seini, 3; and Chris Jr., 2. The 26-year-old Henry died Thursday.
Indeed, his multiple arrests during a five-year NFL career were among the factors prompting the league to toughen its personal conduct policy.
But to hear his teammates tell it -- even the team's owner -- the Bengals receiver was determined to leave behind his troubled past and move ahead toward a bright future.
Tragically, his efforts were cut short.
Charlotte-Mecklenburg police said the 26-year-old Henry died early Thursday, less than 18 hours after he fell off the back of a pickup truck on a curvy residential street about eight miles northwest of downtown Charlotte.
The cause of death was not immediately released.
Henry was away from the Bengals after suffering a season-ending broken forearm in a game last month.
"We knew him in a different way than his public persona," Bengals owner Mike Brown said. "He had worked through the troubles in his life and had finally seemingly reached the point where everything was going to blossom. And he was going to have the future we all wanted for him. It's painful to us. We feel it in our hearts, and we will miss him."
Bengals receiver Andre Caldwell said: "People thought he was a bad guy, but he had a big heart."
Police released few details about the investigation, other than homicide detectives were assigned to the case. Two 911 tapes released Thursday and witnesses provided some clues.
Shock, Sorrow Over Chris Henry's Death
"Chris was a guy that I believe and our team believes was heavily misunderstood. There was a lot of speculation about who he was, but the only guys that knew Chris and knew how good of a heart he had, how kind he was, how gentle he was, how soft of a heart he had, were the guys in our locker room, the guys who were close to him, his family."
-- Bengals QB Carson Palmer

"We are greatly saddened by today's tragic news about the loss of Chris Henry. Our thoughts and prayers go out to Chris' family, including his Bengals family. I ask you to keep Chris Henry and his family in your thoughts today."
-- NFL commissioner Roger Goodell

"He was doing everything right, he was doing everything right. My grandma always says you never question the man upstairs on decisions he makes. Everyone makes mistakes, but I don't see how Chris was supposed to go already, especially when he was on the right path. Other than that, he's going to be missed."
-- Bengals WR Chad Ochocinco

"We knew him in a way that [was not consistent] with his public persona. We liked him. He had worked through troubles in his life ... to a point where he was going to have the future we all wanted for him and that he wanted for himself. At the time of his tragedy he was running to daylight."
-- Bengals president Mike Brown

"We had seen Chris expand this year as both a person and on the field. He had grown and matured. We extend our deepest condolences and prayers to Chris' family and to everyone else who held him dear."
-- Bengals coach Marvin Lewis

"For those who knew Chris, he was nothing like his public perception. A loving and caring individual, he was thankful for what he had in life, and proud of what he had overcome."
-- Andy Simms, Henry's agent

"I just pray for his mom and his family and for Loleini's family also. Only they know what really happened. All I know is we lost Chris."
-- Bengals DL Domata Peko, one of Henry's closest friends on team

"He really didn't have much of a chance to show [his talent]. He was such a talent. Carson [Palmer] likes to call him 'The next Randy Moss.' That's what he called him.
-- Ryan Fitzpatrick, former Bengals QB

"He came by just before training camp and we had a long talk. It really seemed he was headed in a new direction. I told him he had to do better. We talked about making sure he was hanging around the right people and was aware of the situation around him. It seemed like he was making a diligent effort to do well."
-- Belle Chasse (La.) High School coach Bob Becnel, Henry's prep coach
"I enjoyed our time together at West Virginia and we shared a lot of great moments. I have many fond memories of our three years together and will remember those forever."
-- Michigan coach Rich Rodriguez

"The entire Mountaineer football family is deeply saddened by the tragic passing of Chris Henry. We say 'Once a Mountaineer, always a Mountaineer,' and Chris was a big part of our success during his time here. For me, he was a real joy to be around on a daily basis. He always came to work and loved to play football."
-- WVU coach Bill Stewart
"I remember recruiting Chris to West Virginia like it was yesterday. He came from a humble background and was a wonderful young man and football player. Chris was like a son to me and I will cherish all the great memories that I have of him."
-- Michigan offensive coordinator Calvin Magee

Neighbor Lee Hardy told WLWT-TV and The Cincinnati Enquirer that he was working in his yard when the truck left the driveway. Hardy said Henry was yelling that he needed to talk to the woman behind the wheel.
"He said, 'If you take off, I'm going to jump off the truck and kill myself,'" Hardy told the newspaper.
The first 911 tape was from an unidentified woman who said she was following a yellow pickup truck.
"It's got a black man on it with no shirt on, and he's got his arm in a cast and black pants on," she told a dispatcher. "He's beating on the back of this truck window. ... I don't know if he's trying to break in or something. It just looks crazy. It's a girl driving it."
Just over a minute later, an unidentified man called 911 and said he saw a man "laying in the road" and "definitely unconscious."
Police spokeswoman Rosalyn Harrington wouldn't say if the woman, whom police would not identify, was present at the scene when police arrived.
Henry and his 25-year-old fiancée, Loleini Tonga, who grew up in Charlotte and received a volleyball scholarship to North Carolina A&T, were raising three children. Tonga's MySpace page identifies herself as "Mrs. C. Henry" and featured a post from Tuesday talking about buying wedding rings.
"We are greatly saddened by today's tragic news about the loss of Chris Henry," NFL commissioner Roger Goodell said. "Our thoughts and prayers go out to Chris' family, including his Bengals family."
Bengals coach Marvin Lewis said: "It's a very difficult thing with his loss and a young life and one that won't ever get to reach its full potential."
Police said the domestic dispute began Wednesday at a home about a half-mile away from where Henry was found. He had jumped into the bed of the pickup as his fiancée was driving away from the residence, and at some point when she was driving "came out of the back of the vehicle," authorities said.
Two women who lived nearby said Thursday they saw Tonga and the pickup at the scene when police arrived. Cheryl Hoffman said she came out with a blanket when she saw Henry wasn't wearing a shirt.
"When I got to where he was laying on the ground out there he was very unresponsive, laying flat on the ground," Hoffman said. "He was foaming at the mouth, and I was very worried what was happening then."
When players received word Henry had died, quarterback Carson Palmer called them together in the locker room and said they should dedicate the game and rest of the season to Henry and the wife of defensive coordinator Mike Zimmer, who died unexpectedly during the season.
The Bengals, who are in first place in the AFC Central, are in line to make the playoffs for only the second time in 19 years. They will wear a helmet sticker Sunday against San Diego to remember Henry, and Goodell requested clubs observe a moment of silence before each game.
"He was doing everything right," receiver Chad Ochocinco said.
Henry grew up south of New Orleans in the suburban community of Belle Chasse and soon dreamed of playing in the NFL. But after he was ejected from a game and suspended for another at West Virginia, the Bengals were the only team to bring him in for a pre-draft visit in 2005.
Selected in the third round, Henry played a vital role as a speedy, deep threat as Cincinnati reached the playoffs in his rookie season. But in the final month of the season he was arrested for marijuana possession.
It was the first of five arrests, and Henry and former Tennessee cornerback Adam "Pacman" Jones became known as the league's two most trouble-bound players. Goodell suspended both in 2007 -- Jones for a full season, Henry for half of it -- as part of a toughening of the league's conduct policy.
After Henry was arrested for a fifth time following that season on an assault charge, Municipal Court Judge Bernie Bouchard called Henry "a one-man crime wave." He was released by the Bengals the same day.
But Brown gave him a second chance, re-signing him before the 2008 season.
"I kind of felt like I dug myself out of the hole and started doing the right things," Henry said in an interview with The Associated Press as training camp opened this season. "People say, 'How you feeling now Chris? You doing all right?' I just tell them I'm blessed. That's why I got it."
A thigh injury slowed him early in the season, and he had 12 catches for 236 yards -- his 19.7-yard average per catch leads the team -- when he broke his left arm during a win over Baltimore, ending his season.
"My grandma always says you never question the man upstairs on decisions he makes," Ochocinco said. "Everyone makes mistakes, but I don't see how Chris was supposed to go already, especially when he was on the right path. Other than that, he's going to be missed."
The Associated Press contributed to this report.