Commentary
Rookie Watch: Week 16
Originally Published:
December 29, 2009
By
Jeremy Green
| Scouts Inc.
Brian Cushing jumped in the latest Rookie Watch with a nine-tackle performance to keep the Texans alive in the playoff hunt
Preseason
|
Week 1
|
2
|
3
|
4
|
5
|
6
|
7
|
8
|
9
|
10
|
11
|
12
|
13
|
14
|
15
Rookie Watch
Ranking
Player, position (draft position)
Status
Last week

1.

Michael Oher, Ravens RT (first round, No. 23)
It's hard to tell if he got beat for a sack in Week 16. In the game film, there was a stunt where he might have been responsible depending on the line call. Pittsburgh OLB James Harrison was shut out in the sack column, which means the Ravens OTs did a pretty solid job in this one.
1

2.

Brian Cushing, Texans OLB (first round, No. 15)
I think the last two weeks have really solidified his defensive rookie of the year candidacy. He finished this past week with nine tackles, a sack and another interception -- giving him four picks on the season. Cushing has dominated week in and week out and will be a big-time force in Houston for years to come.
3

3.

Percy Harvin, Vikings WR (first round, No. 22)
His production is on a steady decline, but he is not getting the reps because the Vikings have been cautious with his migraines. He has been used primarily on kick returns and in certain offensive formations. He had four receptions for 40 yards on Monday night in a limited role.
2

4.

Clay Matthews, Packers LB (first round, No. 26)
He had four tackles, one for loss and a pass deflection in the Packers' win over Seattle. He did not get a sack but had two QB hits. We love his motor and pass-rush ability. He is a rookie who, like his team, has a chance to make some real noise come playoff time.
4

5.

Brian Orakpo, Redskins DE (first round, No. 13)
This was his second straight subpar week, but he remains in the No. 5 spot based on his body of work for the season. He still leads all rookie defenders in sacks with 12. For him to be a true force, he is better playing with his hand on the ground on every down.
5

6.

Jairus Byrd, Bills FS (second round, No. 10)
Because of injury, he did not play in Week 16 and will not play in the season finale as well. That said, he finishes the season on this list as the best rookie defensive back in the NFL. He will finish his rookie season with nine interceptions, giving him the label as one of the best young rookie playmakers in the NFL.
6

7.

James Laurinaitis, Rams LB (second round, No. 3)
He is still playing at a high level being playing on a young, developing team. Unlike some rookies do at this point of the season, he has not hit the wall. He finished the Week 16 game with six tackles, two of which were behind the line of scrimmage.
7

8.

B.J. Raji, Packers NT (first round, No. 9)
He had two tackles, one of which went for a loss, in Week 16. However, as a nose tackle, you have to look past the tackles and see how disruptive he was. We counted five plays in which he just completely blew up the Seahawks' offensive line because of his ability to penetrate and drive the center into the backfield.
8

9.

DeAndre Levy, Lions OLB (third round, No. 12)
He is coming off a solid defensive effort, leading the Lions in tackles in Week 16. His feel for the game will continue to improve with reps, and although the Lions have a lot of issues on defense, Levy is not one of them.
NR

10.

Louis Delmas, Lions S (second round, No. 1)
He had not been on this list in recent weeks but deserves to be based on his body of work throughout the season. He is one of the best young safeties in the NFL.
NR
NFL WEEK 17 PREVIEW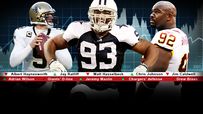 PLAYOFF PICTURE
POWER RANKINGS
FINAL WORD
HOT READ: THE PRICE THEY PAY
PRO BOWL ANNOUNCEMENTS
STOCK WATCH: Fallers, risers
COLUMNS/BLOG POSTS
SCOUTS INC.
Nike Toddler Home Game Jersey Green Bay Packers Clay Matthews #52 Shop »

MOST SENT STORIES ON ESPN.COM