New name for same stadium
Updated:
January 20, 2010, 2:53 PM ET
Associated Press
MIAMI -- The Miami Dolphins treat stadium names like quarterbacks, changing them often. Beginning this week, the team's home is Sun Life Stadium.
A five-year naming rights agreement with Toronto-based Sun Life Financial was confirmed at a news conference Wednesday at the stadium. The deal is for at least $4 million a year and perhaps more, depending on postseason success for the Dolphins and Florida Marlins, the stadium's baseball tenant through next year.
The name change takes effect in time for Miami's upcoming high-profile NFL games -- the Pro Bowl next week, and the Super Bowl on Feb. 7.
AFC East blog

The Bills had nothing to lose aside from nine more football games and some cash so they took a flyer on linebacker Shawne Merriman, ESPN.com's Tim Graham writes. Blog
The stadium opened in 1987 as Joe Robbie Stadium, named for the Dolphins' founding owner. It also has been Pro Player Park, Pro Player Stadium, Dolphins Stadium, Dolphin Stadium and -- since last May -- Land Shark Stadium.
"No one has established a beachhead," Sun Life executive Wes Thompson said. "It's not as if we have to fight a 20-year nomenclature that may have existed before. We kind of view that as an advantage for us."
The financial services company has 20 million customers in 25 countries but wants to raise its U.S. profile.
"We've really been a relatively unknown brand in the United States," Thompson said. "This is a big step toward establishing and elevating our brand in the U.S."
Although the Marlins plan to move into their own ballpark in 2012, the stadium is also the home of the Miami Hurricanes and the Orange Bowl. It has hosted four Super Bowls, two World Series and three Bowl Championship Series title games.
For the Dolphins, the agreement provides a welcome revenue boost in a tough economy.
"This is the first naming rights deal done of significance in the post-recession period," Dolphins CEO Mike Dee said. "We want to be one of the gold-standard franchises in the NFL, and growing our revenue is a significant part of that. Certainly this is a significant step forward, and strengthens our ability to support putting a championship-caliber team out there year after year."
Sun Life will make a $250,000 annual donation to the Dolphins' foundation. The company and foundation are establishing a Haiti relief fund and will match donations two to one, Dee said.
Sun Life has U.S. headquarters near Boston. The deal came together with help from Fenway Sports Group, founded by Dee when he worked for the Red Sox.
The agreement is separate from the Dolphins' pursuit of stadium upgrades to remain competitive in bidding for Super Bowls, Dee said. South Florida leaders are expected to seek public money for the project, which could cost $250 million or more.
The Land Shark deal with singer Jimmy Buffett's Margaritaville enterprise lasted less than a year. That agreement included a pregame concert by Buffett last season as the Dolphins sought to create a more lively atmosphere.
"What was important about the Land Shark involvement wasn't necessarily their name on the building, but the vibe in the stadium and the themed areas they did," Dee said. "Our fans embraced that. That can continue without their name being on the building."
Dee said the team will still use the Dolphins fight song Buffett wrote, which drew a mixed reception from fans.

Copyright 2010 by The Associated Press
SPONSORED HEADLINES
MORE NFL HEADLINES
MOST SENT STORIES ON ESPN.COM
2009 NFL PLAYOFFS: ROAD TO MIAMI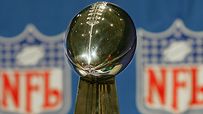 Who will supplant the Steelers as champions? The Colts and Saints will square off in Super Bowl XLIV on Feb. 7 in Miami.
COMMENTARY/BLOGS
CHAMPIONSHIP GAMES
Colts 30, Jets 17
Saints 31, Vikings 28 (OT)
DIVISIONAL ROUND
Vikings 34, Cowboys 3
Jets 17, Chargers 14
Saints 45, Cardinals 14
Colts 20, Ravens 3
WILD-CARD GAMES
Jets 24, Bengals 14
Cowboys 34, Eagles 14
Ravens 33, Patriots 14
Cardinals 51, Packers 45 OT