Grimm, Randle, LeBeau part of '10 class
Updated:
August 6, 2010, 9:57 AM ET
Associated Press
2010 Electees At A Glance

RUSS GRIMM
Guard; 6-3, 273
Career: 1981-1991 Redskins. 11 seasons, 140 games
Of note: Originally pegged to play center, he moved to left guard, where he earned a starting role as a rookie. ... Became a steadying force on Redskins' offensive line that earned nickname "Hogs" ... Appeared in five NFC championship games and four Super Bowls. ... Selected to four straight Pro Bowls (1983-86) ... Elected to NFL's 1980s all-decade team.

RICKEY JACKSON Linebacker; 6-2, 243
Career: 1981-1993 Saints, 1994-95 49ers. 15 seasons, 227 games
Of note: One of key players that fueled New Orleans transition from perennial losers into contenders in late 1980s. ... Made immediate impact as rookie when he led team with franchise rookie record eight sacks and was leading tackler. ... Earned Jackson first of six trips to Pro Bowl. ... First-team All-Pro 1986, '87, '92, '93.

DICK LeBEAU
Cornerback; 6-1, 185
Career: 1959-1972 Detroit Lions. 14 seasons, 185 games
Of note: Senior nominee. Started 171 consecutive games, an NFL record for his position. ... In 1960, began to make mark by intercepting four passes, starting string of 12 straight seasons with three or more interceptions. ... In 1965, intercepted five passes and was voted to first of three consecutive Pro Bowls. ... Finest season came in 1970 when he recorded NFC-leading nine interceptions for 96 yards. ... In all, recorded 62 pickoffs for 762 yards.

FLOYD LITTLE
Running back; 5-10, 196
Career: 1967-1975 Broncos. 9 seasons, 117 games
Of note: Senior nominee. Selected by Denver in first round (sixth player overall) of 1967 AFL-NFL Draft. ... Won 1971 NFL rushing title that year with 1,133 yards on 284 carries and 6 TDs. ... Amassed more than 12,000 all-purpose yards and 54 TDs. ... Gained 6,323 yards on 1,641 career carries, scored 43 TDs. ... Added 215 receptions for 2,418 yards, 9 TDs.

JOHN RANDLE
Defensive tackle; 6-1, 278
Career: 1990-2000 Vikings, 2001-03 Seahawks. 14 seasons, 219 games
Of note: Recorded 137½ sacks during career. ... Had eight consecutive seasons (1992-99) with 10-plus sacks and a ninth in 2001. ... In 1997 had career best and league leading 15½ sacks, and career high 71 tackles (39 solo). ... Named first-team All-Pro/All-NFC six consecutive years (1993-98) and once All-AFC with Seahawks (2001). ... Selected to play in seven Pro Bowls (1994-99, 2002).

JERRY RICE
Wide receiver; 6-2, 200
Career: 1985-2000 49ers, 2001-04 Raiders, 2004 Seahawks. 20 seasons, 303 games.
Of note: Averaged 18.9 yards per catch on 49 receptions for 927 yards and 3 TDs as rookie. ... In 1986 caught 86 passes for a league-leading 1,570 yards and led the NFL in touchdown catches with 15. ... In 1987 set the NFL record for TD receptions in season with 22. ... Earned three Super Bowl rings with 49ers and was named MVP in Super Bowl XXIII. ... Named first-team All-Pro 11 consecutive seasons and voted to 13 Pro Bowls. ... A member of NFL's All-Decade Teams of 1980s and 1990s and NFL's 75th Anniversary Team.

EMMITT SMITH
Running back; 5-9, 207
Career: 1990-2002 Cowboys, 2003-04 Cardinals. ... 15 seasons, 226 games.
Of note: Rushed for 937 yards, 11 TDs to earn Offensive Rookie of the Year honors. ... Second season rushed for league-leading 1,563 yards. ... Won rushing crowns in 1991, '92, '93, '95. ... In 1995, recorded career highs for rushing yards (1,773), rushing TDs (25), and receptions (62). ... Major contributor to Cowboys Super Bowl XXVII, XXVIII, XXX victories. ... Named first-team All-Pro 1992-95. ... Named to NFL's All-Decade Team of the 1990s.
-- Source: Pro Football Hall of Fame
FORT LAUDERDALE, Fla. -- Here's how you stop Jerry Rice and Emmitt Smith: Put them in the Hall of Fame and watch them break down and cry.
The men who tore apart NFL defenses couldn't handle the emotions Saturday when they were elected to the shrine along with five others.
"They told me, 'Don't cry,' " Rice said, his eyes wet with tears. "It meant the world to me, just like winning a Super Bowl. On draft day, I didn't take that for granted. I didn't take this for granted."
He could have.
A nominee needs 80 percent approval from the 44 media members who vote and Rice and Smith were slam-dunks in their first year of eligibility. Vote totals aren't announced.
"I am just honored ... to stand up there with greatness," Rice added.
Smith teared up when speaking about his father and how "I was living his dream."
"We are blessed to achieve this level of greatness together," Smith said, referring to Rice.
They will be inducted into the Pro Football Hall of Fame in Canton, Ohio, on Aug. 7.
Rice and Smith each won three Super Bowls and was the MVP in one of those victories. Smith was the 1993 league MVP, as well.
Rice, the NFL's career receiving and touchdowns leader, and Smith, the top rusher, were joined in the Hall by John Randle, Russ Grimm, Rickey Jackson, Floyd Little and Dick LeBeau. Little and LeBeau were elected as senior committee nominees.
Rice, the perfect receiver for the West Coast offense, played 20 seasons for San Francisco, Oakland and Seattle. He made 1,549 catches for 22,895 yards, had 14 1,000-yard seasons and scored 208 touchdowns.
Smith, among the most durable running backs, rushed for 18,355 yards and 164 touchdowns for Dallas and Arizona.
"This is almost perfect," Smith said. "I don't think even Steven Spielberg could have written a script this nice. So many people said I could not do it. I believed in that little giant inside of me that said I can."
Added Rice, standing shoulder to shoulder with Smith: "It's just like playing in that big game, this is something you think about, and it is happening. I never thought I would go in .... with this guy here.
Steve Young, one of two Hall of Fame quarterbacks who threw to Rice, got the first hug from the new inductee, then said: "They made yards after the catch a stat because of Jerry Rice."
Two other all-time top receivers, Cris Carter and Tim Brown, weren't elected. Carter, in his third year of eligibility, stands third in career receptions with 1,101, while Brown, in his first year on the ballot, made 1,094.
Jackson, a do-everything linebacker with a great burst off the line, finished his 15-season career for New Orleans and San Francisco with 128 sacks. A six-time Pro Bowler, Jackson sparked the first turnaround by the Saints from Aints to contender, in the late 1980s. He helped the Saints to their first division title and playoff berth.
Now, a day before the Saints appear in their first Super Bowl against the Indianapolis Colts, Jackson is Canton-bound. One little glitch: He was introduced as Randy instead of Rickey.
Randle was that rare defensive tackle who was a premier pass rusher. An undrafted free agent out of Texas A&I, Randle had 137½ sacks for Minnesota and Seattle, tied for sixth overall and most for his position, and led the league with 15½ in 1997. He played in seven Pro Bowls.
Grimm, a member of the Washington Redskins' famed Hogs offensive line, won three Super Bowls. A guard, he made four Pro Bowls and was selected to the all-decade team of the 1980s.
"I'm elated about it, to be honest," Grimm said. "Not so much where it's a weight off my back where I've been worried about it, I'm just thrilled to be associated with the type of football players that were not only on that list today but are in the Hall of Fame already."
The two senior committee inductees did not get enough support from the regular panel of media members when they were eligible.
LeBeau, the current defensive coordinator of the Pittsburgh Steelers, is considered one of pro football's great defensive innovators as a coach. But he was voted in for his outstanding work for the Lions from 1959-72. LeBeau finished with 62 interceptions, second among cornerbacks when he retired.
"They say anything worth having is worth waiting on," LeBeau said. "It has been a long wait. I can't imagine anything else that could be any more rewarding."
Little starred for the Denver Broncos in the AFL and NFL, leading the NFL in rushing in 1971 with 1,133 yards and in touchdowns rushing in 1973 with 12. He waited 30 years to get elected.
"My dad used to take me to games to watch Jerry play," Little joked, cracking up Rice.
"It's been a long journey. This is truly my dream. You can't explain the emotions of the way you feel at this moment."

Copyright 2010 by The Associated Press
2010 PRO FOOTBALL HALL OF FAME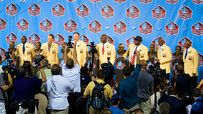 On Aug. 7, the Pro Football Hall of Fame welcomed seven new members: Emmitt Smith, Dick LeBeau, Russ Grimm, John Randle, Rickey Jackson, Jerry Rice and Floyd Little.
HOF page
|
Speeches
|
Photo Gallery
NEWS/COMMENTARY/BLOG POSTS
TRAVEL
VIDEO
PHOTOS

MOST SENT STORIES ON ESPN.COM