Commentary
Pressure Point: Palmer must improve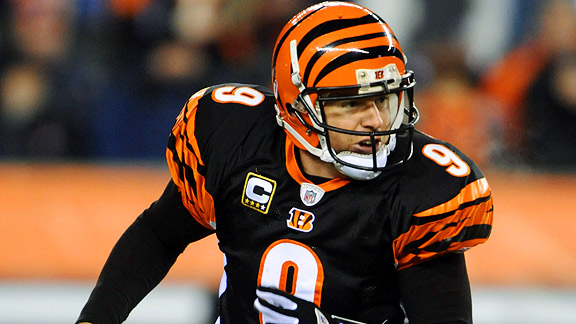 Kirby Lee/US PresswireCarson Palmer's struggles limited the Bengals' passing game in 2009.
A weekly look at a player whose performance must improve in 2010.
The weapons surrounding Carson Palmer in Cincinnati's passing game were detrimental to success in that portion of its offense. Palmer played hurt, he only had one legitimate downfield threat to speak of in Chad Ochocinco, and the running backs and tight ends contributed very little as receiving threats. The blocking was much better suited for paving the way for Cedric Benson than in pass protection.
With all that being said, Palmer must play better.
The Bengals won the AFC North last year, and now there are expectations surrounding this franchise. These are uncharted waters for Cincinnati, but Palmer is the captain of this vessel, and more production is needed.
All extenuating circumstances aside, Palmer didn't play as well last year as he has in previous years. Has he already peaked? It is a distinct possibility, and blame must be placed on him as well. He doesn't move well, and the ball doesn't come out of his hands the way it once did. Palmer too often perceived pressure that wasn't there, which tends to happen when quarterbacks have taken too many hits and lose their edge. He needs to stand tall and deliver the football as he once did.
Are these issues the product of playing injured? Quite possibly, but I can comment only on what he shows on tape. Palmer must correct the passing game and play better than he did a year ago.
The defense was a very solid, well-coached group, and there is a lot of young talent on that side of the ball. The running game -- led by Benson -- was extremely impressive and this physical power running game was a huge reason why the Bengals were the most physical team in their division in 2009. In these departments, Cincinnati was no fun at all to play against.
But the passing game held this team back, and as defenses figured out that Cincinnati struggled in this area, points became scarce. Including their wild-card loss to the Jets, the Bengals scored only 156 points after their Week 8 bye in those final 10 contests when everyone was stacking the line of scrimmage with defenders and doubling Ochocinco regularly.
They were shut out by the Jets in Week 17, and clearly they were not putting their best foot forward that week, but still, this is a passing league. More points and more explosive plays are required to hang with the big boys in the NFL. Palmer eclipsed 275 passing yards only once last year, and his 6.64 yards per attempt simply isn't good enough to get the Bengals to where they want to be. To keep up with Pittsburgh and Baltimore, Palmer must put up a good deal more than 16 points a game.
Scouts Inc. watches games, breaks down film and studies football from all angles for ESPN.com.
ESPN.com
Joined ESPN in 2005
Was an NFL and college scout for the Cleveland Browns
EDITORS' PICKS
Marcus Mariota still doesn't trump Jameis Winston, but he makes a lot of sense for Tennessee at No. 2.
McShay

Mailbag: John Clayton explains why expanded playoffs are on hold and discusses overtime rules and extra points.
Story »

The Falcons should feel grateful that their punishments for piping in crowd noise weren't a lot more severe.
McClure »

MOST SENT STORIES ON ESPN.COM