Ex-Raiders safety Tatum dies
Updated:
July 28, 2010, 8:47 AM ET
Associated Press
COLUMBUS, Ohio -- He was called the "Assassin."
Jack Tatum was one of the hardest hitters in the NFL, a Pro Bowl safety who intimidated opposing players with bone-jarring tackles that helped make his Oakland Raiders one of the toughest teams of its era.
[+] Enlarge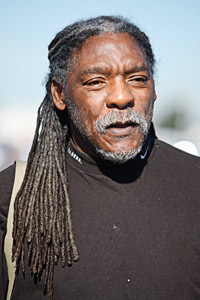 AP Photo/Ben MargotJack Tatum spent nine years in the NFL, delivering such vicious hits that he earned the nickname "The Assassin."
He's also a player who will always be tied to one of the game's most tragic moments -- a hit in a preseason game that left New England Patriots receiver Darryl Stingley paralyzed from the neck down.
Tatum died Tuesday at age 61 in an Oakland hospital. The cause was a massive heart attack, according to friend and former Ohio State teammate John Hicks. Tatum had battled diabetes and other health problems for years, Hicks said.
The collision with Stingley happened Aug. 12, 1978, at Oakland Coliseum.
Stingley was cutting inside when he lunged for a pass which fell incomplete. Bearing down at full speed from the opposite direction, Tatum met Stingley while the receiver was off balance and leaning forward. Stingley crumpled to the ground, his fourth and fifth vertebrae severed.
Over the years, Stingley would regain limited use of his body, but he spent the rest of his life in an electric wheelchair. He died in 2007.
There were never words of consolation or an apology from Tatum, and the two players never spoke after the hit.
"It was tough on him, too," Hicks said of Tatum. "He wasn't the same person after that [hit]. For years he was almost a recluse."
Tatum said he tried to visit Stingley at an Oakland hospital shortly after the hit but was turned away by Stingley's family.
"It's not so much that Darryl doesn't want to, but it's the people around him," Tatum told the Oakland Tribune in 2004. "So we haven't been able to get through that. Every time we plan something, it gets messed up. Getting to him or him getting back to me, it never happens."
Tatum, though, showed no remorse for his headhunting ways in a 1980 book, "They Call Me Assassin" and the follow-ups "They Still Call Me Assassin: Here We Go Again" in 1989 and "Final Confessions of an NFL Assassin" in 1996.
More From ESPN.com

In the golden age for defensive football and brutally aggressive hits, Jack Tatum earned his "Assassin" nickname, ESPN.com's John Clayton writes. Blog

• Williamson: Don't soil his legacy
• Graham: Brings back bad memories
• Gallery: Career in photos

"Jack was a true Raider champion and a true Raider warrior. ... Jack was the standard bearer and an inspiration for the position of safety throughout college and professional football," the Raiders said in a statement.
After starring for Ohio State under coach Woody Hayes, Tatum was drafted in the first round by the Raiders in 1971. In nine seasons with Oakland, he started 106 of 120 games, had 30 interceptions and helped the Raiders win the 1976 Super Bowl. He played his final season with the Houston Oilers in 1980.
In his third book, he wrote, "I understand why Darryl is considered the victim. But I'll never understand why some people look at me as the villain."
Tatum was not penalized on the play and the NFL took no disciplinary action, but it did tighten its rules on violent hits.
"He wasn't the type of person who was really out trying to maim anybody or hurt anybody," Hall of Famer and former Raiders teammate Willie Brown said. "He was just doing his job. That's the way he played the game."
Despite their lingering resentment, Stingley was gracious in 2003 when he learned Tatum had diabetes and several toes amputated.
"You can't, as a human being, feel happy about something like that happening to another human being," Stingley told The Boston Globe.
Tatum began a charitable group to help kids with diabetes and helped raise more than $1.4 million to fight the disease in the Columbus area.
"He was a good athlete and a good person," Hicks said. "He gave a lot back to the community, but he didn't want a lot said about it."
[+] Enlarge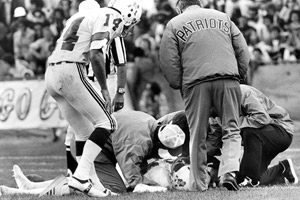 Ron Riesterer/The Sporting News/ZUMA PressDarryl Stingley, above, never recovered from a collision with Jack Tatum in Aug. 1978, remaining in a wheelchair for the remainder of his life.
Tatum was also involved in "The Immaculate Reception" in the Raiders' 1972 playoff loss to the Pittsburgh Steelers. With 22 seconds left, Tatum jarred loose a desperation pass from Terry Bradshaw to Frenchy Fuqua with a trademark hit. The ball ricocheted into the arms of Steelers running back Franco Harris, who never broke stride and ran 42 yards for the winning touchdown.
Tatum grew up in Passaic, N.J. and had little interest in organized sports until high school. He grew to love football and was offered a scholarship to Ohio State.
Recruited as a running back, Tatum would sneak over to the defensive side to play linebacker. In time, the Ohio State coaches -- particularly secondary coach Lou Holtz -- recognized that Tatum was a natural on defense.
Tatum was a part of the "super sophs" class that led Ohio State to an unbeaten season and the national championship in 1968. He stole the headlines in the Buckeyes' showdown with No. 1 Purdue early in the season, shadowing All-American running back Leroy Keyes in Ohio State's 13-0 upset of the Boilermakers.
In his three years as a starter, Tatum's teams went 27-2 and won two Big Ten titles.
Each week after an Ohio State game, the coaching staff awards the "Jack Tatum hit of the week" award for the hardest tackle or block by a Buckeye.
"We have lost one of our greatest Buckeyes," current Ohio State coach Jim Tressel said in a statement. "When you think of Ohio State defense, the first name that comes to mind is Jack Tatum. His loss touches every era of Ohio State players and fans."
Raiders safety Michael Huff sent a message on Twitter after learning of Tatum's death: "R.I.P. Jack Tatum the assassin. One of the best safetys to ever play this game, his legacy will live forever."
It was unfortunate that Tatum's hitting overshadowed how well he did everything else, Brown said.
"Jack should be in the Hall of Fame. There's no question, no doubt about it," he said. "When you're playing back in the middle, you have one job to do [and] that's stop the long pass right down the middle. He did that better than anybody that I could think of."

Copyright 2010 by The Associated Press
SPONSORED HEADLINES
MORE NFL HEADLINES
MOST SENT STORIES ON ESPN.COM
EDITORS' PICKS
San Diego, trying to make another late playoff push, needs Philip Rivers to get hot.
Preview »

Philly's playoff hopes took a big hit after a loss to RG III and the Redskins.
Rapid Reaction »

With seven playoff berths up for grabs, Seattle and Dallas try to claim theirs against tough Week 16 foes.
Game previews »

MORE FROM ESPN BOSTON

Want to submit a question for Mike Reiss' weekly Patriots mailbag? Click here and come back every Tuesday around noon for the 'bag.
Latest headlines on ESPNBoston.com: