Brett Favre: Bio of 19-year NFL vet
Updated:
August 17, 2010, 4:18 PM ET
ESPN.com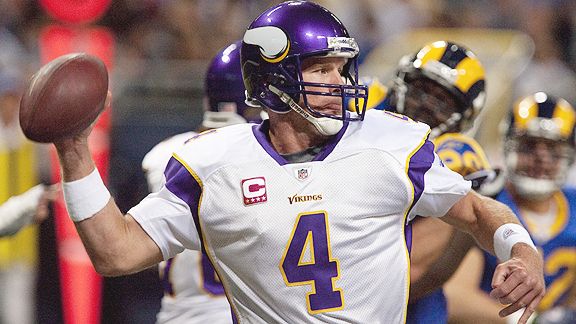 Icon SMIBrett Favre is reportedly set to retire after 19 seasons in the NFL, the most recent of which was spent with the Minnesota Vikings.
Overview
Brett Favre is a professional quarterback who most recently played with the Minnesota Vikings. Favre, best known for his tenure with the Green Bay Packers, holds nearly every major career passing record, including passing yards, touchdowns and victories as a starting quarterback. He is the only player in NFL history to have been named The Associated Press' MVP in three consecutive seasons.
Favre is renowned for his extreme durability. From his first start as quarterback with the Green Bay Packers in 1992, he never missed a contest, starting every game his team played through the end of the 2009 playoffs. On Aug. 3, 2010, reports surfaced that Favre had decided to retire, but the next day, he told ESPN's Ed Werder that no decision had been made.
Early years
Brett Lorenzo Favre was born Oct. 10, 1969, in Gulfport, Miss., and grew up in the small town of Kiln. While attending Hancock North Central High School, Favre earned five letters in baseball, leading his team in hitting each season he played. He also played quarterback and strong safety, punter and place-kicker for the school's football team, coached by his father, Irvin. Because his father had run a wishbone-style offense, Favre rarely threw the ball. As a result, Southern Mississippi was the only school to offer him a scholarship.
College career
Brett Favre - NFL Career

Brett Favre is reportedly retiring after a 19-season NFL career that saw him set nearly every major passing record.
| | Reg. Season | Playoffs |
| --- | --- | --- |
| Comp pct | 62.0 | 60.8 |
| Pass yds | 69,329 | 5,855 |
| TD-Int | 497-317 | 44-30 |
| Passer rtg | 86.6 | 86.3 |
Favre started his freshman year (1987) seventh on Southern Miss' depth chart at quarterback, but he was thrown into action in the second half of the third game of the season against Tulane. Favre promptly led his team to a come-from-behind victory, and from that point on, he never relinquished the job. He finished his four varsity seasons at Southern Mississippi with 29 wins, including two bowl games. He set school records in passing yards and touchdowns and ended his career among the top 30 of all-time NCAA passers.

On July 14, 1990, just before the start of his senior year, Favre was involved in a horrific car accident in Kiln that landed him in the hospital with a concussion, lacerations and cracked vertebrae. Massive internal injuries caused the quarterback to have more than two feet of his intestines surgically removed. Showcasing the determination and durability that would later become his trademark, Favre returned to action only a month later and led the Golden Eagles to an upset win over Alabama on Sept. 8.
The Golden Eagles went 8-3 in 1990 and finished only eight points short of an undefeated season. Favre was named MVP of the All-American Bowl despite losing to NC State 31-27. He then went on to play in the East-West Shrine Game, an all-star game of graduating seniors, and took home the MVP trophy form that contest as well.
Professional career
[+] Enlarge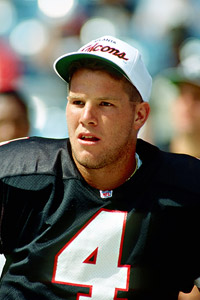 US PresswireBrett Favre's NFL career got off to a slow start after the Atlanta Falcons drafted him in 1991.
The Atlanta Falcons drafted Brett Favre with the 33rd overall pick in the second round of the 1991 NFL draft. Favre played only two games that season behind Chris Miller and Billy Joe Tolliver. He threw two interceptions without completing a pass.
Green Bay Packers (1992 to 2007)
In the offseason, Green Bay Packers general manager Ron Wolf, coming off a 4-12 campaign, traded his 1992 first-round pick to Atlanta for the rights to Favre. The quarterback didn't start the 1992 opener but began the second half after the Don Majkowski-led offense found itself down 17-0 to the Tampa Bay Buccaneers. On his first play in Green Bay, Favre completed his first pass, albeit to himself for a 7-yard loss, as the ball was deflected back to the quarterback by the defense.
The next week, Majkowski injured his ankle, and he was out of action for four weeks. Favre struggled at first in the next game against the Cincinnati Bengals, fumbling four times and being booed by the home crowd. However, with the Packers down six points and just more than a minute left to play, Favre led a 92-yard touchdown drive to win the game.
Favre started every game for the Packers for the rest of 1992 and each of the next 15 seasons -- 253 straight games in all, 275 including the playoffs.
From 1995 to 1997, Favre won three consecutive MVP awards. He led the Packers to 11 playoff appearances, seven division titles, four NFC Championship Games and a victory over the New England Patriots in Super Bowl XXXI. After the 1997 season, the Packers returned to the Super Bowl but lost to John Elway and the Denver Broncos.
In the final game of the 2001 season, Favre caught some heat for what many perceived to be a lack of effort against the New York Giants. Defensive end Michael Strahan was making a run at the NFL record for sacks in a season. Near the end of the game, Favre appeared to lie down at Strahan's feet simply to allow him to accomplish his goal, and many were critical of the quarterback. Before the play, Favre had said something to Strahan, and some observers feel the whole play was orchestrated to give Strahan the record.
On Dec. 21, 2003, Favre's father died of a sudden heart attack. The Packers were scheduled to play the following night on "Monday Night Football" against the Oakland Raiders. While it looked as though the tragedy would cause Favre's consecutive-game streak to end, he elected to play in the nationally televised game as a tribute to his dad. Favre threw for four touchdowns and 399 total yards in the first half of a 41-7 blowout that had even the most loyal Raiders fans rooting for the veteran.
Tragedy continued to follow Favre, as his brother-in-law died in an ATV accident on Favre's property in October 2004. Shortly thereafter, Favre's wife, Deanna, was diagnosed with breast cancer. She later made a full recovery. In August 2005, Favre's childhood home was destroyed by Hurricane Katrina, and his own property in Hattiesburg, Miss., suffered extensive damage.
In 2005, the Packers lost seven of their first eight games en route to the first losing season of Favre's career. During the 4-12 season, Favre, then 36, threw a career-high 29 interceptions.
In 2006, the Packers managed only an 8-8 finish, and again, the quarterback failed to throw more touchdowns than interceptions. He found the end zone only 18 times, his worst season since his initial campaign in Green Bay.
With the Packers having selected their quarterback of the future, Aaron Rodgers, in the first round of the 2005 draft, the grumblings started getting louder that perhaps it was time for the Packers to turn the page. But Favre had one more run in him.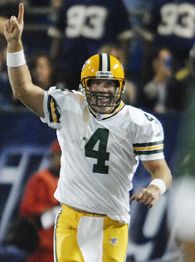 AP Photo/Tom OlmscheidThen with the Green Bay Packers, Brett Favre became the NFL's all-time passing TD leader in 2007 with a touchdown pass against his future team, the Minnesota Vikings.
The 2007 season was a rebirth for Favre, who played as if he were a decade younger than his age, 38. Favre led the Packers to a 13-3 record, as the team scored 435 points and gained 5,931 net yards. Favre recorded his fourth 4,000-plus-yard passing season and finished as runner-up to Tom Brady in the league's MVP voting. He also made the Pro Bowl for the ninth time in his career.
The Packers' season ended in the NFC Championship Game, a 23-20 overtime loss to the New York Giants. On March 4, 2008, a tearful Favre formally announced his retirement from the NFL.

First retirement
Just two months after officially retiring, Favre had second thoughts. In July, Favre asked the Packers, who had already announced that Aaron Rodgers would be their starting quarterback for 2008, to release him to play for another NFL team. General manager Ted Thompson declined, and because of the language in Favre's contract that effectively gave him the right to reject any trade, a stalemate ensued.
After Favre formally requested that the league rescind his retirement on Aug. 4, a brief negotiation period between Green Bay and Favre resulted in both sides agreeing it was time to part ways. Three days later, the Packers traded Favre to the New York Jets in exchange for a conditional draft pick.
New York Jets (2008)
Favre's tenure in New York started out incredibly strong, and the team started out 8-3. However, the team won just one game the rest of 2008, with Favre throwing eight interceptions and only two touchdowns.
An MRI taken after the season showed that Favre had played much of the year with a torn biceps tendon in his right shoulder.
Second retirement
On Feb. 11, 2009, Favre told the Jets he was retiring, and the team ultimately released Favre in April. Once again, reports of Favre's demise were greatly exaggerated. Favre had his injured shoulder surgically repaired and, feeling much better, hinted that he might return to action for the 2009 season.
Thus began a summer-long "will he or won't he?" game of cat and mouse with the Minnesota Vikings that finally ended on Aug. 18, when Favre officially signed on the dotted line.
Minnesota Vikings (2009)
Favre, at age 40, led the Vikings to a 6-0 start to the season. After a 10-1 record in their first 11 games, they lost three of four but eventually made the playoffs, winning the NFC North division by one game over the Green Bay Packers. During the season, Favre defeated the Packers twice, including a four-touchdown performance at Lambeau Field.
After a victory over the Dallas Cowboys, the drive for another Super Bowl ended in the NFC Championship Game in overtime against the New Orleans Saints. Favre's final throw was intercepted by New Orleans at the end of regulation, and a potential winning field goal never had a chance to be attempted.
On April 30, 2010, ESPN's Ed Werder reported that Favre would need to undergo surgery to fix an ankle injury suffered against the Saints if he ever wanted to play again. After debating whether to have the procedure, Favre ultimately posted confirmation of having undergone the procedure in late May, although he still had not yet informed the Vikings whether he intended to return for his 20th season. On Aug. 3, 2010, the Minneapolis Star Tribune reported that Favre intended to inform the Vikings of his decision to retire. The next day, Favre told ESPN's Ed Werder that he had not made a decision.
SPONSORED HEADLINES
MORE NFL HEADLINES
MOST SENT STORIES ON ESPN.COM
BRETT FAVRE'S FUTURE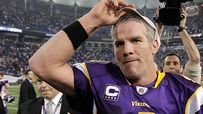 Brett Favre says he hasn't made a decision about returning for the 2010 season and says he will play if healthy.
Bio
|
Vikings 2010 schedule
|
Timeline
NEWS
COMMENTARY/BLOGS
PAGE 2
SPORTSNATION
FANTASY
VIDEO
PHOTO GALLERIES