Bill Polian believes umpire issue fixable
Updated:
August 28, 2010, 9:16 PM ET
Associated Press
INDIANAPOLIS -- Colts president Bill Polian understands why the NFL decided to move its umpires into a safer location. Hey, he even voted for it.
After watching his franchise quarterback, Peyton Manning, get called twice for illegal snaps and become visibly frustrated with the pace of Thursday night's preseason game, Polian said Saturday the solution may be only some minor tweaks.
"

There are certain times of the game and certain downs and distance where it's going to become more of an issue, and they've got to be aware of it.

"

-- Colts president Bill Polian on new placement of umpires behind RBs
"I don't think there are many [problems with it]. I think they are mechanical in nature," he said during a rare in-season news conference. "I don't think we'll see the full import of it until we get well into the regular season and certainly get a full season's worth of work. My concerns right now are simply mechanical and very easily solvable."
The architect of four Super Bowl teams in Buffalo and two in Indy put aside his sometimes fiery demeanor in an effort to downplay an issue debated at great length on Friday's local sports talk shows.
Polian has never been afraid to speak his mind. He helped lobby for a rules change about defensive contact with receivers after a playoff loss to New England and has used his weekly radio show to critique Indianapolis' offensive line and explain why the Colts decided to pull their starters when they were 14-0.
Now Polian finds himself playing a different role -- mediator and spokesman for the competition committee, which approved the position switch.
"It was the intent of the committee and the officiating department that we make sure that we created a situation that was as safe as possible for these guys [umpires]," Polian said. "It reached the point where the league office thought that the physical danger out there and the safety of the umpire was becoming an issue, so we changed his position. We recognized that there would be, A, mechanical issues, and B, issues with respect to certain penalties that might or might not be called based upon the new position."
Manning didn't like the results Thursday and even called one penalty "ridiculous."
But Polian also explained the Colts intentionally pushed the tempo at Green Bay to see what problems might occur under live, regular-season conditions.
The new rule calls for the umpire, who had been positioned near the linebackers, to line up behind the deepest running back. A legal snap cannot occur until the umpire is set.
AFC South blog

ESPN.com's Paul Kuharsky writes about all things AFC South in his division blog.
Polian also clarified that the umpire will line up in his normal spot, near the linebackers, during the final two minutes of each half.
So what needs to be fixed?
Polian did not offer specifics or advice, though he acknowledged, as league officials did Friday, that the rule will stay, possibly, with some minor changes.
"If we do the mechanics right, I don't think that it [penalties] ought to be an issue," Polian said. "If I thought that would be a byproduct of it, obviously, I would not have voted for it. There are certain times of the game and certain downs and distance where it's going to become more of an issue, and they've got to be aware of it.
"I'm sure there are some tweaks that they will make and we'll move forward."

Copyright 2010 by The Associated Press
2010 NFL TRAINING CAMPS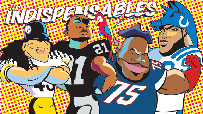 Follow ESPN's NFL coverage on Twitter
GREAT DEBATES
INDISPENSABLE PLAYERS
NFL BLOG NETWORK
CAMP CONFIDENTIAL: NFC
CAMP CONFIDENTIAL: AFC
COMMENTARY/BLOG POSTS
ESPN LOCAL COVERAGE
Nike Youth Alternate Game Jersey Denver Broncos Peyton Manning #18 Shop »

MOST SENT STORIES ON ESPN.COM