Super Bowl forecast: Sunny for Ravens
Pigskin Panel gives Baltimore slight edge over Indianapolis to win Super Bowl XLV
Originally Published:
September 8, 2010
ESPN.com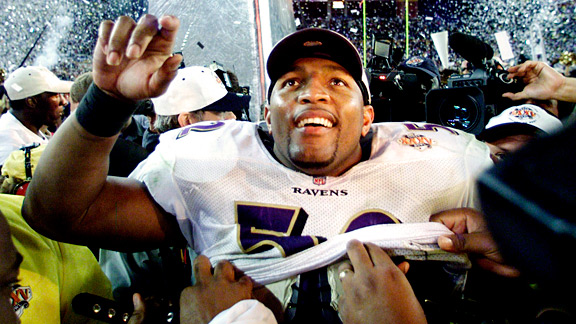 AP Photo/Rick BowmerLet's get this man fitted for a Super Bowl ring. Our Pigskin Panel (barely) likes Ray Lewis and the Ravens to win Super Bowl XLV in Jerry Jones' Big House on The Prairie in Arlington, Texas.
Solid defense, anchored by a future Hall of Fame linebacker.

Check.

Elite starting quarterback, according to John Clayton's QB rankings.

Check.

Two veteran star wideouts (T.J. Houshmandzadeh, Anquan Boldin) added to an offense that includes one of the NFL's top young RBs (Ray Rice) and averaged 24.3 points and ranked 13th in the league in 2009.

Check, check and check.

So what's not to like about the Baltimore Ravens, who last appeared in a Super Bowl 10 seasons ago? (Overlook those small issues with the secondary please.)

With eight votes, the Ravens are slightly favored by our 25-person Pigskin Panel to win it all in Arlington, Texas, on Feb. 6, 2011. The Indianapolis Colts, with seven votes, came in second and the Green Bay Packers, with five votes, finished third. With one vote, the defending champion New Orleans Saints didn't get much love.

History is decidedly against the Colts. No Super Bowl loser since the 1972 Miami Dolphins --- yes, those Miami Dolphins -- has returned to and won the Super Bowl after losing the big game the preceding season. In fact, seven of the previous nine Super Bowl losers have failed to qualify for the playoffs the next season and six have had losing records.

Hey, we're just sayin'.

The panel will weigh in on hot NFL issues throughout the season. Pick your division, conference and Super Bowl champions here.


The Pigskin Panel: Forecasting Super Bowl champion
Experts: Super Bowl chatter


MEL KIPER, ESPN: In August on my radio show, I said I thought it would be New England against New Orleans, but I've changed my mind. New England's defense, hampered by a key injury (Ty Warren) and inexperience in some key spots, has me reconsidering. I think the AFC is a three-team race among Baltimore, Indy and New England, but I like the moves the Ravens have made to shore up their WR corps. I think New Orleans is the clear-cut favorite in the NFC. Obviously, injuries could soon change all of that. Bottom line: I know people will dog me because I live in Baltimore and say I'm being a homer, but the Ravens have a lot of strengths and worked really hard to target weaknesses this offseason.
SUPER BOWL: Ravens over Saints


AARON SCHATZ, Football Outsiders: It would be cliché to say that the Ravens' biggest opponent on the way to the Super Bowl will be themselves. In reality, their biggest opponent will be Indianapolis, but "themselves" probably comes in second. Baltimore actually ranked No. 1 overall in our advanced DVOA stats last year, despite going just 9-7. The year before, the Ravens ranked third. This team has a ton of talent and the offense should only get better, with a lot of maturing young players and the addition of Anquan Boldin. That should make up for the questions they have in the secondary. Their biggest problem has been injuries and penalties. If they can make it through the year with an average number of injuries, and figure out how to stop drawing really dumb unsportsmanlike and roughing penalties, they are the team to beat.
SUPER BOWL: Ravens over Packers


JOHN CLAYTON, ESPN.com: It's hard to repeat, especially in the AFC. I still go with the Patriots to win the AFC East, but they aren't that much better than the Jets and Dolphins and their defense will struggle in the playoffs. The Chargers may have a great record, but so much of that is attributed to their schedule and Philip Rivers. The AFC North is a dogfight that will take a lot out of the Bengals, Ravens and Steelers and leave whoever advances from that division vulnerable in the playoffs. The Colts have a tough schedule, but they have Peyton Manning. I go with the Colts over the Cowboys because Indy is the easiest team to think through the playoffs.
SUPER BOWL: Colts over Cowboys


STEPHANIA BELL, ESPN injury expert: The 49ers' defense has surged in the past few years, particularly against the run (sixth in 2009). While Alex Smith remains unproven, it's fair to remember that he did not play until Week 7 last season. He has playmakers in the run game (Frank Gore) and passing game (Michael Crabtree). Taking the NFC West should be easy money. Mike Singletary has brought a disciplined, winning attitude to a team that had neither for some time, and barring major injuries, this is the year it comes together.
SUPER BOWL: 49ers over Chargers


MIKE SANDO, ESPN NFC West blogger: Picking the Colts to win the Super Bowl isn't very exciting. It takes no particular insight. I could go with the Falcons or Packers or Cowboys or any other team expected to break through this season, but for the better part of a decade, Peyton Manning has been the one sure bet in an NFL packed with surprises. The Colts have won at least 12 games for seven seasons in a row. They've won the Super Bowl only once, but they're in the mix every year and Manning gives them a legitimate chance.
SUPER BOWL: Colts over Cowboys


BILL WILLIAMSON, ESPN AFC West blogger: The Ravens have been an ascending team for a few years. Quarterback Joe Flacco is becoming a top player, running back Ray Rice is a beast and new receiver Anquan Boldin gives the Ravens a dimension they haven't had in recent seasons. Yes, there are questions in the secondary, but the Ravens will find a way to overcome that challenge with excellent play up front. This is a power team in a power conference. Expect the Ravens to celebrate the 10-year anniversary of their first Super Bowl title with another one.
SUPER BOWL: Ravens over Packers


JAMES WALKER, ESPN AFC North blogger: A Super Bowl loss makes people forget the Colts were the NFL's best team most of last season. No club outside of New Orleans has the offensive firepower to match Indy. But I don't see the Saints representing the NFC again this year. So Peyton Manning gets his second ring.


SUPER BOWL: Colts over Packers


ERIC KARABELL, ESPN.com fantasy writer: The Packers will roll in the NFC North, host two playoff games and then take out Peyton Manning in the finale. Aaron Rodgers has been Brees-like for two years, and the Packers' defense has caught up. No more talk about replacing Brett Favre. Rodgers and the Packers sweep the Vikings (who miss the playoffs), top the Saints and make it to Texas. Manning's Colts are good enough to win every year, and they top the Patriots in the AFC title game, but I see an upstart NFC entrant with a big-time quarterback winning it all again.
SUPER BOWL: Packers over Colts


KEVIN SEIFERT, ESPN NFC North blogger: The Baltimore Ravens might have the most balanced trio of phases -- offense, defense and special teams -- in the NFL. In his third season, quarterback Joe Flacco should be considered a seasoned vet and he now has an array of weapons that includes receiver Anquan Boldin. The Ravens' offense should be as explosive as their defense is opportunistic. There has been some concerns about their secondary, but no team in this era is perfect. The Ravens have as much going for them as any team in the NFL.
SUPER BOWL: Ravens over Cowboys


ANTONIO PIERCE, ESPN: Ravens quarterback Joe Flacco has plenty of weapons. Their pass defense is not the best, but I like what I see from them on offense. They can score 24 points a game. For their first Super Bowl win, they did it with defense. But this time, the offense will contribute much more.
SUPER BOWL: Ravens over Saints
SPONSORED HEADLINES
MORE NFL HEADLINES
MOST SENT STORIES ON ESPN.COM
2010 NFL PREVIEW
WEEK 1 PREVIEW
THE PIGSKIN PANEL
POWER RANKINGS
EXPERTS' PREDICTIONS
TEAM PREVIEWS
EIGHT GREAT DEBATES
JOHN CLAYTON QB RANKINGS
FOLLOW US ON TWITTER
NFL BLOG NETWORK
INSIDER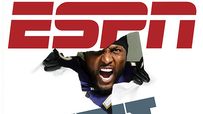 ESPN THE MAGAZINE