Peyton Manning to adjust to new rules
Updated:
September 8, 2010, 5:58 PM ET
Associated Press
INDIANAPOLIS -- Peyton Manning says he'll do whatever he can to make sure the Colts' high-scoring offense works like it should -- regardless of where the umpire lines up or how quickly he gets into position.
"They finally made it official, and those are the rules," Manning said Wednesday. "We'll play ball with the rules the way they are."
Manning wasn't exactly enamored with how things went in the preseason.
AFC South blog

ESPN.com's Paul Kuharsky writes about all things AFC South in his division blog.
Safety concerns prompted the NFL's competition committee to move the umpires, who spot the ball, from the middle of the defense to behind the deepest back in the backfield. The vote came in March after supporters cited an increase in collisions between players and umpires.
One of those voting to approve the proposal was Colts president Bill Polian, and during the Colts' first two preseason games, the complaints were muted. Of course, Manning was only around for six combined series in the games.
Everything changed after Manning's longest preseason stint Aug. 26 at Green Bay. The four-time league MVP was clearly frustrated that the umpire couldn't get into his established position quickly enough for Manning to snap the ball. And after being called for a second illegal snap, Manning reacted by waving his hands in disgust at the official.
Afterward, Manning called the first penalty "ridiculous" and contended the offense should have been given a warning before getting a 5-yard penalty.
Polian later called the problems easily solvable. Now Manning has gotten his wish -- sort of.
Last week, the league moved umpires back to their previous spot for the final two minutes of the first half and the last five minutes of the game.
On Tuesday, the league sent a memo to all 32 teams detailing additional tweaks.
Umpires will now return to their old spot during the final two minutes of the first half, the last five minutes of the game and on all plays when the offense is inside the opponents' 5-yard line.
"From what I understand, it gives them a better view of whether the runner has crossed the goal line," Colts coach Jim Caldwell said.
The other changes may be more to Manning's liking.
Quarterbacks can now snap the ball when the umpire gets behind the deepest back in the backfield, not necessarily when he's in position, a move of about three yards that should allow Indy to again increase the tempo.
And officials will have the discretion to warn the offense or immediately impose a penalty.
"They can give you a warning, but I think that's pretty much out of the goodness of the referee's heart," Manning said, drawing laughter. "I'd like one [warning], but my understanding is that they don't have to give you one."
Manning, Caldwell and Pro Bowl center Jeff Saturday declined to say what, if anything, would be done differently in Sunday's season-opener at Houston.
But Caldwell thinks the changes will help the Colts stay in sync.
"I think we'll get a flow, a feel for how we're operating and adjust accordingly," he said. "All I know is that we have to play with it this fall, and our job is to win games."
The other contentious issue in Indy has been Anthony Gonzalez's role this weekend.
Indy's first-round pick in 2007 is coming back from a season-ending knee injury and appears to be penciled in as the Colts' No. 4 receiver behind Pro Bowler Reggie Wayne, Pierre Garcon and Austin Collie. Gonzalez is also listed as the Colts' top punt returner, a job he's almost never held.
On Monday, Gonzalez sounded frustrated.
Caldwell responded Wednesday by blaming himself if there was a communication gap.
"The best way to sum it up is that in that locker room we have probably some of the most competitive men who have an unbelievable, obsessive desire to be on top," Manning said. "That's something you have to consider. Anything that deals with communication is strictly my fault. But we do have a 53-man roster and a 16-game season and everybody has a role to play. We need all 53 guys to win, and he's one of those 53."
Manning didn't address that issue.
Instead, he's trying to make sure nothing gets in the way of Indy's offense Sunday.
"I guess it's kind of like telling the left tackle 'You have to move up a little bit," Manning said. "He [the ref] can tell you that. But he can just throw a flag, too."

Copyright 2010 by The Associated Press
2010 NFL PREVIEW
WEEK 1 PREVIEW
THE PIGSKIN PANEL
POWER RANKINGS
EXPERTS' PREDICTIONS
TEAM PREVIEWS
EIGHT GREAT DEBATES
JOHN CLAYTON QB RANKINGS
FOLLOW US ON TWITTER
NFL BLOG NETWORK
INSIDER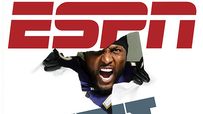 ESPN THE MAGAZINE
Nike Youth Alternate Game Jersey Denver Broncos Peyton Manning #18 Shop »

MOST SENT STORIES ON ESPN.COM