QB consensus: Kolb deserves to start
Michael Vick's tempting, but Andy Reid made the wrong call on starting quarterback
Originally Published:
September 23, 2010
ESPN.com
PIGSKIN PANEL PICKS
Eric Allen: Start Kevin Kolb
Bill Barnwell: Start Kevin Kolb
Stephania Bell: Start Kevin Kolb
Matthew Berry: Start Kevin Kolb
John Clayton: Start Kevin Kolb
Colin Cowherd: Start Kevin Kolb
Dave Fleming: Start Michael Vick
Tim Graham: Start Michael Vick
Christopher Harris: Start Michael Vick
Tim Hasselbeck: Start Kevin Kolb
Merril Hoge: Start Michael Vick
KC Joyner: Start Kevin Kolb
Eric Karabell: Start Kevin Kolb
Mel Kiper: Start Kevin Kolb
Paul Kuharsky: Start Kevin Kolb
Chad Millman: Start Michael Vick
Matt Mosley: Start Kevin Kolb
Antonio Pierce: Start Kevin Kolb
Mike Sando: Start Michael Vick
Aaron Schatz: Start Kevin Kolb
Kevin Seifert: Start Michael Vick
James Walker: Start Michael Vick
Bill Williamson: Start Michael Vick
Matt Williamson: Start Kevin Kolb
Pat Yasinskas: Start Kevin Kolb
On Tuesday night, Philadelphia Eagles head coach Andy Reid made it clear where he stands.
And we've given you a chance to weigh in here and here.
But we wanted the finest football minds ESPN.com could assemble -- our 25-person Pigskin Panel -- to weigh in on the hottest question in the NFL: Should the Eagles start Kevin Kolb or Michael Vick?
By a 16-9 vote, a consensus of the panel believes Kolb deserves to start and Reid's decision to go with Vick is wrong.
"You can't pull the plug that fast after you spend your whole offseason building around this guy," panelist Mel Kiper Jr., ESPN's draft expert, noted. "Second, Vick, based on how he plays, fits almost any scheme because he's going to freelance regardless. If you need him, he doesn't need a ton of reps to step in and make an impact."
Added panelist Pat Yasinskas, ESPN.com's NFC South blogger: "If Kolb is fully healthy, put him out there and give him a full chance. If he fails, the Eagles can always fall back to Michael Vick."
David Fleming, who covers the NFL for ESPN The Magazine, thinks there's no doubt Vick deserves to start.
Said Fleming: "The only reason to go with Kolb, I guess, would be the Pollyannaish myth that NFL starters can't lose their jobs because of injuries."
The panel will weigh in on hot NFL issues throughout the season.
The Pigskin Panel: Kolb or Vick?
Experts: Kolb-Vick chatter
ERIC ALLEN, ESPN:
Vick has done a great job, but I'm under the old-school banner where a player shouldn't lose his job to an injury. The Eagles must allow Kolb the opportunity to show why he was the starter coming into the season. But it's clear that Vick has continued to develop his pocket presence and is really learning a lot from both Andy Reid and Marty Mornhinweg .
THE PICK: Kevin Kolb
---

DAVE FLEMING, ESPN The Magazine:
I can only come up with one reason why the Eagles should start Kolb. It's not energy, rhythm and explosiveness, the rocket fuel of offensive production, because that's what Vick brings in bunches. It's not accuracy, because Vick has started with a career-high completion percentage of 63.8. It's not athleticism or the ability to Houdini something out of nothing when the Eagles' banged up pass protection fails -- Vick is probably the best ever at that. And it's certainly not perspective, leadership or maturity, I mean, just listen to what Vick told me late last season: "I could be facing some impossible situation on the field and all I have to do is think: [A few] years ago you were sitting in a prison cell, go out and enjoy this. After what I've been through? My heart don't pump fear no more." So, the only reason to go with Kolb, I guess, would be the Pollyannaish myth that NFL starters can't lose their jobs because of injuries.
THE PICK: Michael Vick
---

JOHN CLAYTON, ESPN.com:
The Eagles spent the past three years developing Kolb as their quarterback of the future. It's his time. Vick has excited the fans with his arm and his feet, but the Eagles signed him last year to give him a chance, acquire a potential tradeable commodity and at the very least have him as a talented backup. That plan has worked well, and the Eagles deserve credit for that. But they shouldn't start Vick now. That might be an option if Kolb failed, but he needs weeks of failure, not just a part of a game to show what he has or doesn't have.
THE PICK: Kevin Kolb
---

MIKE SANDO, ESPN NFC West blogger: I'm not sure what all the drama's about. Everyone in the Eagles' locker room can see Michael Vick is the best option right now. Go with him and make no apologies. Andy Reid's obligation is to the team. His first responsibility is to play the best players, not to make sure Kevin Kolb or anyone else gets a fair shake. This is not about sticking with Kolb just because that was the plan when the team decided to part with Donovan McNabb. The Eagles made that move because they thought Kolb was better than McNabb and they knew McNabb wasn't viable as a backup for a variety of reasons. They're going with Vick over Kolb now because they think he's their best option. If Kolb is the best option next week or next month or next season, play him then. But let's not go overboard reacting to a logical football decision.
THE PICK: Michael Vick
---

CHRISTOPHER HARRIS, ESPN Fantasy expert:
I'm not so callow as to say Vick's success in Week 2 against the Lions means we can forget his entire up-and-down career as a starting quarterback. I mean, it was the Lions. And this is still a QB who has a career completion percentage of 54 percent. I don't believe the noise that Vick has suddenly "learned a system" and will be a latter-day
Chad Pennington
under Andy Reid's tutelage. Heck, I'm not saying Kolb doesn't reclaim the job at some point in 2010. But Vick
was
excellent in Week 2, too excellent to think about benching him. His spectacular mobility has distracted defenses for as long as he's been in the league, and makes
LeSean McCoy
,
DeSean Jackson
and
Jeremy Maclin
better weapons. If you keep starting him, you have a chance to catch lightning in a bottle. If you don't, you're back to having an unproven first-year starter under center. The difference in upside is obvious, and if Vick spits the bit (which, again, I think he might do), your QB of the future is still right over there, holding a clipboard.
THE PICK: Michael Vick
---

MATT MOSLEY, ESPN NFC East blogger:
The Philadelphia Eagles traded
Donovan McNabb
to a division rival because they thought Kolb was absolutely ready to become the starter. They also gave Kolb a lucrative contract extension to show their commitment. Bailing on him at the first sign of trouble isn't the prudent thing and it wouldn't help the club in the future. Vick has been excellent in relief, but he's not the quarterback of the future for the Eagles.
THE PICK: Kevin Kolb
---

KC JOYNER, The Football Scientist: Andy Reid, first and foremost, looks for one thing in his quarterback: good decision-making. Donovan McNabb gave him that for 11 years (he has the third-lowest interception percentage of all time). Vick and Kolb both struggle in that area, but most of Kolb's mistakes come from correctable errors such as making an inaccurate read of coverage. Vick's gaffes come from taking too many risks in an effort to win the game by himself, which is the story of his football career. Kolb is younger and can still be coached to become a high percentage passer, and that gives him the nod.
THE PICK: Kevin Kolb
---

MATT WILLIAMSON, Scouts Inc.: Vick has outplayed Kolb and, in the short term, he very well could give his team the best chance to win. Vick has exceeded expectations and is very difficult to prepare for, but he also remains a relatively inaccurate passer and doesn't fit the precise timing-based offense that Andy Reid wants to employ. Kolb does fit that West Coast passing attack, which is the reason the Eagles felt comfortable shipping Donovan McNabb to their divisional rival. Kolb has played just one half of bad football. To me, that isn't enough evidence that an entire offseason of player evaluation should be discarded.
THE PICK: Kevin Kolb
---

TIM HASSELBECK, ESPN NFL Live analyst: While Vick has been very impressive in a game and a half for the Eagles, the decision to bail on Kolb and start him is wrong. The Eagles didn't trade Donovan McNabb to play Vick. They did it because Kolb was going to be the quarterback of the future in Philly. Kolb has been schooled in the Eagles' offense for four years and without a doubt is ready to become a top-tier passer. That is why the Eagles rewarded him with a new contract after trading McNabb within the division. Much like Green Bay's decision to turn the franchise over to Aaron Rodgers, the Eagles knew Kolb was prepared to be the man in Philadelphia. Andy Reid has been so successful in Philly because he has always had a plan. No matter how unpopular the decision to stick with the plan was, he stayed with it. Now he has strayed from his plan and has taken a step backward at quarterback.
THE PICK: Kevin Kolb
SPONSORED HEADLINES
MORE NFL HEADLINES
MOST SENT STORIES ON ESPN.COM
NFL WEEK 3 PREVIEW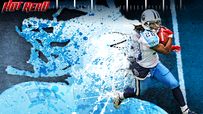 POWER RANKINGS
MNF: PACKERS AT BEARS
HOT READ: CHRIS JOHNSON
EAGLES NAME VICK STARTER
COMMENTARY/BLOG POSTS
FANTASY FOOTBALL
NFL BLOG NETWORK
FOLLOW US ON TWITTER