Vikes coach: Team out of Favre-NFL talk
Updated:
October 18, 2010, 8:22 PM ET
ESPN.com news services
EDEN PRAIRIE, Minn. -- The late summer visit to his Mississippi home from three of his teammates was too persuasive for Brett Favre to pass up.
"We're either going home with you or moving on without you" was the collective word from Jared Allen, Steve Hutchinson and Ryan Longwell, and it worked. The trio brought Favre back to Minnesota for a second season with a veteran Vikings team that has gone all out for another try at the Super Bowl.

Favre
Maybe Favre would have been better off picking his tractor over the pigskin.
Sources told ESPN senior NFL analyst Chris Mortensen on Sunday that Favre is scheduled to meet with the league either Tuesday or Wednesday regarding an allegation he sent racy messages and pictures to a former New York Jets employee when he played there two years ago. Favre said Sunday he's "concerned about the next game" and that he will let the NFL's investigation "take its course."
Coach Brad Childress said Monday the Vikings won't have a role in the meeting, to his knowledge. He said it's not the team's responsibility.
NFL security chief Milt Alherich and his security department have had no success in attempts to interview Jenn Sterger, whom allegedly was the recipient of inappropriate text messages and photos in 2008 when she served as a gameday host while both she and Favre were employed by the Jets.
"I don't expect anything. ... I'm concerned about the next game," Favre said after throwing for 118 yards and a touchdown in the win. "I'll let that take its course."
NFL spokesman Greg Aiello declined to comment Monday about any details of the meeting.
Without Sterger's cooperation, sources told Mortensen on Sunday that the investigation could hit a dead end as early as this coming week. It is not known what details Favre will provide Alherich. He has not publicly denied the allegations, which were made on Deadspin.com.
NFL commissioner Roger Goodell will only meet with Favre if the league's investigation provides evidence that the quarterback has possibly violated the league's personal-conduct policy, the sources added.
Favre's meeting comes during a season that's a long way from a year ago. The Vikings are 2-3 after Sunday's win over Dallas and their championship goals are still a reality in an underwhelming NFC race, but it's been a much more difficult road this year.
Favre has not looked like the same spry, confident quarterback he was when the Vikings were undefeated and scoring plenty of points. The addition of Randy Moss was a big boost, but Favre has clearly missed Sidney Rice while the Pro Bowl pick from last season recovers from hip surgery.
Favre's elbow was bothering him before a cortisone shot last week calmed it down, and his 41-year-old body has endured a lot of hard hits in the pocket.
Favre has acknowledged a few times this fall that the season hasn't been as much fun so far as the last one. He recalled a conversation with his mother and other family members after the Vikings lost their first two games.
NFC North blog

ESPN.com's Kevin Seifert writes about all things NFC North in his division blog.
"They said, 'You've got to start smiling more,' " Favre said. "That's pressure."
Whatever happens, Favre -- who has not denied the allegation or commented specifically about the scandal -- has seen his reputation take a hit and his record consecutive games streak face a potential roadblock.
"It's in the back of our heads, I'm sure, but like I said everything will take care of itself and we can only control what we can control," wide receiver Percy Harvin said Monday of the possibility of Favre missing time. "If he's here, we'll love it. If he's not, we've got his back, and hopefully he'll get back soon."
Childress shrugged off a question about whether Favre might be getting more than he bargained for from this season, pinning any frustration, uncertainty or stress on the team's losing record.
"Smiling is when you're having success and having fun," said Childress, adding: "So hopefully as I say, God willing, he can smile a little bit more as we go forward."
Favre was the center of attention last week during a loss to the Jets on Monday night, and he won't be able to escape the spotlight -- or the boos -- this Sunday when the Vikings go to Green Bay for a game against his old team.
Don't expect his teammates to drop their support now, though.
"I'm sure with all the meetings and stuff he's going to have to deal with it's going to be similar to the Jets," Harvin said. "But like I said, this team, we've got Brett's back on and off the field. So it doesn't matter, the outcome of that. We're going to play a ballgame, and hopefully win."
Distraction?
"We deal with adversity so much," tight end Visanthe Shiancoe said, adding: "All we can control is what we can control. ... That's what a professional is all about. That's what a man is all about."
Information from ESPN senior NFL analyst Chris Mortensen and The Associated Press contributed to this report.
NFL WEEK 6 COVERAGE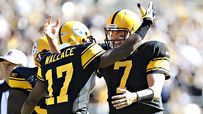 VIOLENCE IN THE NFL
MNF: Titans 30, Jaguars 3
COMMENTARY/BLOG POSTS
FANTASY
NFL BLOG NETWORK
FOLLOW US ON TWITTER

MOST SENT STORIES ON ESPN.COM