Dolphins want review of spitting claim
Updated:
November 8, 2010, 7:34 PM ET
ESPN.com news services
DAVIE, Fla. -- Miami Dolphins coach Tony Sparano said Monday he wants the NFL to investigate the Dolphins' complaint that Baltimore Ravens fullback Le'Ron McClain spat in the face of linebacker Channing Crowder.
McClain denied doing it, but a video replay from WFOR-TV in Miami appeared to confirm the incident, and Sparano said he verified it.
"

As a man, you spit in somebody's face, you crossed the line. Where I'm from, that'll get you killed, straight up. That's around the world, period.

"

-- Karlos Dansby
"I have enough evidence," Sparano said. "It's upsetting to me."
Crowder didn't talk to reporters Monday, one day after a disappointing 26-10 loss at Baltimore dropped the inconsistent Dolphins to 4-4. McClain conceded saliva flew, but only accidentally.
"He said stuff to me I didn't want to hear. I said stuff he didn't want to hear," McClain said. "Spit came out of my mouth when I said something to the dude, and that was it. It wasn't on purpose. I'm not that kind of player."
The Dolphins weren't buying that explanation. Linebacker Karlos Dansby said McClain, a Pro Bowl fullback, should be suspended for the rest of the season.
"As a man, you spit in somebody's face, you crossed the line," Dansby said. "Where I'm from, that'll get you killed, straight up. That's around the world, period."
The video shows the conversation ending when McClain rears his head back before thrusting it forward.
"That's just me talking," McClain said. "You can't see spit coming out of my mouth or anything."
Crowder then waves his left hand in front of his face, as if trying to intercept the spittle, before the players are separated.
Ravens coach John Harbaugh found McClain innocent.
"I talked to Le'Ron," Harbaugh said. "I've seen the videotape of it. It didn't happen. I don't believe for one second it happened."
That's for the league to decide, Sparano said.
"There are a lot of things that go on in this game from a trash-talking standpoint," Sparano said. "I'm standing there on the sideline yesterday, and I had a player talk trash to me from the other team, and I didn't say one word to the guy. That being said, that's part of the game. I get it. Whatever floats your boat. I don't think it's part of the game, but to some of them, that's what gets them going.
"But this whole deal here about spitting in somebody's face -- nowhere in this game do I see any place for that."
After the game, Crowder unleashed a profanity-laced rant about McClain and the officials. Crowder got so heated that Dolphins left tackle Jake Long urged a team spokesman to stop Crowder from speaking.
"I just got told not to talk about it, so I can't talk about it," Crowder replied when first asked about his wild skirmish with McClain in the third quarter. Then he proceeded a beat later anyway. "But Le'Ron McClain spit in my face. He spit in my face. That's some real ho s---. So if you talk to him, go tell him. And if he ever comes to Miami, he's got to see me."
Crowder said when he complained to the officials, they told him they didn't see McClain spit at him.
"Then they said something about they let Karlos Dansby get away with a face mask the play before," Crowder said. "Who the f--- cares? A guy just spit in my face! I don't give a damn about Karlos pulling somebody's face mask. Like they didn't see [Dolphins quarterback] Chad Henne get hit twice when he slid. Yeah, a little Stevie Wonder and Anne Frank."
Asked what the Anne Frank reference meant, Crowder said "Who was that? Is that the blind girl? Helen Keller ... I don't know who the f--- Anne Frank is. I'm mad right now. F--- it. I'm not as swift as I usually am.
"That's the first time I've ever been spit in my face in my life. And that's the worst thing you can do to a man as another man, spit in somebody's face. Why would you do that? Why would you try to? Because you're scared of me? Really? Spit on me and then walk away real fast and let your team protect you? That's what he did."
McClain rebuffed Crowder's claims.
"We got into a little head-butt competition, but no spit, man," McClain said. "Probably me talking, I don't know. But all the spitting and all that ain't my game. I play ball in between the whistles.
"I guess he's a little frustrated. That's all that is."
None of Crowder's teammates said they saw the incident. Dansby quickly became aware of it and said his linebacking partner deserves credit for his restrained response.
"He had to weigh his options," Dansby said. "He asked me on the sideline, 'Should I go whup him?' I'm like, 'Yeah, go whup him.' Then I was like, 'Man, I need you. If you do it, you're going to hurt your team.' So he had to pull back."
Ironically, in the days leading up to the game, Crowder praised McClain as one of the league's best fullbacks. But Crowder also called Ravens receiver Derrick Mason old, and after the game, Mason fired back at Crowder.
"He was getting knocked down, getting pushed out of the way," Mason said. "The guy is horrible."
Information from The Associated Press and ESPN.com AFC East blogger Tim Graham was used in this report.
SPONSORED HEADLINES
MORE NFL HEADLINES
MOST SENT STORIES ON ESPN.COM
NFL WEEK 9 COVERAGE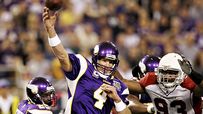 COWBOYS FIRE WADE PHILLIPS
MNF: Steelers 27, Bengals 21
COMMENTARY/BLOG POSTS
NFL BLOG NETWORK
FOLLOW US ON TWITTER
ESPN FAN SHOP