Commentary
A dose of clarity
There's medicine for everything else. Why not for concussions, too?
Originally Published:
January 6, 2011
By
Shaun Assael
| ESPN The Magazine
What do a rat with a headache, a mine collapse-survivor and NHL center Matt Cullen have in common? Each is evidence that a concussion treatment pill may be lurking right under our noses.
Julian Bailes, a neuro-surgeon at West Virginia University, recently found rats that have been given DHA, an omega-3 fatty acid found in fish oil, handle concussive blows much better than those that have not received it. "The rats with DHA had almost no effects," says Bailes.
The neurosurgeon was also involved in the case of Randal McCloy Jr., a miner who suffered brain damage and lapsed into a coma after a mine collapse in 2006. When Bailes gave McCloy high doses of DHA, and another omega-3 (EPA), they helped his brain function improve drastically over time. It didn't take long for word of the fish-oil protocol to make it to locker rooms.
After suffering a concussion in a 2007 game while playing for the Hurricanes, Cullen couldn't shake the fog until his trainer gave him a fish-oil extract. "The cloud I was in disappeared," says the forward, now with the Wild. Since Cullen's recovery, Carolina's strength coach, Pete Friesen, has administered high doses of DHA to every player with a head injury. "It helps guys balance their moods," he says. "I've seen visual acuity improve, too. And that's huge when it comes to getting them back on the ice."
In a concussion, neural fibers are stretched and torn as the brain bounces against the skull. Those fibers are built, in part, with DHA. Adding more gives the brain something to repair with.
Further studies are in the works, but Cullen says he needs no more convincing: "I'll take it for the rest of my life."
• Senior writer for ESPN The Magazine
• Author of "Wide Open: Days and Nights on the NASCAR Tour"; the New York Times best-selling "Sex, Lies and Headlocks"; and "Steroid Nation"
SPONSORED HEADLINES
MORE NFL HEADLINES
MOST SENT STORIES ON ESPN.COM
ESPN The Magazine: January 10, 2011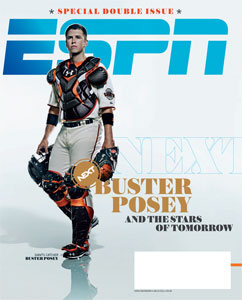 Check out ESPN The Magazine's January 10, 2011 issue -- NEXT -- below.
Features