Sources: Teams to tender restricted FAs
NFL teams are prepared to use restricted free-agent tenders, even if they don't know if the tags will be binding in the uncertain labor climate, according to multiple league sources. These tenders could further antagonize players and agents in the ongoing labor dispute.
Teams are trying to restrict the ability of some of their key players to sign with another club even if their contracts are up. The big question, of course, is whether these tags are binding once there is a new collective bargaining agreement. The current CBA expires at the end of the day March 3 and talks are ongoing between the owners and players' union regarding a new deal.
When told that teams will be using restricted free-agent tenders, one agent said: "The boxing gloves are on."
Once a player receives a restricted free-agent tender, he can wait to see if he receives better offers from other teams before agreeing to a contract with his current team. If another team offers more money, the current team has the right to match it or receive draft-pick compensation depending on the level of tender.
For instance, the Carolina Panthers are expected to place restricted free-agent tenders on running back DeAngelo Williams and Charles Johnson, even if they don't know whether the tags will be binding.
Future Of The League

In a guest column, NFL rep Greg Aiello outlines the league's problems with the CBA and ways to fix the system as the game moves forward. Story
---

NFLPA executive George Atallah breaks down how the players and the union view the crucial talks. Story
• NFL labor history since 1968
• Sando: 10 things to know
• NFL Labor: Topics page
Under the soon-to-expire collective bargaining agreement, players with fewer than four seasons in the league were subject to restricted tenders, but last season -- which was an uncapped year after the owners opted out of the CBA -- players with fewer than six seasons in the league also were subject to receiving tenders, greatly restricting the movement of many.
Williams has been in the league for five seasons and Johnson for four.
Several players balked at having their free-agent rights restricted last offseason. Logan Mankins of the New England Patriots and Vincent Jackson and Marcus McNeill of the San Diego Chargers even sat out some of the season in protest before reporting.
McNeill eventually signed a long-term deal with San Diego. Mankins and Jackson received franchise tags from their teams this offseason.
If these tenders in 2011 are binding, it again will limit where each player can go and what he can earn next season.
Adam Schefter is ESPN's NFL Insider.
ESPN NFL Insider
Joined ESPN in 2009
Former president of the Pro Football Writers of America and the author of four books
SPONSORED HEADLINES
MORE NFL HEADLINES
MOST SENT STORIES ON ESPN.COM
2011 COMBINE COVERAGE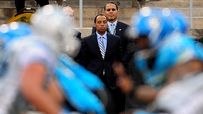 The NFL combine continues through Tuesday in Indianapolis.
Draft page
|
Combine info
COMMENTARY/BLOG POSTS
SCOUTS INC.
NFL BLOG NETWORK
FOLLOW US ON TWITTER
ESPN PASSPORT