Two NFL WRs sign with AFL
Updated:
March 20, 2011, 11:57 AM ET
ESPN.com news services
With the league in a lockout, NFL players aren't permitted to use team facilities and are working out on their own. Two players will try to stay in football shape by playing the game -- in the Arena Football League.
Cleveland Browns receiver Rod Windsor signed with the AFL's Arizona Rattlers on Wednesday. He follows the path taken by Dallas Cowboys receiver Troy Bergeron, who signed with the Cleveland Gladiators earlier this week.
"

We assumed there would be players that would join the AFL. We are not sure how big the influx will be.

"

-- AFL commissioner Jerry B. Kurz
Both players were on the practice squads of their respective NFL teams last season and played in the AFL before joining the NFL. They remain under contract with their NFL teams but are allowed to sign with other pro leagues because there is no current collective bargaining agreement.
Teams are not permitted to contact their players about anything during the lockout.
"We assumed there would be players that would join the AFL. We are not sure how big the influx will be," AFL commissioner Jerry B. Kurz said in a statement. "We are confident that the NFL issues will be resolved and they will play this season. We work well in conjunction with the NFL and they have supported us and our players greatly."
With the Rattlers last season, Windsor was the league's rookie of the year after 193 catches for 2,372 yards and 47 touchdowns. Bergeron played for the AFL's Georgia Force in 2005, 2007 and 2008. He was the league's rookie of the year in 2005.
Tennessee Titans defensive end Jason Babin told The Tennessean Wednesday that he has received "feelers" from both the United Football League and the Canadian Football League. He also plans to start mixed martial arts training and might enter some competitions.
"I know those leagues would love to grow their awareness and if they got a certain amount of high-profile guys to join in, the money would go from the NFL pool to the CFL or UFL pool and maybe they could negotiate a TV deal," Babin told the newspaper. "Now that would scare the [stuffing] out of the NFL owners if they could pull something like that off, you know?
"So the NFL owners are fighting two fights. They are fighting a lockout fight, and they could be fighting the rise of the other leagues. They make themselves vulnerable the longer this lockout goes on."
The 18-team AFL kicked off its 24th season last weekend. The season ends Aug. 12 with the ArenaBowl. The five-team UFL begins play in early August and the eight-team CFL begins play June 30.
Some NFL players are involved in sports other than football during the lockout. Baltimore Ravens safety Tom Zbikowski won a professional boxing match last week and has another bout scheduled.
"I wanted to get the ring rust off in this fight," he said after his win in Las Vegas. "Right now this isn't a second career for me. It's a first career."
Minnesota Vikings defensive end Ray Edwards also has been training in the boxing ring and might make his fight debut in early April if the lockout drags on.
"Right now, it all depends on where I am at in my career," Edwards, who is a free agent, told ESPN Mobile about a future in boxing. "If the lockout goes to August and I'm moving up in the ring, then different things can happen. There is a lot of money in boxing, just as there is in football. It becomes a numbers game after that."
Cincinnati Bengals receiver Chad Ochocinco has a tryout with Major League Soccer's Sporting Kansas City scheduled for next week.
"Due to the NFL lockout, I'm excited to be able to follow my childhood dream of playing for a Major League Soccer team," Ochocinco said Wednesday in a statement announcing the tryout.
Information from The Associated Press was used in this report.
SPONSORED HEADLINES
MORE NFL HEADLINES
MOST SENT STORIES ON ESPN.COM
2011 NFL DRAFT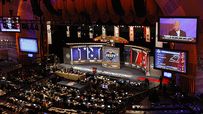 DraftTracker
|
Trade Tracker
|
Team talk
Gallery: Draft photos
|
Draft blog
PICK-BY-PICK ANALYSIS
TEAM-BY-TEAM PICKS
DIVISION DRAFT REVIEWS
ANALYSIS
NFC COLUMNS/BLOG POSTS
AFC COLUMNS/BLOG POSTS
SPORTSNATION
ESPN LOCAL DRAFT CENTERS
ESPN W
MaseDenver

Andrew Mason


Just arrived at Barnes and Noble on Colorado Blvd. ... Sharing shelf space with Chuck Pagano and Alan Page! http://t.co/sY0YhAX8v5
about 2 hours ago

qbcentric

QBcentric


Watch @TDESPN talk about @TeamRWB Cmndr Sgt-Major Todd Burnett and @BUFootball #QB @B_Petty14http://t.co/J1oXW39gwK
about 3 hours ago

TerryBlountESPN

Terry Blount


Very cool for the Enumclaw Flash. He's in the Chase.
about 3 hours ago

TerryBlountESPN

Terry Blount


Just a horrible break for Kasey, who had this race won.
about 4 hours ago

CourtneyFallon_

Courtney Fallon


For one final time.. [sigh].. We're doing it LIVE on @NBC6Sports #SportsFinal. @JamesWalkerNFL + Joe talk #Dolphins, @CanesFootball opens...
about 4 hours ago

HistoryInPics

History In Pictures


Steve Buscemi's Elementary School Yearbook Photo http://t.co/lwFXRMcAi0
about 5 hours ago

mikebushksdk

Mike Bush


Amazing story! How some musicians made a dream come true for a songwriter diagnosed with ALS . Tonight on Newschannel 5 at ten!
about 5 hours ago

DNewtonespn

David Newton


My first official selfie. Couldn't resist. http://t.co/tJNHk8qatS
about 5 hours ago

RobDemovsky

Rob Demovsky


#Packers go with Flynn as the No. 2 QB, and it's a role he's perfect for. http://t.co/WywYOA47WN
about 5 hours ago

RGIII

Robert Griffin III


Had a blast with the Baylor Line at halftime #SicEm http://t.co/dClftrbOri
about 5 hours ago

wingoz

trey wingo


Quitter RT @SI_PeterKing: MMQB is the bank. Will be moving Ted Thompson piece to Wednesday @theMMQB because, well, I expired at 9,300 words.
about 5 hours ago

DNewtonespn

David Newton


Not new WRS for #Panthers. http://t.co/8Ye5wPLrnW
about 5 hours ago

RobDemovsky

Rob Demovsky


Video: @JosinaAnderson and I discuss the hot topics around the #Packers today.http://t.co/1N4ytzxnF1
about 5 hours ago

JamesWalkerNFL

James Walker


MIA tweeps, I will be on @NBC6Sports Final tonight at 11:30pm talking #Dolphins cuts and previewing the huge game vs. the #Patriots.
about 5 hours ago

RobDemovsky

Rob Demovsky


CB Jumal Rolle is expected to join the #Packers practice squad tomorrow. Given that they already a full squad, they will have to make a move
about 5 hours ago

MarkKriegel

Mark Kriegel


Masterfully done. Funny, sympathetic, honest. The best thing you will read on Jerry Jones, or the #Cowboys. By @DVNJr http://t.co/Snb6UR5v06
about 6 hours ago

wingoz

trey wingo


My man RT @Realrclark25: Charles the guy for fantasy RT @wingoz: Jamaal Charles RT @JasonRomano: Number 1 pick Adrian Peterson or Shady?
about 6 hours ago

SeifertESPN

Kevin Seifert


In the #NFL, Sunday was a Wednesday for the #Packers and #Seahawks. Kickoff is Thursday, which to them will be Sunday. #thatshowwedo
about 6 hours ago

JamesWalkerNFL

James Walker


#Dolphins practice squad includes C Sam Brenner, WR Matt Hazel, WR Tommy Streeter, DL Garrison Smith, QB Seth Lobato, OT Tony Hills.
about 6 hours ago

RobDemovsky

Rob Demovsky


No-huddle or huddle, Rodgers and Linsley will have to deal with the noise in Seattle. #Packers http://t.co/LBkigKV97Q
about 6 hours ago
ESPN FAN SHOP
MORE FROM ESPN DALLAS

Check out ESPN Dallas, the place for your local Dallas sports coverage.