Lockout threatens workout bonuses
A common thought in the football world is that players will not lose money in a lockout until the regular-season games start. But offseason workout bonuses easily could be flushed away.
ESPN obtained a copy of some of the biggest workout bonuses that players have, and whom this lockout will hit in the wallet sooner rather than later. Jets offensive tackle D'Brickashaw Ferguson has the biggest offseason workout bonus -- $750,000 if he participates in 85 percent of the workouts.
Quarterbacks Aaron Rodgers, Eli Manning and Jay Cutler each have $500,000 offseason workout bonuses. Rodgers must participate in 85 percent of the workouts, and Manning and Cutler 90 percent each.
If the lockout ends, the offseason schedule gets pushed back and a team has only five workouts, a player who needed more than 85 percent attendance would have to attend all of the workouts, because missing just one workout would put him at 80 percent attendance. If there is no offseason, the players would lose their workout bonuses entirely.
Whatever the numbers are, the bonuses are jeopardized the longer the lockout lasts.
Top Workout Bonuses
2011 NFL Workout Bonuses
Team
Player
Bonus
Pct
New York Jets
D'Brickashaw Ferguson
$750,000
85
New York Giants
Shawn Andrews
$500,000
90
Seattle Seahawks
Stacy Andrews
$500,000
90
San Francisco 49ers
Nate Clements
$500,000
90
Chicago Bears
Jay Cutler
$500,000
90
Miami Dolphins
Karlos Dansby
$500,000
90
Washington Redskins
DeAngelo Hall
$500,000
85
Giants
Eli Manning
$500,000
90
Buffalo Bills
Shawne Merriman
$500,000
70
Arizona Cardinals
Kerry Rhodes
$500,000
85
Green Bay Packers
Aaron Rodgers
$500,000
85
49ers
Justin Smith
$500,000
90
Jets
Bryan Thomas
$500,000
85
Bears
Brian Urlacher
$500,000
85
Dallas Cowboys
DeMarcus Ware
$500,000
90
Tampa Bay Buccaneers
Donald Penn
$400,000
85
Jets
Mike DeVito
$350,000
90
Dolphins
Brandon Chillar
$300,000
85
Packers
Greg Jennings
$300,000
85
Giants
Michael Boley
$250,000
90
New England Patriots
Tom Brady*
$250,000
90
Bears
Lance Briggs
$250,000
85
Kansas City Chiefs
Matt Cassel
$250,000
90
Cardinals
Darnell Dockett
$250,000
90
New Orleans Saints
Sedrick Ellis
$250,000
90
Packers
Ryan Grant
$250,000
85
Bears
Devin Hester
$250,000
85
Chiefs
Derrick Johnson
$250,000
90
Minnesota Vikings
Bryant McKinnie
$250,000
90
Redskins
Donovan McNabb
$250,000
85
Cincinnati Bengals
Chad Ochocinco
$250,000
85
Jets
Calvin Pace
$250,000
85
Cardinals
Joey Porter
$250,000
90
Giants
Antrel Rolle
$250,000
90
Jets
Bart Scott
$250,000
85
Patriots
Ty Warren
$250,000
90
Cardinals
Adrian Wilson
$250,000
90
Patriots
Tully Banta-Cain
$200,000
90
Saints
Drew Brees
$200,000
90
49ers
Vernon Davis
$200,000
90
Packers
Donald Driver
$200,000
85
Saints
Jahri Evans
$200,000
90
Dolphins
Brandon Marshall
$200,000
90
Packers
Ryan Pickett
$200,000
85
Jets
LaDainian Tomlinson
$200,000
85
Patriots
Jerod Mayo
$180,000
90
Indianapolis Colts
Robert Mathis
$160,000
90
Packers
Nick Barnett
$150,000
85
Giants
Justin Tuck
$150,000
90
*Brady can recover in 2012; bonus increases to $500,000 if there are no 2011 workouts
Adam Schefter is ESPN's NFL Insider.
ESPN NFL Insider
Joined ESPN in 2009
Former president of the Pro Football Writers of America and the author of four books
2011 NFL DRAFT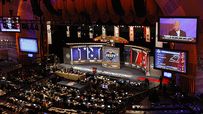 DraftTracker
|
Trade Tracker
|
Team talk
Gallery: Draft photos
|
Draft blog
PICK-BY-PICK ANALYSIS
TEAM-BY-TEAM PICKS
DIVISION DRAFT REVIEWS
ANALYSIS
NFC COLUMNS/BLOG POSTS
AFC COLUMNS/BLOG POSTS
SPORTSNATION
ESPN LOCAL DRAFT CENTERS
ESPN W
ESPNInsider

ESPN Insider


Blake Bortles, Kirk Cousins... Snag these QBs now, get value for them later. From @WilliamsonNFL: http://t.co/Jilrl5arG6
50 minutes ago

SeifertESPN

Kevin Seifert


I'm too old for post-midnight announcements. All I can say is Vikings caused themselves 2 days of grief but landed in a better spot. G'night
about an hour ago

SeifertESPN

Kevin Seifert


Phone rings at 1:30 am to news of Vikings reversal on Adrian Peterson. Now, possible he will never play for team again.
about an hour ago

RavensInsider

Aaron Wilson


Signing Victor Butler, Cardinals also tried out Everette Brown, Israle Idonije, and Chidera Uzo-Diribe
about 2 hours ago

keithlaw

keithlaw


@kcoolbaugh Nah, I'll tweet about whatever I want, thanks.
about 4 hours ago

SavannahHollis

Savannah Hollis


Unnecessary but incredible thank you from a former student. She will ACE her college Microbiology exam tomorrow http://t.co/Q4hzYAZbQ3
about 4 hours ago

MLB

MLB


Burning eyes never felt so good. Huh, Buck? #Orioles http://t.co/b39V3N4845
about 4 hours ago

MikeWellsNFL

Mike Wells


Michael Wallace with a great look at the trials of Indianapolis' Greg Oden http://t.co/5H7dMTlrCI via @espnnba
about 5 hours ago

Edwerderespn

Ed Werder


Running back raised with harsh discipline..RT.. Friends, family recall whippings to Peterson http://t.co/g2sggAGEiB via @espnnfl
about 5 hours ago

john_keim

John Keim


Wonder what @granthpaulsen would do if Adam jones had smashed a pie in his face during celebration with fans. Quite a dilemma
about 5 hours ago

Stumpf_Brian

Brian Stumpf


Week 4 @Elite11 QB Tracker - Wimbush, four others account for six scores; QB's teams go 17-1 http://t.co/X5sGyu7j1j http://t.co/QQaOYvAqM0
about 5 hours ago

DL44Blaster

Blaster


@Edwerderespn Is she working in the district she grew up in? (I was your sons 7th grade History teacher). I could use a sub next month!
about 5 hours ago

FalconsJAdams

Jay Adams


Mike Kenn (@MikeKennHOF2015), Morten Andersen named to @ProFootballHOF Class of 2015 preliminary ballot: http://t.co/omJt1063Dq #RiseUp
about 5 hours ago

WBALPete

Pete Gilbert


My favorite pic, Markakis by himself (fitting) just savoring. #WBALOrioles http://t.co/NN5uL7vSMN
about 5 hours ago

john_keim

John Keim


@Snide_Remarks long as I can expense the cleaning bill....now expecting u dancing In background with ur book
about 5 hours ago

jamisonhensley

Jamison Hensley


Kind of a cool gesture by Orioles manager Buck Showalter to let his players celebrate the AL East title before joining them on the field
about 5 hours ago

RosenhausSports

Drew Rosenhaus


I'm excited to watch my wife @LisaAThomson on the Amazing Race next Friday http://t.co/EH7R8zTUN9
about 5 hours ago

jamisonhensley

Jamison Hensley


#Orioles clinch the AL East #PartyLikeIts1997
about 5 hours ago

jamisonhensley

Jamison Hensley


1 out #OriolesMagicNumber
about 6 hours ago

jamisonhensley

Jamison Hensley


2 outs #OriolesMagicNumber
about 6 hours ago

MORE FROM ESPN NEW YORK

Check out ESPN New York, your destination for sports coverage in the Big Apple.
MORE FROM ESPN BOSTON

Want to submit a question for Mike Reiss' weekly Patriots mailbag? Click here and come back every Tuesday around noon for the 'bag.
Latest headlines on ESPNBoston.com:
MORE FROM ESPN DALLAS

Check out ESPN Dallas, the place for your local Dallas sports coverage.