NFL changes kickoffs, replay rules
Updated:
March 24, 2011, 12:43 PM ET
By
John Clayton
| ESPN.com
NEW ORLEANS -- NFL owners voted to alter rules for kickoffs and instant replay next season but tabled a proposal that would have expanded language changes in the rule involving penalties against defenseless players.
The rule that moves kickoffs from the 30 to the 35-yard line passed 26-6, while the rule to have the booth replay official review all scoring plays passed 30-2. Overall, four of the five proposals up for vote passed.
With changes suggested by 32 head coaches attending the NFL owners meetings, kickoffs will move from the 30 to the 35-yard line but adjustments were made in the proposal by the NFL competition committee.
With the input of coaches, the committee decided to allow return teams to have a two-man wedge. The committee proposal suggested the elimination of the two-man wedge, but coaches argued that would make it harder to have quality returns.
The other tradeoff by the committee to get the vote passed was not changing the spotting of a touchback. Touchbacks will still be spotted at the 20-yard line. The committee had suggested moving touchbacks to the 25.
The final element of the change in the kickoff rule was adjusting the running starts for the coverage teams before the kickoff. Before, coverage players could get a 10- to 15-yard start before the kicker makes contact with the ball. Under the new rule, coverage players will get only a 5-yard running start. That was what the competition committee had recommended.
Competition committee chairman Rich McKay said coaches were concerned about an increase in high kicks from the 35 intended to trap returning teams deep and severely decreasing the number of returns. He also said the two-man wedge was not a driving force in the uptick in injuries on kickoffs. Indeed, more injuries occur in coverage than on the return squads.
Stats & Info: Kickoff Change
With the NFL moving kickoffs back to the 35-yard line, history shows there should be more touchbacks next season, Jason Vida writes. Blog
As for the six no votes, McKay said: "The objections were, 'Hey, you're affecting my team.' Clearly, some teams have good kick returners and they said, 'What if there's 10 percent less returns?'
"We have no answer," McKay added, "but player safety will always trump any other consideration."
A league source told ESPNNewYork.com's Rich Cimini that the New York Jets were one of the teams to vote in favor of the changes. New York's Brad Smith, a free agent this summer, led the NFL last season with a 28.6-yard return average.
However, two prominent kick returners weren't happy with Tuesday's rule change.
Cleveland Browns returner Josh Cribbs blasted the move via his Twitter account.
"NFL rule changes are BS... U not making the game safer u messing a great sport, trynna hide behind safety just to add 2 games...smh," he wrote.
"... This means it will be touchbacks all over the place...," he continued. "Essentially taking returners out of the game...injuries will still take place, then what move it up again, or eliminate it all together.."
Cribbs continued his critique on ESPN's "NFL Live" later Tuesday, saying he was "upset" with the changes and that Browns kicker Phil Dawson would have a "field day" with the new rule.
Although he commends the NFL for trying to improve player safety, he said the league is eliminating a big part of the game with the kickoff change, taking away opportunities from himself and other returners.
"You can't eliminate injuries from football. It's a gladiator sport," he said.
The Chicago Bears' Devin Hester also blasted the rule change in a radio interview with ESPN 1000 in Chicago.
"They're going too far. They're changing the whole fun of the game," Hester said Tuesday on "The Waddle & Silvy Show." "Fans come out -- especially in Chicago -- to see returns. That's one of the key assets to the team. Fans [like] our big returns. You take that out of the game, not only do they kick it out of bounds when it's time to punt the ball, now you get the disadvantage on kickoffs. We felt we were guaranteed [a chance] on kickoff returns and now you're taking that away, it's like you're taking the whole return game out of the picture."
New England Patriots coach Bill Belichick had strongly opposed the original proposal that would have spotted the ball at the 25 on a touchback and eliminated the two-man wedge. He approved of the proposal that passed, however.
Blog: NFL Owners Meeting
ESPN.com's division bloggers have the NFL owners meeting in New Orleans covered. Blog
Making kickoffs safer was the objective, and New Orleans Saints coach Sean Payton believes the owners met it.
"The bottom line is it's ... the highest risk of injury play," he said.
The other major change involved instant replay. The booth replay official will now have to confirm all scoring plays, saving coaches from using challenges on plays in the end zone. To pass that proposal, the committee altered its suggestion by not changing the number of challenges for coaches. Now, coaches can make two challenges a game, but if they are correct on both, they would have access to a third challenge. The committee wanted to eliminate the third challenge.
Belichick also approved of the change in replay.
"It's kind of like the college rule, kind of cleans it up a little bit," Belichick said. "I think any time the pro rules and the college rules are the same that's better for the fans. It's easier to follow, you know, one foot, two foot, all the things like that. To make it more consistent, that's better."
Coaches pushed for the change in great part because they felt they didn't get a fair shake in road games.
"It's a real big competitive disadvantage," Baltimore Ravens coach John Harbaugh said. "You don't get that look at it on the road that you get at home; they just don't show it."
In a surprising move, the NFL tabled the expanded language changes in the rule involving penalties against defenseless players. Last year, the NFL cracked down with heavy fines and possible suspension for hits on defenseless players. The competition committee wanted to spell out those rules with eight explanations of what would be considered finable hits on defenseless players.
Though that rule is expected to eventually pass, more time was needed for the language.
There were two other minor changes. Teams that wish to change the color of their field now require league approval. Though no team has suggested making a change to a blue or red field, the league wanted to be proactive and prevent that from happening without approval.
Atlanta Falcons owner Arthur Blank said the concern was that sponsors could approach teams and suggest a deal that involved altering a field's color.
Another proposal that passed clears up the confusion on penalties for dead ball fouls. To make all dead ball fouls consistent, on penalties in that situation at the end of the half, the half will not be extended. Before there was confusion based on which unit committed the dead ball foul.
Senior writer John Clayton covers the NFL for ESPN.com. Information from ESPNBoston.com's Mike Reiss and The Associated Press was used in this report.
NFL senior writer
Senior NFL writer and commentator
Joined ESPN in 1995
Member of the writers' wing of the Pro Football Hall of Fame in Canton, Ohio
2011 NFL DRAFT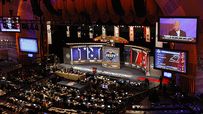 DraftTracker
|
Trade Tracker
|
Team talk
Gallery: Draft photos
|
Draft blog
PICK-BY-PICK ANALYSIS
TEAM-BY-TEAM PICKS
DIVISION DRAFT REVIEWS
ANALYSIS
NFC COLUMNS/BLOG POSTS
AFC COLUMNS/BLOG POSTS
SPORTSNATION
ESPN LOCAL DRAFT CENTERS
ESPN W
TerryBlountESPN

Terry Blount


Mike Zunino is the most productive .200 hitter in baseball. And he will be much more than a .200 hitter next year.
9 minutes ago

PaulKuharskyNFL

Paul Kuharsky


Titans may call on young cornerbacks: NASHVILLE, Tenn. -- Jason McCourty, the Tennessee Titans top cor... http://t.co/8UzOvY0eBJ #Titans
10 minutes ago

TajGibson22

Taj Gibson


I like coming off the bench tho!!! Starting or coming of the bench really doesn't matter. Please miss me with the drama #SeeRed #BullsNation
13 minutes ago

Edwerderespn

Ed Werder


Question I hope someone will eventually answer: how was Ray Rice worth all of this?
42 minutes ago

JimTrotter_NFL

Jim Trotter


I was asked to write about Goodell's "news" conference, so I did. @nflcommish http://t.co/wg5hK0EnDB
44 minutes ago

PatMcManamon

PatMcManamon


On Josh Gordon's suspension officially being reduced to 10 games -- #Browns -- http://t.co/gwgdOOi46q
47 minutes ago

wingoz

trey wingo


Why I love The @RitzCarlton ...this greeting....every time http://t.co/NiK20SEsTZ
about an hour ago

jamisonhensley

Jamison Hensley


According to @jeffzrebiecsun, Ravens will hold press conference next week to address ESPN report
about an hour ago

MikeWellsNFL

Mike Wells


"@indywest1: @jakequery Yo Jake, as a fellow frequent flyer I thought you'd enjoy this: http://t.co/oJfC50v45O" (I want one of those shirts)
about an hour ago

JamesWalkerNFL

James Walker


Video: Second Ban For #Dolphins' Dion Jordan http://t.co/Izp2UQXLt8"-Here are my thoughts on the situation.
about an hour ago

AdamSchefter

Adam Schefter


Latest look at Ravens' role from @DVNJr and @KVanValkenburg:http://t.co/rqPL2LeU9Q
about an hour ago

taniaganguli

Tania Ganguli


Great reporting by @KVanValkenburg and @DVNJr on the Ravens, Ray Rice and who knew what and when they knew it. http://t.co/c9PCkEbU9N
about an hour ago

ESPN_Reader

ESPN_Reader


.@OTLonESPN: NFL took uncharacteristically passive approach when it came to gathering evidence in Ray Rice case: http://t.co/9c1eGRsryT
about an hour ago

jamisonhensley

Jamison Hensley


#Ravens LB Courtney Upshaw fined $16,537 for hit on Big Ben, which is nearly one-third of his weekly check http://t.co/od8M4BM3yt #steelers
about 2 hours ago

RichCimini

Rich Cimini


If no Decker, Gang to lean on ground game: FLORHAM PARK, N.J. -- If Eric Decker cannot go Monday night due to ... http://t.co/BExjEBeObS
about 2 hours ago

AdrianPeterson

Adrian Peterson


!Note,I requested the Polygraph. Share that as well! May The Lord continue to Bless U All. #EPD#NoWeapon
about 2 hours ago

taniaganguli

Tania Ganguli


Great reporting by @KVanValkenburg and @DVNJr on the Ravens, Ray Rice and who knew what and when they knew it. http://t.co/c9PCkEbU9N
about 2 hours ago

SeifertESPN

Kevin Seifert


100 years from now, when no one remembers Roger Goodell or Ray Rice or Jerry Jones, they'll still be talking about @DVNJr in journo schools.
about 2 hours ago

MikeReiss

Mike Reiss


A bit more on the four players in for tryouts with the Patriots. http://t.co/ll2nMb09cp
about 2 hours ago

PatYazESPN

Pat Yasinskas


Bucs now saying it's a sprain for Josh McCown's thumb. Still unsure if he'll be ready for Pittsburgh next week.
about 2 hours ago
MORE FROM ESPN BOSTON

Want to submit a question for Mike Reiss' weekly Patriots mailbag? Click here and come back every Tuesday around noon for the 'bag.
Latest headlines on ESPNBoston.com: