Warrant issued for Aqib Talib
Police in a Dallas suburb have issued an arrest warrant for Tampa Bay Buccaneers cornerback Aqib Talib accusing him of firing a gun at his sister's boyfriend.
Garland police said Tuesday they believe Talib and his mother, Okolo Talib, shot at the man March 21. The man wasn't injured. Earlier that day, the man had been listed as a suspect in a disturbance and was charged with assault and interference with an emergency phone call from that incident.
Yasinskas: It's Enough Already

Given Aqib Talib's past run-ins and the fact that the current regime didn't even draft him, it's time for the Bucs to cut ties, ESPN.com's Pat Yasinskas writes. Blog
Authorities issued arrest warrants for aggravated assault with a deadly weapon for Talib and his mother. She turned herself in Tuesday.
Police say Aqib Talib is set to turn himself in later this week. His agent, Todd France, did not immediately return a call.
Aqib Talib's bail will be set at $25,000, according to the Garland Police Department.
"We are deeply troubled by the serious charges filed against Aqib Talib," Bucs general manager Mark Dominik said in a team statement. "Due to current labor circumstances, we will withhold any further comment or action."
A Garland police spokesman said in a radio interview with Tampa station WDAE (620 AM) Tuesday afternoon that detectives met with Aqib Talib last week and continued their investigation before making the decision to charge him with a crime. The spokesman said the charge is a second-degree felony, which can carry a prison sentence of five to 20 years.
Okolo Talib was booked Tuesday morning on a charge of aggravated assault with a deadly weapon with an additional charge of felon in possession of a firearm, which was added based on a prior conviction. Her bond was set at $25,000 for the assault charge and $5,000 for the possession of a firearm charge.
Aqib Talib, who went to L.V. Berkner High School in the Dallas suburb of Richardson, played at the University of Kansas and was a first-round pick by the Buccaneers in 2008. He's also been in trouble before. He was suspended by the NFL for the first game of last season after a 2009 altercation with a cab driver.

Talib
He was entered into a pretrial diversion program and ordered to attend anger management classes after the incident with the cab driver, which whom he reached a financial settlement.
Although NFL players are currently locked out, commissioner Roger Goodell said last week they still are subject to the league's personal conduct policy and disciplinary action can be taken after the labor situation is resolved.
The 25-year-old Talib has 15 interceptions in three NFL seasons.
Pat Yasinskas covers the NFC South for ESPN.com. Information from The Associated Press contributed to this report.
ESPN NFC South Blogger
Joined ESPN in 2008
Began his journalism career with The Tampa Tribune in 1990
SPONSORED HEADLINES
MORE NFL HEADLINES
MOST SENT STORIES ON ESPN.COM
2011 NFL DRAFT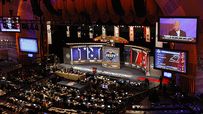 DraftTracker
|
Trade Tracker
|
Team talk
Gallery: Draft photos
|
Draft blog
PICK-BY-PICK ANALYSIS
TEAM-BY-TEAM PICKS
DIVISION DRAFT REVIEWS
ANALYSIS
NFC COLUMNS/BLOG POSTS
AFC COLUMNS/BLOG POSTS
SPORTSNATION
ESPN LOCAL DRAFT CENTERS
ESPN W
MikeReiss

Mike Reiss


Patriots QB Tom Brady to @SI_PeterKing: "Never felt better throwing the football." http://t.co/y41HXbxRRt
about 3 hours ago

wingoz

trey wingo


Samwelll Tarly bringing the funk AND the noise....
about 6 hours ago

wingoz

trey wingo


Game of Thrones?
about 7 hours ago

mortreport

Chris Mortensen


For 18th year in Jacksonville (Ponte Vedra) @coughlinjayfund dinner & auction tonight. Golf tomorrow Check it out: http://t.co/RmfnaV7KtC
about 8 hours ago

wingoz

trey wingo


Here's why Golf will drive you crazy: Keegan Bradley went 10 under Thursday.... 1 under over the next three rounds. #driveyoutodrink
about 11 hours ago

RichCimini

Rich Cimini


#Jets QB Geno Smith, guest on SiriusXM, said he's "pretty close" to hiring a new agent.
about 11 hours ago

RichCimini

Rich Cimini


This is a surprise: Eagles are expected to waive RB Miguel Maysonet of @stonybrooku, per @caplannfl.
about 11 hours ago

WilliamsonNFL

Matt Williamson


RT @ShanePHallam: @WilliamsonNFL Could you RT Matt? @Fantasytaz is putting together fantasy leagues for @Ladd_Davies daughter's cause. http…
about 12 hours ago

Edwerderespn

Ed Werder


RT @giantspathanlon: We can't do enough for that town and its children. Thx NE! RT @ProFootballTalk: Patriots football clinic in Newtown ht…
about 12 hours ago

NotoriousOHM

Ohm Youngmisuk


>> RT "@caplannfl: The Eagles are expected to waive UDFA RB Miguel Maysonet, per source. Certainly a surprise."
about 12 hours ago

RichCimini

Rich Cimini


Following up on QB Brian Hoyer: The #Jets didn't show interest before he signed with the Browns, per source.
about 14 hours ago

espncowboysblog

espncowboysblog


Cowboys weekend mailbag: Should the Cowboys get Charles Woodson http://t.co/eifMYdAfcd
about 14 hours ago

Edwerderespn

Ed Werder


Enduring 2-hr flight delay to Jaws golf event, can't remember last time AA wasn't late or didn't lose luggage.
about 15 hours ago

ESPNChiBears

Jeff Dickerson


The latest on the NFL with @ClaytonESPN coming up next with me and @fred_huebner on @ESPN1000.
about 16 hours ago

NFLRumorCentral

ESPN


Should #Jets keep or cut Mike Goodson following Friday's arrest?: http://t.co/jYLUbsvpop
about 17 hours ago

ESPNChiBears

Jeff Dickerson


Back in the studio to host Chicago's Gameday with @fred_huebner from 10-1:30 p.m. on @ESPN1000 and @ESPNChicago.
about 18 hours ago

RichCimini

Rich Cimini


For those who want Idzik to cut Goodson asap to send message: He's deliberate on big decisions, i.e Revis, Tebow. Figures to do same here.
about 18 hours ago

RichCimini

Rich Cimini


Idzik's interest in QB market, post-Garrard, shows he's not content with Sanchez/Smith. He wants options. Hardly a vote of conf for Sanchez.
about 18 hours ago

AdamSchefter

Adam Schefter


You're right. @PeteThePlanner: @AdamSchefter here's a better pic of it http://t.co/TOXC4bdaWO
about 18 hours ago

AdamSchefter

Adam Schefter


The Moment Carmelo Anthony went Charles Smith, captured in today's NY Times. http://t.co/MlGbpVJ9x7
about 18 hours ago
MORE FROM ESPN DALLAS

Check out the new ESPN Dallas, the place for your local Dallas sports coverage.