Derrick Mason: Roger Goodell a 'joke'
Updated:
April 12, 2011, 12:04 PM ET
ESPN.com news services
Roger Goodell said earlier this week that the NFL will insist on testing for human growth hormone in the next labor deal. A prominent receiver said Tuesday the commissioner is a "joke" for the stance he's taking.
In his weekly appearance on "The Norris & Davis Show" on 105.7 FM in Baltimore, Ravens receiver Derrick Mason said Goodell needs to focus his attention on getting a deal done between the owners and players instead of talking about drug testing.
"He needs to stop crying about blood tests and HGH. He needs to try to get a deal done, that's what he needs to do," Mason said. "He's been on this crusade about HGH, but he needs to be on a crusade about getting these owners together and trying to work out a deal. To me, he's a joke, because every time I look, he's talking about performance enhancements instead of talking about trying to figure out a way to make sure football is played in August."
When asked if he would call Goodell a "joke" to his face, Mason replied: "Yeah. He's a grown man and I'm a grown man."
Not all NFL players agree with Mason's take, however. New York Jets cornerback Antonio Cromartie posted comments on Twitter saying he is in favor of HGH testing.
"Jus was reading an article about HGH testing in the NFL. I'm for it I'm not against it. If u against that mean you hiding something," he wrote.
"i mean u shouldn't have 2 cheat 2 get an edge just go out an play ball. God created us all differently so us the talents he blessed us with."
Goodell made his comments about HGH testing on Monday when he joined Rep. Elijah Cummings, a Maryland Democrat, to speak to area students at Woodlawn High School in Baltimore County.
"

To me, he's a joke, because every time I look, he's talking about performance enhancements instead of talking about trying to figure out a way to make sure football is played in August.

"

-- Derrick Mason
"I made it clear to the kids in the room today that the integrity of the NFL is critical, and we need to make sure we're doing everything possible to have the best drug program in sports," Goodell said. "Making changes to our program is critical and we have done that over the years. We need to do more, including the inclusion of HGH testing."
Preventing athletes from using HGH is a key target in the anti-doping movement. The substance is hard to detect, and athletes are believed to choose HGH for a variety of benefits, whether they be real or only perceived -- including increasing speed and improving vision.
HGH use is prohibited by the NFL, but the league's old collective bargaining agreement did not have testing for it. Goodell thinks players "recognize the importance of" adding HGH tests.
Mason said Wednesday that, if there is HGH testing in the next collective bargaining agreement, he doesn't want to have to submit to a blood test.
"Blood tests, I don't know. They've been crying about a blood test for [a while]. I think that's too intrusive. There's other ways and other methods, I think, to go about testing for it," he said.
The NFL Players Association has opposed blood tests in the past but did say last summer it would be open to hearing a proposal from the league during CBA talks. Goodell said Monday that HGH was "part of a broader proposal on where we go with our drug program."
CBA negotiations broke off March 11, and the old deal expired. The NFLPA said it would no longer function as a union, and a group of players filed a class-action antitrust lawsuit in federal court in Minnesota. The owners then locked out the players. A hearing took place Wednesday on the players' request for a preliminary injunction to lift the lockout.
Information from The Associated Press was used in this report.
2011 NFL DRAFT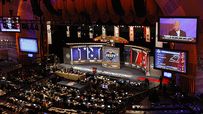 DraftTracker
|
Trade Tracker
|
Team talk
Gallery: Draft photos
|
Draft blog
PICK-BY-PICK ANALYSIS
TEAM-BY-TEAM PICKS
DIVISION DRAFT REVIEWS
ANALYSIS
NFC COLUMNS/BLOG POSTS
AFC COLUMNS/BLOG POSTS
SPORTSNATION
ESPN LOCAL DRAFT CENTERS
ESPN W
toddarcher

Todd Archer


The Film Don't Lie: Cowboys: IRVING, Texas -- A weekly look at what the Dallas Cowboys must fix:The... http://t.co/N7owcAPqbW #Cowboys
less than a minute ago

espncowboysblog

espncowboysblog


Tyrone Crawford fits nicely at DT http://t.co/qqKacZj3GI
2 minutes ago

vxmcclure23

vaughn mcclure


Film Don't Lie: Falcons. http://t.co/kwvluHyD3v
4 minutes ago

CardsMarkD

MarkDalton


Unveiled this AM: Image of @AZCardinals WR @LarryFitzgerald etched into @Schnepf_Farms cornfield http://t.co/G228xSiGhs
5 minutes ago

MatthewBerryTMR

Matthew Berry


Today's pod: @Stephania_ESPN on Calvin, Arian, Teddy B & all injuries, FA pickups, Pod goes thru 5 stages of grief http://t.co/1fGDolepco
6 minutes ago

HolderStephen

Stephen Holder


Amazing how the words "Trent Richardson" get interpreted as "Ya *****'s a b----" around here. Wasn't even an argument. A simple statement
6 minutes ago

PatMcManamon

PatMcManamon


RB Ben Tate back practicing with the #Browns. Missed two games with sprained knee.
8 minutes ago

RichCimini

Rich Cimini


The Film Don't Lie: Jets: A weekly look at what the New York Jets must fix:The Jets are into the "Missiles o... http://t.co/rGN4sQENxM
11 minutes ago

GoesslingESPN

Ben Goessling


RT @VikingsPR: The #Vikings are the only team this season to have 300+ passing yards and 200+ rushing yards in a single game.
16 minutes ago

ESPNdirocco

Michael DiRocco


This week's Film Don't Lie deals with the Jaguars' big plays in the secondary. http://t.co/o9ypn6cPj4
19 minutes ago

NFLRumorCentral

ESPN


#Raiders fired HC Dennis Allen Monday. Is GM Reggie McKenzie next? Will they woo Jon Gruden?: http://t.co/D4pff7CPtq #NFL
19 minutes ago

john_keim

John Keim


The Film Don't Lie: #Redskins...numbers on big plays allowed -- and how often QBs make quick throws vs. them. telling http://t.co/CgbLYemTNe
20 minutes ago

john_keim

John Keim


The Film Don't Lie: Redskins: The Washington Redskins' defense started strong in the first two games... http://t.co/oYjgN2DVFu #Redskins
21 minutes ago

jamisonhensley

Jamison Hensley


Analyzing the biggest current problem on the #Ravens http://t.co/hLz8mD1evv
23 minutes ago

john_keim

John Keim


Also, CB Tracy Porter was not working.
24 minutes ago

mikerothstein

Michael Rothstein


This week in the #Lions Film Don't Lie, we look briefly at the team's need to better protect Matthew Stafford: http://t.co/g7uBvClM84
24 minutes ago

mikerodak

Mike Rodak


The Bills' OL had the third-worst day of any team since the start of last season, per one @ESPNStatsInfo measure: http://t.co/9x33wSxWWk
25 minutes ago

john_keim

John Keim


TE Jordan Reed went through individual drills at practice. Trent Williams, Shawn Lauvao were sidelined (as was Niles Paul). update later
25 minutes ago

wingoz

trey wingo


In 2013 they drafted Aaron Dobson in the 2nd round.. when Keenan Allen was still available. Their drafts over the past few years.. not good
26 minutes ago

wingoz

trey wingo


In 2010 The Pats drafted Taylor Price in the 3rd round.. when they could've had Antonio Brown, Mike Wiliams or Riley Cooper
27 minutes ago
ESPN FAN SHOP
MORE FROM ESPN NEW YORK

Check out ESPN New York, your destination for sports coverage in the Big Apple.