Derrick Mason: Roger Goodell a 'joke'
Updated:
April 12, 2011, 12:04 PM ET
ESPN.com news services
Roger Goodell said earlier this week that the NFL will insist on testing for human growth hormone in the next labor deal. A prominent receiver said Tuesday the commissioner is a "joke" for the stance he's taking.
In his weekly appearance on "The Norris & Davis Show" on 105.7 FM in Baltimore, Ravens receiver Derrick Mason said Goodell needs to focus his attention on getting a deal done between the owners and players instead of talking about drug testing.
"He needs to stop crying about blood tests and HGH. He needs to try to get a deal done, that's what he needs to do," Mason said. "He's been on this crusade about HGH, but he needs to be on a crusade about getting these owners together and trying to work out a deal. To me, he's a joke, because every time I look, he's talking about performance enhancements instead of talking about trying to figure out a way to make sure football is played in August."
When asked if he would call Goodell a "joke" to his face, Mason replied: "Yeah. He's a grown man and I'm a grown man."
Not all NFL players agree with Mason's take, however. New York Jets cornerback Antonio Cromartie posted comments on Twitter saying he is in favor of HGH testing.
"Jus was reading an article about HGH testing in the NFL. I'm for it I'm not against it. If u against that mean you hiding something," he wrote.
"i mean u shouldn't have 2 cheat 2 get an edge just go out an play ball. God created us all differently so us the talents he blessed us with."
Goodell made his comments about HGH testing on Monday when he joined Rep. Elijah Cummings, a Maryland Democrat, to speak to area students at Woodlawn High School in Baltimore County.
"

To me, he's a joke, because every time I look, he's talking about performance enhancements instead of talking about trying to figure out a way to make sure football is played in August.

"

-- Derrick Mason
"I made it clear to the kids in the room today that the integrity of the NFL is critical, and we need to make sure we're doing everything possible to have the best drug program in sports," Goodell said. "Making changes to our program is critical and we have done that over the years. We need to do more, including the inclusion of HGH testing."
Preventing athletes from using HGH is a key target in the anti-doping movement. The substance is hard to detect, and athletes are believed to choose HGH for a variety of benefits, whether they be real or only perceived -- including increasing speed and improving vision.
HGH use is prohibited by the NFL, but the league's old collective bargaining agreement did not have testing for it. Goodell thinks players "recognize the importance of" adding HGH tests.
Mason said Wednesday that, if there is HGH testing in the next collective bargaining agreement, he doesn't want to have to submit to a blood test.
"Blood tests, I don't know. They've been crying about a blood test for [a while]. I think that's too intrusive. There's other ways and other methods, I think, to go about testing for it," he said.
The NFL Players Association has opposed blood tests in the past but did say last summer it would be open to hearing a proposal from the league during CBA talks. Goodell said Monday that HGH was "part of a broader proposal on where we go with our drug program."
CBA negotiations broke off March 11, and the old deal expired. The NFLPA said it would no longer function as a union, and a group of players filed a class-action antitrust lawsuit in federal court in Minnesota. The owners then locked out the players. A hearing took place Wednesday on the players' request for a preliminary injunction to lift the lockout.
Information from The Associated Press was used in this report.
SPONSORED HEADLINES
MORE NFL HEADLINES
MOST SENT STORIES ON ESPN.COM
2011 NFL DRAFT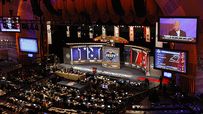 DraftTracker
|
Trade Tracker
|
Team talk
Gallery: Draft photos
|
Draft blog
PICK-BY-PICK ANALYSIS
TEAM-BY-TEAM PICKS
DIVISION DRAFT REVIEWS
ANALYSIS
NFC COLUMNS/BLOG POSTS
AFC COLUMNS/BLOG POSTS
SPORTSNATION
ESPN LOCAL DRAFT CENTERS
ESPN W
taniaganguli

Tania Ganguli


Graham becomes the first player the #Texans have signed or re-signed since the new league year opened.
about a minute ago

jamisonhensley

Jamison Hensley


Per @DNewtonespn, #Ravens already called to inquire about Steve Smith less than an hour after his official release from Carolina
about a minute ago

taniaganguli

Tania Ganguli


Tight end Garrett Graham has agreed to a deal with the #Texans.
about a minute ago

DNewtonespn

David Newton


So Derek Anderson tweets he's returning to #Panthers. He never got a chance to throw to Steve Smith anyway.
2 minutes ago

DNewtonespn

David Newton


RT @DAnderson314: Happy to be coming back to Charlotte next season! #keeppounding#wantthatring
3 minutes ago

john_keim

John Keim


Forgot it was Thursday. #Redskins Mailbag time. Tweet your ?s. Must use #redskinsmailbag or won't see. but u knew that, right? thanks.
4 minutes ago

john_keim

John Keim


Redskins to host Browner, Thurmond http://t.co/f9A4E3SMSw
6 minutes ago

SeifertESPN

Kevin Seifert


@BWilliamsonESPN ha, yup
12 minutes ago

mikecwright

Michael C. Wright


RT @mork1215: @mikecwright you will like him. He's long,stronger than he looks, and his motor doesn't stop. His mentor was Kyle VandenBosch…
12 minutes ago

BWilliamsonESPN

Bill Williamson


@SeifertESPN Lonny Football?
12 minutes ago

john_keim

John Keim


March Madness has taken on a different meaning for Redskins fans, from what I gather.
13 minutes ago

DanGrazianoESPN

Dan Graziano


Aaaaand, we've reached the "block a whole bunch of Eagles fans" portion of our day. Always a pleasure.
14 minutes ago

RobDemovsky

Rob Demovsky


More on Mike Neal's contract -- Cap numbers are $3.75 million this year and $4.25 million in 2015.
14 minutes ago

TerryBlountESPN

Terry Blount


A tough couple of days for the Seahawks, but it will get better soon. My column: http://t.co/icTQPAgB19
16 minutes ago

SeifertESPN

Kevin Seifert


#Vikings get a QB whose name rhymes with Lonny Kranzel at No. 8 in Mel KIper's latest mock draft. Thoughts? http://t.co/1ZaROzyIIv
18 minutes ago

RichCimini

Rich Cimini


Counting the $20M option for 2015 that he'll never see, Revis deal is 2 yrs/$32M. He's obsessed w/ that $16M APY, I'd say. #Jets
18 minutes ago

mikerodak

Mike Rodak


Mack's rise continues —> RT @bhofheimer_espn: Buffalo's @46Mack rises to No. 1 spot in @MelKiperESPN's Mock 3.0. http://t.co/LJqSBydQZK
19 minutes ago

ESPNChiBears

Jeff Dickerson


#Bears agree to terms with WR Domenik Hixon on 1-year deal.
19 minutes ago

DanGrazianoESPN

Dan Graziano


Anyway, Ginn makes sense for Giants as a return man/depth WR with Jacoby Jones off the board.
20 minutes ago

RichCimini

Rich Cimini


DL Leger Douzable re-upped with #Jets for 1-yr, $1M -- $150k signing bonus, $100k roster bonus (if on 53 for first game) and $750k base.
21 minutes ago
WinCraft New York Jets Lanyard Key Strap Shop »
MORE FROM ESPN NEW YORK

Check out ESPN New York, your destination for sports coverage in the Big Apple.