Kenny Britt arrested after police chase
Updated:
April 13, 2011, 3:33 PM ET
Associated Press
BAYONNE, N.J. -- Tennessee Titans wide receiver Kenny Britt was arrested in his hometown of Bayonne, N.J., on Tuesday after an officer reported seeing him speeding.
Kuharsky: Doubt Cast on Britt

News of Kenny Britt's arrest casts even more doubt on whether the talented wideout will ever be able to put it all together, Paul Kuharsky writes. Blog
Britt, 22, faces charges of eluding the officer, hindering apprehension and obstructing governmental function, Bayonne Police Chief Robert Kubert said.
Britt was driving his blue Porsche at 71 mph in a 50-mph zone Tuesday afternoon, according to Kubert, who said Britt drove away from the officer and was eventually found on a side street walking away from the car. Kubert said Britt first denied being in the car, then denied driving and then finally admitted he was behind the wheel.
Police said a passenger in the vehicle with Britt also faces three criminal charges. Both men have been released on summonses.
The agency that represents Britt said Tuesday it was not prepared to comment on his arrest. Titans spokesman Robbie Bohren said only that the team was aware of the reports.
Lockout = Lockup for Some
Since the owners locked out the players back in March, 10 players have been arrested for a number of different violations.
Players arrested since lockout
powered by

Britt has an April 19 court appearance.
It's not the first run-in with the law for the former Rutgers University standout, who became the first player from the university drafted in the first round when he was picked by the Titans in 2009.
Britt was arrested in January 2010 for three outstanding traffic warrants during a New Jersey traffic stop. He paid the $865 due and was released.
He's also involved in civil litigation in New Jersey for allegedly not paying a bail bond he helped secure for a friend, according to Hudson County Prosecutor Edward DeFazio.
Nashville police stopped him in August during training camp, ticketing him for driving without a license because he obtained a photo ID after misplacing his license.
He also was accused of being involved in a bar fight Oct. 22 in Nashville, but authorities later decided not to charge him.
Titans coach Jeff Fisher benched the receiver after repeated mistakes during a preseason game.

Copyright 2011 by The Associated Press
SPONSORED HEADLINES
MORE NFL HEADLINES
MOST SENT STORIES ON ESPN.COM
2011 NFL DRAFT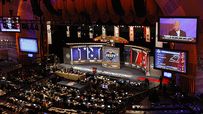 DraftTracker
|
Trade Tracker
|
Team talk
Gallery: Draft photos
|
Draft blog
PICK-BY-PICK ANALYSIS
TEAM-BY-TEAM PICKS
DIVISION DRAFT REVIEWS
ANALYSIS
NFC COLUMNS/BLOG POSTS
AFC COLUMNS/BLOG POSTS
SPORTSNATION
ESPN LOCAL DRAFT CENTERS
ESPN W
Chargers

San Diego Chargers


We've hired Mike Nolan as Linebackers Coach.READ: http://t.co/yxlCLOxhkw http://t.co/d8Tefqzvwe
about a minute ago

john_keim

John Keim


#redskins mailbag time... need questions, so tweet away... As always, use #jkmailbag so I will see. Otherwise... Thank you..
2 minutes ago

DNewtonespn

David Newton


And #Panthers fans are among the nicest @darrenrovell
3 minutes ago

darrenrovell

Darren Rovell


Steelers fans use more profane language on social media than fans of any other NFL team, according to data analyzed by Proofpoint Nexgate
3 minutes ago

PGutierrezESPN

Paul Gutierrez


Pre-neck roll #TBT #SuperBowlXLIX style, #Patriots QB #SteveGrogan, from my Topps 1978 collectio, @MikeReiss http://t.co/yTtEh73KrD
5 minutes ago

SeifertESPN

Kevin Seifert


#NFL is part of a $2M innovation challenge to private sector to identify and develop new materials to better absorb impact to head.
9 minutes ago

AdamSchefter

Adam Schefter


Josh Gordon shares his side of the story:... http://t.co/mQAH1eDeA5
12 minutes ago

darrenrovell

Darren Rovell


Steelers fans use more profane language on social media than fans of any other NFL team, according to data analyzed by Proofpoint Nexgate
18 minutes ago

SeifertESPN

Kevin Seifert


A couple dozen reporters here at NFL Health and Safety presser. Or, about a quarter of those who attended Marshawn Lynch's gatherings.
18 minutes ago

jamisonhensley

Jamison Hensley


#Ravens' snap-count analysis: Wide receivers http://t.co/wTx3DNPfbT
23 minutes ago

darrenrovell

Darren Rovell


Steelers fans use more profane language on social media than fans of any other NFL team, according to data analyzed by Proofpoint Nexgate
27 minutes ago

toddarcher

Todd Archer


Cowboys position reviews: LBs: Cowboys reporter Todd Archer breaks down the Cowboys, position by posi... http://t.co/tRb86e5oMl #Cowboys
28 minutes ago

MikeReiss

Mike Reiss


Weekly @ESPNBoston Patriots chat recap (Super Bowl XLIX chatter, underinflated footballs etc.). http://t.co/hNrlEhAW1y
31 minutes ago

SeifertESPN

Kevin Seifert


For all you comedians, I'll try to ask @DeanBlandino later today about Carroll's interpretation/explanation of the new officiating signal.
34 minutes ago

espncowboysblog

espncowboysblog


Cowboys position reviews: LBs http://t.co/SwURrZHjkQ
37 minutes ago

PGutierrezESPN

Paul Gutierrez


T-minus 1 hour to a special @ESPN_NFLNation @Spreecast, talking @ProFootballHOF today, @ESPNNFL: http://t.co/ON99IhqVB9
40 minutes ago

SheridanScribe

Phil Sheridan


Chip Kelly gets his man, now has to make it work: PHILADELPHIA -- The danger signs are everywhere. It ... http://t.co/D2W1W1FBXq #Eagles
47 minutes ago

jkatzenstein

Josh Katzenstein


Drew Brees said he could throw in a Lions game and call 95 percent of the plays. Joe Lombardi's offense was that similar to Saints.
53 minutes ago

SeifertESPN

Kevin Seifert


Carroll says process will be to point at ineligible player and then make an "X" with arms, below waist.
54 minutes ago

SeifertESPN

Kevin Seifert


Per Pete Carroll, NFL has new signal to inform defense that a player with eligible number is ineligible, per #Patriots recent scheme.
about an hour ago