NFL mediation wraps third day of talks
Updated:
April 19, 2011, 9:27 PM ET
Associated Press
MINNEAPOLIS -- Carl Eller emerged from a 7-hour mediation session between the NFL and its locked-out players and let out a big sigh.
"Tough day," he said.
When a Hall of Fame defensive end and one of the most feared players of his generation gives that kind of evaluation, it's safe to say that the negotiations between the owners and the players aren't getting any easier.
The two sides resumed their court-ordered talks on Tuesday after a three-day break, with no sign that an agreement is any closer. The lockout is in its second month and a federal judge is expected to decide soon on the players' request to halt the NFL's first work stoppage since 1987.
"

This is no charade. This is no illusion. This is going to come to a resolution either by the parties compromising or agreeing or by a judgment.

"

-- Michael Hausfeld, attorney for the retired players
Dallas Cowboys owner Jerry Jones joined NFL Commissioner Roger Goodell, Atlanta Falcons President Rich McKay, Green Bay Packers CEO Mark Murphy and owners Pat Bowlen of Denver and Jerry Richardson of Carolina on the NFL side on Tuesday.
Named plaintiffs Ben Leber, Mike Vrabel and Eller represented the group of current, former and future players who are asking for the injunction on the lockout and have filed an antitrust lawsuit against the league.
All declined comment at the end of the long day of negotiation. The two sides will meet again on Wednesday morning in front of U.S. Magistrate Judge Arthur Boylan.
The talks are the latest step in the contentious fight over a new collective bargaining agreement. Sixteen days of mediated talks in Washington fell short, resulting in a class-action antitrust lawsuit filed by the players against the NFL and the owners' decision to lock out the players after they disbanded their union.
U.S. District Judge Susan Richard Nelson said at a hearing on April 6 that she would rule "in a couple of weeks" on the players' request to lift the lockout. Wednesday will be exactly two weeks from the hearing.
With Nelson's decision looming, some have wondered how eager either side would be to negotiate a settlement given that the ruling on the injunction could swing the leverage to one side or the other.
But Michael Hausfeld, an attorney representing retired players, said on Tuesday morning that both sides are committed to the mediation sessions.
"This is no charade. This is no illusion. This is going to come to a resolution either by the parties compromising or agreeing or by a judgment," Hausfeld said. "And even with a judgment, many times there is then a discussion as to how to compromise the judgment so there is not a winner-take-all situation.
NFL Nation

Our eight bloggers help you keep up with all the latest NFL news division by division. Blog
"This takes time. The court is doing everything within its power to get the parties to realize that."
DeMaurice Smith, the head of the players' trade association, did not attend the session on Tuesday due to a family emergency and neither did lead attorney Jeffrey Kessler.
When discussions concluded on Friday, Boylan assigned some weekend homework. Hausfeld walked into the federal courthouse on Tuesday with a document that he estimated at about 100 pages responding to the questions Boylan asked them to answer.
"What this mediation is about, what the dispute is about, is the structure of the game and the relationship between the rookies, the active players, the retirees, with each other and the league," Hausfeld said. "Those are fundamental."
Nelson ordered the talks, which lasted 13 hours over two days last week.
Players including MVP quarterbacks Tom Brady and Peyton Manning filed the request for the injunction along with the antitrust claim. The lawsuit has been combined with two other similar claims from retirees, former players and rookies-to-be, with Eller the lead plaintiff in that group.
The prospects of Nelson's ruling giving one side leverage could influence the mediation, Hausfeld said.
"I hope everyone in the room, owners, active players, rookie representatives and retiree representatives understand that this is a situation that not only involves their interests but the interests of many fans and other people who depend upon the game being played," Hausfeld said. "And if everyone seriously approaches the issues with the manner in which the court has, then hopefully progress can be made."
Any decision Nelson makes, Hausfeld said, would certainly be appealed to the federal appellate court.
That means more time for legal maneuvering, further jeopardizing the 2011 NFL season.
"There's no question that any ruling Judge Nelson makes will be a first step," he said. "It will be taken on appeal."

Copyright 2011 by The Associated Press
2011 NFL DRAFT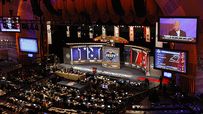 DraftTracker
|
Trade Tracker
|
Team talk
Gallery: Draft photos
|
Draft blog
PICK-BY-PICK ANALYSIS
TEAM-BY-TEAM PICKS
DIVISION DRAFT REVIEWS
ANALYSIS
NFC COLUMNS/BLOG POSTS
AFC COLUMNS/BLOG POSTS
SPORTSNATION
ESPN LOCAL DRAFT CENTERS
ESPN W
BWilliamsonESPN

Bill Williamson


From this afternoon: a fired-up Rich Gannon on #Raiders: 'Should be embarrassed' http://t.co/a6SizTeAtV
about an hour ago

Edwerderespn

Ed Werder


It is actually @theclaycook. Would love to have that Georgia Dome image your photographer took that included @TroyAikman and all band
about an hour ago

Edwerderespn

Ed Werder


Will be 4th time to see ZBB with this guy in front of @ClayCook, Jimmy De Martini, rest of great Southern band http://t.co/SUur11eL5Y
about an hour ago

Edwerderespn

Ed Werder


Can't wait for Colder Weather Friday in DFW to see ZBB with this guy in front of Clay Cook, Jimmy De Martini, all http://t.co/smIujMTOWD
about 2 hours ago

Seahawks

Seattle Seahawks


"I'm all about that action, boss." @MoneyLynch pets raccoon, eats Skittles in #NFLonXbox ad: [http://t.co/qvDN2E5bKo] http://t.co/UGBXUjtNsQ
about 2 hours ago

RichCimini

Rich Cimini


A football tragedy: A Long Island HS player dies after suffering a head injury in a game (via @Newsday). http://t.co/M4qI0D7UJv
about 2 hours ago

Edwerderespn

Ed Werder


CJ Spillman allegations?..RT..#HC Jason Garrett addressed players about how club will handle domestic violence caseshttp://t.co/3OR5VFBxVJ
about 3 hours ago

Edwerderespn

Ed Werder


Do I have this right? CJ Spillman investigated for sex assault, Frank Alexander suspended again, Aaron Dobson inactive for disrespecting OC.
about 3 hours ago

shalisemyoung

shalise manza young


on Dobson: source says he "mouthed off" to Josh McDaniels, leading to his being inactive vs. OAK & KC
about 3 hours ago

mikerothstein

Michael Rothstein


Always good to see my buddy @schadjoe tonight & the nice people we met at Grange restaurant in Ann Arbor.
about 3 hours ago

ESPNdirocco

Michael DiRocco


The news that Justin Blackmon news is seeking treatment is encouraging -- for him and the team. http://t.co/5APQMKBky3
about 3 hours ago

vxmcclure23

vaughn mcclure


Was cool chatting it up with @JLeu30 and @gregstiemsma at @SEVENMPLS this weekend. Two really good cats.
about 4 hours ago

AdamSchefter

Adam Schefter


Saints WR Marques Colston purchased a piece of the Arena League's Philadelphia Soul and is now part owner of team, Ron Jaworski confirmed.
about 4 hours ago

DNewtonespn

David Newton


Statement from suspended #Panthers DE Frank Alexander on how offense came from many months ago. http://t.co/QY9wpst6Ie
about 4 hours ago

DannyZuker

Danny Zuker


This isn't easy for me to say but watch new an all Modern Family on 9 funny at tonight ABC!
about 5 hours ago

RichCimini

Rich Cimini


Counting West Virginia and Jets, Sunday will be Geno Smith's 60th start -- first in the Pacific time zone (at SD), per @ESPNStatsInfo. #nyj
about 5 hours ago

DanWetzel

Dan Wetzel


Red Panda has retired. One of greatest athletes in NBA history. Adam Silver needs to honor her at All-Star Game http://t.co/Nb7rLdfK5e
about 5 hours ago

Edwerderespn

Ed Werder


#NFLInsiders today was me, @mortreport, @caplannfl and our trusty host @WendiNix_ESPN. The link to podcast: http://t.co/uEwgiMzdEa
about 5 hours ago

vxmcclure23

vaughn mcclure


According to ESPN Stats and Info, Falcons have won 6 straight games vs. the NFC East, longest active streak in NFL.
about 5 hours ago

HistoryInPics

History In Pictures


Jimi Hendrix in uniform during his time in the US Army, 1961 http://t.co/DYAaB2PClf
about 5 hours ago
MORE FROM ESPN DALLAS

Check out ESPN Dallas, the place for your local Dallas sports coverage.