Saints-Packers to kick off 2011 season
Updated:
April 20, 2011, 12:25 PM ET
ESPN.com news services
NEW YORK -- The New York Giants will visit the Washington Redskins and the New York Jets will host the Dallas Cowboys on Sept. 11, marking the 10th anniversary of the terrorist attacks on the World Trade Center and the Pentagon.
2011 NFL Schedule

The NFL released the 2011 schedule on Tuesday. ESPN.com's John Clayton breaks down the matchups to see this season. Story
• Clayton: NFC East gets breather
---


How does your team's schedule break down? ESPN.com's NFL bloggers outline the highs and lows of the 2011 schedule. NFL | AFC | NFC
• 2011 schedule | MNF
• SN: Schedule questions | Best game?
• Stats & Info: Benefits of weak slate
With the NFL and its locked-out players mired in negotiations over a new labor agreement, the league on Tuesday announced its 2011-12 schedule -- assuming the season starts on time.
The regular season kicks off Thursday night, Sept. 8, when the Super Bowl champion Green Bay Packers host the New Orleans Saints at Lambeau Field.
The first Sunday features several high-profile games, including Indianapolis at Houston and Atlanta at Chicago. But much of the national focus will be on Washington and New York, the two cities most affected by the terrorist attacks of Sept. 11, 2001.
"That stadium is going to be full of emotion, not only the people from the area but in the entire country," said Jets coach Rex Ryan, who will be matching wits with his brother, Cowboys defensive coordinator Rob Ryan. "The fact that it's the 10th anniversary of 9/11, that's where the focus should be, not me playing against my brother."
The Redskins and Giants kick off at 4:15 p.m., with the Jets and Cowboys at 8:20 p.m.
"For nearly 10 years, we have felt an obligation to use our platform to make sure none of us ever forget the tragedy and heartbreak and courage and heroism of Sept. 11," Giants spokesman Pat Hanlon said. "That responsibility becomes even greater."
Pittsburgh was the third NFL city most closely affected by the terrorist attacks after Flight 93 crashed 80 miles away near Shanksville, Pa. The Steelers will visit the Baltimore Ravens on Sept. 11.
"

That stadium is going to be full of emotion, not only the people from the area but in the entire country. The fact that it's the 10th anniversary of 9/11, that's where the focus should be, not me playing against my brother.

"

-- Jets coach Rex Ryan on opening season on 9/11 vs. brother Rob Ryan and the Dallas Cowboys
New England travels to Miami and Oakland visits Denver for the opening Monday night.
The final Sunday of the regular season falls on New Year's Day, when all 16 scheduled games are between division rivals, enhancing the potential for playoff ramifications.
The regular season covers 17 weeks, with the opening round of the playoffs scheduled for Jan. 7-8 and the Super Bowl on Feb. 5 in Indianapolis.
The NFL has expressed a desire to stretch the season to 18 games, one of the sticking points in the contentious fight between owners and players over a new labor agreement.
The two sides resumed court-ordered mediation on Tuesday in Minneapolis, with a federal judge's decision expected soon on a request to immediately halt the lockout.
The two sides spent 16 days immersed in mediated talks in Washington without coming to an agreement, resulting in a class-action antitrust lawsuit filed by the players against the NFL and the league's first work stoppage since 1987. They've recently spent about 20 hours over three days meeting in Minneapolis, with more discussions planned for Wednesday.
Commissioner Roger Goodell expressed confidence Tuesday that an agreement could be reached and the 2011 season would be played.
"We're doing all we can to prepare for the 2011 season," Goodell told the NFL Network. "We're announcing the schedule as usual, around this time of year, because we know that is an important point where fans start looking forward to the season, and I think there's every reason for them to do that. We have every intention of playing a full schedule, and that's why we're releasing it as we normally do."
More From ESPN.com's City Sites
ESPNNewYork.com



The Jets and Giants both open the season on the 10-year anniversary of 9/11. The Jets will host the Cowboys while the Giants will face the Redskins in Washington. Giants blog | Jets blog
---
ESPNDallas.com
The Cowboys will have to wait unil Week 3 to host the rival Redskins in their first home game of 2011. Cowboys blog
---
ESPNBoston.com
The Patriots kick off Monday Night Football's season at home against the Dolphins. Patriots blog
---
ESPNChicago.com
The Bears play two of their first three at Solider Field, including Week 3 vs. the Packers. Bears blog
Among the other highlights of the schedule, the Tampa Bay Buccaneers will host the Chicago Bears at Wembley Stadium on Oct. 23, one of two games outside the United States and the fifth consecutive year the NFL has played a regular-season game in London.
The Bucs lost to the New England Patriots at Wembley Stadium in 2009, while the Bears will be marking the 25th anniversary of their preseason game against the Cowboys in London.
The Buffalo Bills will play a game in Canada for the fourth consecutive season when they host the Redskins at the Rogers Centre on Oct. 30 in Toronto. The Bills have a deal with Rogers Communications through 2012 to play five regular-season games in Canada's largest city.
The Thanksgiving Day games include the Packers at Detroit, Miami at Dallas and San Francisco at Baltimore, when new 49ers coach Jim Harbaugh faces the Ravens and coach John Harbaugh in the first meeting between sibling head coaches in NFL history.
The Packers play the Bears in the only game on Christmas Day. There are 13 games scheduled for Dec. 24, including the Giants against the Jets.
The NFL will again use "flexible scheduling" for Weeks 10-15 and the final week of the regular season, allowing the league to move the start times for select games.
Information from The Associated Press was used in this report.
SPONSORED HEADLINES
MORE NFL HEADLINES
MOST SENT STORIES ON ESPN.COM
2011 NFL DRAFT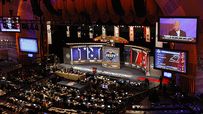 DraftTracker
|
Trade Tracker
|
Team talk
Gallery: Draft photos
|
Draft blog
PICK-BY-PICK ANALYSIS
TEAM-BY-TEAM PICKS
DIVISION DRAFT REVIEWS
ANALYSIS
NFC COLUMNS/BLOG POSTS
AFC COLUMNS/BLOG POSTS
SPORTSNATION
ESPN LOCAL DRAFT CENTERS
ESPN W
MikeWellsNFL

Mike Wells


Colts have signed free agent tackle Jamon Meredith to the active roster and tackle Reid Fragel to the practice squad.
about a minute ago

RichCimini

Rich Cimini


You trying to start something? RT @7BOOMERESIASON hey Rich, if Antonio plays well + in future Jets franchise him, is he S or CB? #moneyball
about a minute ago

RichCimini

Rich Cimini


Per waiver rules, Jets pick up remaining 3 years on Leon McFadden's contract. Counting $526,935 on this year's cap. #nyj
4 minutes ago

vxmcclure23

vaughn mcclure


Falcons ST coach Keith Armstrong on Cliff Matthews, ``He's another big thumper. ... Cliff's going to lay it on the line for you.''
5 minutes ago

RichCimini

Rich Cimini


CB Phillip Adams' contract with the Jets: 1 year/$730k, nothing guaranteed. Counts $570,000 on cap due to min-salary benefit. #nyj
8 minutes ago

taniaganguli

Tania Ganguli


We are all waiting in a holding pen to be escorted to J.J. Watt's press conference. We are very dangerous when not monitored.
10 minutes ago

vxmcclure23

vaughn mcclure


Keith Armstrong said he hasn't put a limit on how deep Devin Hester can go in end zone when returning kick. http://t.co/10YzaHBhUO
11 minutes ago

BWilliamsonESPN

Bill Williamson


#Raiders Allen said Barnes and Jackson among top five offensive lineman that means Watson isn't right injury still factor
14 minutes ago

jamisonhensley

Jamison Hensley


#Ravens are distant third in AFC North predictions http://t.co/jvP9KwQyko
17 minutes ago

BWilliamsonESPN

Bill Williamson


#Raiders Allen said Carrie is no 3 cb
20 minutes ago

BWilliamsonESPN

Bill Williamson


#Raiders Schaub sAid he was surprised and disappointed about losing job but vows to stay team player
22 minutes ago

WilliamsonNFL

Matt Williamson


The convo I had with @DavidMTodd here in Pittsburgh today: http://t.co/B6TGiO66km
22 minutes ago

RichCimini

Rich Cimini


As expected, LB Jeremiah George and WR Quincy Enunwa signed to the Jets' practice squad. #nyj
23 minutes ago

ACwishtv

Anthony Calhoun


Coming up in 10 minutes --- @MikeWellsNFL joins me LIVE to talk Irsay and Broncos. @WISH_TV
29 minutes ago

espncowboysblog

espncowboysblog


Lawrence on short-term IR; Dallas signs DL http://t.co/GDpk7ZcglT
30 minutes ago

SeifertESPN

Kevin Seifert


What the past few days have revealed about Michael Sam, the #NFL and its social conscience in today's Inside Slant: http://t.co/cSY3wnT2jZ.
31 minutes ago

PGutierrezESPN

Paul Gutierrez


Officially official, #49ers re-sign Osgood, place Dorsey on IR/Designated to Return list...
32 minutes ago

john_keim

John Keim


What I like ... and have concerns about: I'll make this clear: Predictions are a pain in the rear. U... http://t.co/Nwtc8CWFbq #Redskins
35 minutes ago

RobDemovsky

Rob Demovsky


Said Alan Herman, Tretter's agent: "The timeline is such that it would make sense to designate him for return."
36 minutes ago

RobDemovsky

Rob Demovsky


The agent for #Packers C JC Tretter said he expects Tretter to be placed on the temporary IR list. Hasn't happened yet officially.
37 minutes ago
ESPN FAN SHOP
MORE FROM ESPN BOSTON

Want to submit a question for Mike Reiss' weekly Patriots mailbag? Click here and come back every Tuesday around noon for the 'bag.
Latest headlines on ESPNBoston.com:
MORE FROM ESPN DALLAS

Check out ESPN Dallas, the place for your local Dallas sports coverage.
MORE FROM ESPN NEW YORK

Check out ESPN New York, your destination for sports coverage in the Big Apple.