Judge ends lockout; owners file appeal
Updated:
April 26, 2011, 4:23 AM ET
ESPN.com news services
MINNEAPOLIS -- Seven weeks into the NFL lockout, players have an early triumph over the owners in court.
U.S. District Judge Susan Richard Nelson ordered an immediate end to the lockout Monday, siding with the players in their bitter fight with the owners over how to divide the $9 billion business.
The fate of the 2011 season remained in limbo: The NFL responded by filing a notice of appeal questioning whether Nelson exceeded her jurisdiction, seeking relief from the 8th U.S. Circuit Court of Appeals in St. Louis. Hours later, the league filed a motion for an expedited stay, meaning it wants Nelson to freeze her ruling to let the appeals process play out.
More From ESPN.com

The NFL's labor strife isn't over just yet, but Monday's injunction puts the owners' lockout on thin ice, writes ESPN.com's Lester Munson. Q&A
• Blog: NFL Nation weighs in
• ESPN Radio: Mortensen

| Brandt

What will happen in the next few days is murky, too.
Players may very well show up at team facilities on Tuesday and it appears they'll be allowed to enter the building, if they so choose.
The players' organization -- now a trade association and not a union -- emailed players late Monday night, advising them they are legally entitled to show up at team facilities Tuesday and that teams are not allowed to block their access.
Bills safety George Wilson confirmed late Monday that the NFLPA emailed players suggesting they report to work Tuesday. He said players were told they should be granted access under normal circumstances and if they are denied access the teams would be in violation of the judge's ruling.
"We have received inquiry from a number of players and agents. We have simply responded and told them we don't see anything wrong with it," players' association spokesman George Atallah said in a text message to The Associated Press. "Players are organizing stuff on their own ..."
Wilson had not heard from any Bills players who said they would report to the facility Tuesday.
"Be advised any player going to work tomorrow is doing so under the ruling that Judge Nelson rendered today," the email said, a league source told ESPN NFL Insider Adam Schefter.
"Judge Nelson's court order prevents the clubs from locking out players under contract, so they can show up for work. Unless and until the judge issues an order for a stay [delay of the injunction], the teams will be in violation of Judge Nelson's order if they don't allow access."
NFL spokesman Greg Aiello said any player who shows up to team facilities will be allowed in.
"If a player comes to the facility, he will be treated courteously and with respect," Aiello said in an e-mail.
However, two league sources told Schefter that the NFL Management Council gave all 32 teams certain stipulations for allowing players into their buildings tomorrow.
"

They better act quickly, because as of right now there's no stay and, presumably, players could sign with teams. There are no guidelines as of right now, so they have to put something in place quickly.

"

-- Jim Quinn, attorney for the players, on NFL's next move
The sources said teams were told not to open their weight rooms nor engage in any contract discussions, but to let their players in the building. The league also intends to get security in place for players to come in to avoid any potential confrontations or photo opportunities for the media. The NFL intends to debrief teams again in the morning with further instructions.
"I told my guys if they are under contract, they are allowed to go into the facility tomorrow to work out, get treatment and watch film," Oakland Raiders tight end Zach Miller said.
"We're in a 'Wild West' right now. Football is back to business, but guess what? There's no rules. There's a lot of positive to that, but there's also a lot of negatives," said linebacker Ben Leber, one of the 10 plaintiffs in the still-pending antitrust lawsuit filed against the league when the union broke up last month.
Nelson's ruling was a stern rebuke of the NFL's case, hardly a surprise given the court's history with the league and her pattern of questioning during a hearing here three weeks ago in St. Paul, Minn.
In a room packed with lawyers, players and league officials, Nelson politely but persistently questioned NFL lawyer David Boies about his repeated argument that she shouldn't have jurisdiction over a labor dispute with an unfair negotiation charge against the players pending with the National Labor Relations Board.
In her ruling, Nelson rejected that contention. She recognized the NFL Players Association's decision to "de-unionize" as legitimate because it has "serious consequences" for the players.
Nelson even referenced her colleague, U.S. District Judge David Doty, who has frequently ruled for the players in the past. Not only did she declare that players are likely to suffer harm by the lockout, a legal requirement for granting the injunction, Nelson wrote that they're already feeling the hurt now.
She cited their short careers, arguing that monetary damages wouldn't be enough relief.
Judge Susan Nelson's Report

U.S. District Judge Susan Richard Nelson ordered an end to the NFL lockout on April 25. Read the ruling here. Report (PDF)
What Nelson didn't do on Monday, however, was tackle the issue of the antitrust lawsuit filed last month when the union broke up. That, she wrote, "must wait another day."
In an opinion piece posted late Monday night on the Wall Street Journal's website, NFL Commissioner Roger Goodell wrote that Nelson's ruling "may significantly alter professional football as we know it. ... By blessing this negotiating tactic [recognizing the players' right to dissolve their union], the decision may endanger one of the most popular and successful sports leagues in history."
DeMaurice Smith, head of the players' association, said players were eager to resume court-ordered mediation to resolve the fight.
"My hope is really is that there's somebody on the other side who loves football as much as our players and fans do," he said.
If the injunction is upheld, the NFL must resume business in some fashion.
It could invoke the 2010 rules for free agency, meaning players would need six seasons of service before becoming unrestricted free agents when their contracts expire; previously, it was four years. The requirement for restricted free agents would be four years rather than the three years before 2010. There also was no salary cap in 2010, meaning teams could spend as much -- or as little -- as they wanted.
And the NFL would need to determine whether offseason workouts can be held while the appeal is pending.
Owners imposed the lockout after talks broke down March 11 and the players disbanded their union. A group of players filed the injunction request along with a class-action antitrust lawsuit against the league.
Jim Quinn, an attorney for the players, said the pressure is on the league.
"They better act quickly, because as of right now there's no stay and, presumably, players could sign with teams," Quinn said. "There are no guidelines as of right now, so they have to put something in place quickly."
In a statement, the NFL again argued its belief that "federal law bars injunctions in labor disputes" and expressed confidence the appeals court would agree.
"But we also believe that this dispute will inevitably end with a collective bargaining agreement, which would be in the best interests of players, clubs and fans. We can reach a fair agreement only if we continue negotiations toward that goal," the NFL said.
The NFL has argued that stopping the lockout would open all 32 teams up to additional antitrust claims simply for working together to solve the labor dispute. Antitrust claims carry triple damages for any harm proven, meaning hundreds of millions of dollars are at stake.
In the request for the expedited stay, the NFL argued a "reasonable prospect of success" on appeal.
League attorneys wrote that without a stay, teams would be forced to choose "between the irreparable harm of unrestricted free agency or the irreparable harm of more treble-damages lawsuits," pain that would be felt immediately. They also contended a hold on the injunction is in the public interest, letting the appeals process play out before "there are fundamental and irreversible changes in the relationships between and among" the two sides.
The relationship between the two sides has been in rough shape for months.
Nelson heard arguments on the injunction at a hearing on April 6 and ordered the two sides to resume mediation while she was considering her decision. The owners and players, who failed to reach consensus after 16 days of mediated talks earlier this year, met over four days with a federal magistrate but did not announce any progress on solving the impasse.
"

The players have said all along, 'The law is on our side.' Judge Nelson's ruling reaffirms our contention.

"

-- Cardinals kicker Jay Feely
They are not scheduled to meet again until May 16, four days after Doty holds a hearing on whether players should get damages in their related fight with owners over some $4 billion in broadcast revenue.
Osi Umenyiora, the New York Giants defensive end and one of the plaintiffs, called the ruling a "win for the players and for the fans" in a statement.
"The lockout is bad for everyone, and players will continue to fight it," Umenyiora said. "We hope that this will bring us one step closer to playing the game we love."
New York Jets guard Brandon Moore called it a good day for the players, but recognized "there's still some legal wrangling that needs to go on."
"This has been frustrating," Moore said. "You're working out on your own, trying to set up drills, trying to find a field somewhere, trying to find a time to get together. I mean, we're professional athletes here. We shouldn't be going through this. On the same token, these were the only cards we were left with."
With appeals expected, the fight seems likely to drag on through the spring and, possibly, into the summer. The closer it gets to August, when training camps and the preseason get into full swing, the more likely it becomes that regular season games could be lost.
That's when fans will really start to sweat this, and the public interest in this case did not go overlooked in Nelson's ruling.
"This particular employment dispute is far from a purely private argument over compensation," she wrote.
Still, kicker Jay Feely, Arizona's player rep before the NFLPA dissolved, was vociferous in reacting to the decision.
"The players have said all along, 'The law is on our side.' Judge Nelson's ruling reaffirms our contention," Feely said.
"We're thrilled that it looks like football might be on," Smith said Monday night.
Speaking on "NFL Live" on ESPN2, Smith added: "If we're in a world where players are actually suing so they can play football ... that tells me we've lost our way."
Information from ESPN NFL Insider Adam Schefter and The Associated Press contributed to this report.
SPONSORED HEADLINES
MORE NFL HEADLINES
MOST SENT STORIES ON ESPN.COM
2011 NFL DRAFT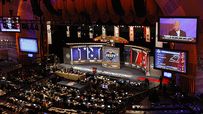 DraftTracker
|
Trade Tracker
|
Team talk
Gallery: Draft photos
|
Draft blog
PICK-BY-PICK ANALYSIS
TEAM-BY-TEAM PICKS
DIVISION DRAFT REVIEWS
ANALYSIS
NFC COLUMNS/BLOG POSTS
AFC COLUMNS/BLOG POSTS
SPORTSNATION
ESPN LOCAL DRAFT CENTERS
ESPN W
Edwerderespn

Ed Werder


@CharissaT I appreciate the vote of confidence! You know I will have enough live hits!
about a minute ago

ESPNChiBears

Jeff Dickerson


Live @WeatherMarkTav w/Steve "Mongo" Michael & @budlight from 9-noon @ESPN1000 & @ESPNChicago. #Bears #Bucs http://t.co/B1Xkx5ASz5
22 minutes ago

ESPNChiBears

Jeff Dickerson


Soldier Field turf is covered approximately 4.5 hours prior to kickoff. Overcast skies. #Bears #Bucs http://t.co/ogyUhIAHHA
24 minutes ago

Edwerderespn

Ed Werder


Based on his #QBR, @AaronRodgers12 is best QB in league at home. On road, his QBR slightly higher than Tom Brady overall
25 minutes ago

Edwerderespn

Ed Werder


#Packers coach Mike McCarthy told me @AaronRodgers12 doesn't chase the game, let's game come to him. Something McCarthy has always coached
26 minutes ago

Edwerderespn

Ed Werder


#Vikings coach Mike Zimmer told me he believes Adrian Peterson preference is to eventually play for Minnesota. #SundayNFLCountdown, #SC
27 minutes ago

TracyButlerABC7

Tracy Butler


Hey @ChicagoBears fans! First glance shows rain holding off til late in game. Update later @CarmenDeFalco @Jurko64 @ESPN1000 @ESPNChiBears
33 minutes ago

DNewtonespn

David Newton


Perfect tribute "@JerryBonkowski: Remembering iconic motorsports PR great Denny Darnell http://t.co/CfIAQ02Lp9"
50 minutes ago

AdamSchefter

Adam Schefter


In first game back today after serving 10-game suspension, Browns WR Josh Gordon is expected to play between 20-30 plays, per league source.
about 2 hours ago

john_keim

John Keim


Redskins Gameday: Notes and analysis: One sense from what I gathered at Redskins Park this week i... http://t.co/ctbvv0fDn6 #Redskins
about 2 hours ago

MikeReiss

Mike Reiss


Quick-hit thoughts around the NFL and Patriots (Revis, Gray, Packers, Mesko, Brady etc.). http://t.co/UYiyQ5Yzy5
about 2 hours ago

AdamSchefter

Adam Schefter


Here's what Detroit tries to overcome today: Since 2010, in the 2nd half of its regular-season schedule, New England is an NFL-best 31-3.
about 3 hours ago

RichCimini

Rich Cimini


Sunday notes: Rex Ryan can't afford a loss -- snow kidding: A look at what's going on around and inside the Ne... http://t.co/IYsm87YzCa
about 3 hours ago

sbstatesman

The Statesman


Algieri repping #Seawolves hat while praying, and then show video of him at LaValle on homecoming.
about 8 hours ago

BruceFeldmanCFB

Bruce Feldman


Brett Hundley: "#UCLA owns LA. Remember that." #Bruins QB is now 3-0 vs. Trojans.
about 9 hours ago

Jack_Dargis

Jack Dargis


@McShay13 thanks for the picture today! Remember what I said, you top Kiper any day! http://t.co/ZdzgaNrhVy
about 9 hours ago

coachpenner

Justin Penner


@McShay13 thanks for the hospitality Iowa style. http://t.co/XDLOP89MTu
about 9 hours ago

McShay13

Todd McShay


NO!!! Tell me UT didn't just Ben a TO for review?
about 9 hours ago

McShay13

Todd McShay


Refs got it right, but wild two onside kicks in Knoxville
about 9 hours ago

HistoryInPics

History In Pictures


Construction of the Berlin Wall, Germany, 1961 http://t.co/B5OfYOEOYX
about 9 hours ago
MORE FROM ESPN BOSTON

Want to submit a question for Mike Reiss' weekly Patriots mailbag? Click here and come back every Tuesday around noon for the 'bag.
Latest headlines on ESPNBoston.com:
MORE FROM ESPN CHICAGO

MORE FROM ESPN DALLAS

Check out ESPN Dallas, the place for your local Dallas sports coverage.
MORE FROM ESPN NEW YORK

Check out ESPN New York, your destination for sports coverage in the Big Apple.