Chris Simms' trial begins in NYC
Updated:
May 3, 2011, 1:05 AM ET
Associated Press
NEW YORK -- A driving-while-high case against Tennessee Titans backup quarterback Chris Simms was built out of a big misconception, his lawyer told jurors Monday.
Authorities say Simms told a police officer he'd been smoking marijuana before being stopped July 1 in his Mercedes-Benz SUV. But Simms' lawyers say he actually said one of his passengers had been smoking the drug.
"What this case is about is a rush to judgment," attorney Harvey A. Steinberg said in an opening statement.

Simms
But prosecutors and police say there was ample evidence that Simms, a son of former New York Giants quarterback Phil Simms, was in no shape to drive when pulled over at a sobriety checkpoint in Manhattan at about 1 a.m.
He made a tire-squealing, "wild" turn just before the checkpoint, Officer Francisco Acosta testified Monday. Once stopped, Simms slurred his words, walked unsteadily and said there wasn't any marijuana left in the car because "he smoked it all in the car," Acosta told jurors.
"He was out of it. Like a zombie," the officer said Monday. He added that the marijuana reek from the SUV was so strong that it gave him a headache and made his tongue numb, a reaction he said he'd had before to the drug's smoke.
After Simms was taken to a police station, he promptly passed out on a holding-cell floor, prosecutor Alexandra Glazer added in an opening statement.
An alcohol breath test came back negative, and Simms declined a urine test that could have shown drug use, if any.
Acosta said he heard Simms' wife, Danielle, advising him not to take any tests. Steinberg said Simms refused because he was angry that he was being arrested first and tested later. He felt his character would be tarnished by publicity about the arrest, the lawyer said.
"'I can't get my reputation back,'" Simms thought, according to his lawyer.
The night began when Simms, his wife -- then eight months' pregnant with their daughter, Charlotte -- and two male friends went out to dinner, Steinberg said.
They were headed to trendy Balthazar for dessert when Simms decided to stop by another friend's 40th birthday party, Steinberg said. While Simms made a quick appearance at the party, his passengers stayed with his car, and one of the friends smoked marijuana, the attorney said. That friend will testify, Steinberg said.
"'What are you guys doing? Get rid of this stuff!'" Simms told his friends when he returned, Steinberg said. The group went on to Balthazar and was stopped after leaving the eatery, he said.
Simms told police "the guy in the back seat smoked marijuana," said Steinberg, a Denver-based lawyer who often represents football players. He's arguing that authorities should have questioned the passengers to determine what had happened.
Simms and his lawyers declined to comment as they left court. He told The Tennessean newspaper last summer that the arrest was embarrassing to him and his family.
"I always try and look at myself as a high-character guy, and I hope I don't get judged off this incident. But I think, in the end, everything will be OK," he told the paper.
The 30-year-old Simms could face up to a year in jail if convicted in the misdemeanor case. In January, he turned down an offer to avoid any jail time by pleading guilty to driving while impaired, a non-criminal violation. His punishment would have included a $500 fine and five days of community service.
Besides the legal consequences, a conviction or any guilty plea that entailed admitting smoking marijuana could subject Simms to a suspension under NFL policies.
A third-round draft pick by the Tampa Bay Buccaneers in 2003, he ruptured his spleen in a 2006 game against the Carolina Panthers and had to undergo emergency surgery.
After Tampa Bay released him, he went to Tennessee in 2008, played for the Denver Broncos in 2009 as an unrestricted free agent and then returned to the Titans. The Titans released him in September but then re-signed him in November. He has a 7-9 record in his 16 NFL career starts; he didn't play in any games this season.
With players locked out amid a contract dispute with the league, all teams' plans for next season are in limbo. The Titans declined to comment on Simms' trial.
Simms' father played 14 seasons with the Giants, leading them to two Super Bowls. He is now a CBS Sports announcer and analyst.

Copyright 2011 by The Associated Press
2011 NFL DRAFT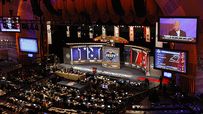 DraftTracker
|
Trade Tracker
|
Team talk
Gallery: Draft photos
|
Draft blog
PICK-BY-PICK ANALYSIS
TEAM-BY-TEAM PICKS
DIVISION DRAFT REVIEWS
ANALYSIS
NFC COLUMNS/BLOG POSTS
AFC COLUMNS/BLOG POSTS
SPORTSNATION
ESPN LOCAL DRAFT CENTERS
ESPN W
JayBilas

Jay Bilas


So glad NCAA allows the amateur "student-athletes" to model official licensed gear, available for sale right now, without any violation.
7 minutes ago

DNewtonespn

David Newton


#Panthers mailbag: Questions on Cam Newton, etc., Part II http://t.co/ESL3GoIi3H
11 minutes ago

RobDemovsky

Rob Demovsky


Is Clay Matthews an inside linebacker or an outside linebacker? We discuss: http://t.co/OTJsaItwiA#Packers
29 minutes ago

wingoz

trey wingo


So long Monterey, it's been fun. Time to head back to CT, I mean it IS getting up to around 40 today.....
31 minutes ago

JoeKaniaBucs

Joe Kania


Reports: Pitt OT TJ Clemmings has had private workouts with the Bucs, Colts, Vikings, Browns and Cardinals. http://t.co/ClOYX9h98z
33 minutes ago

john_keim

John Keim


Redskins mailbag: Part 2: The topics for part 2 of the mailbag: the need to rebuild; Landon Collins;... http://t.co/8WDdoF7t0r #Redskins
about an hour ago

JamesWalkerNFL

James Walker


Ryan Tannehill's next step? Win more games http://t.co/Ctyd3kyO5Z
about 2 hours ago

RichCimini

Rich Cimini


ICYMI: Rodney Harrison is not a member of the Geno Smith fan club. #nyj http://t.co/XvZEyNRj42
about 2 hours ago

RichCimini

Rich Cimini


After edging Notre Dame, the Wildcats are (old Kentucky) home free, per @Ian_OConnor. #NCAATournament http://t.co/e3TPApZhND
about 2 hours ago

RichCimini

Rich Cimini


Jets notes: Why it should be an open QB competition ... Defensive play calling ... Revis ...Mariota vs. Winston. #nyj http://t.co/Epus8Kstih
about 2 hours ago

RichCimini

Rich Cimini


Jets mailbag, part 2: How good is this team? Questions from @Jetswagg25, @Jetsnation13, @HaseebShakeHer, @pspencer72. http://t.co/veLy7TBBiU
about 2 hours ago

RichCimini

Rich Cimini


Sunday notes: Conflicting signals on Jets' QB situation: A look at what's happening with the New York Jets:1... http://t.co/fUr3cs0JuV
about 2 hours ago

ESPNChiBears

Jeff Dickerson


Chicago Bears Twitter mailbag: Plenty of WR options http://t.co/FulCEha0Oj
about 3 hours ago

AdamSchefter

Adam Schefter


Nephew @CaseyBarone's soccer trainer, @domcas5, spells out some helpful training tips: http://t.co/oYBFjX13JJ
about 5 hours ago

MikeReiss

Mike Reiss


Quick-hit thoughts around Patriots, NFL (Ridley lines up visits, Chandler Jones recovering, Tom Brady-MJ-Welker etc.) http://t.co/2YixYXhzrI
about 5 hours ago

RichCimini

Rich Cimini


Mailbag: Could this be the best Jets team of the decade?: Part II of our New York Jets' mailbag: http://t.co/bTFHsDfX9y
about 6 hours ago

WilliamsonNFL

Matt Williamson


So I am about 15 min into Draft Day & pretty much hate it already
about 11 hours ago

AaronRodgers12

Aaron Rodgers


2 semesters at Butte 3 semesters at Cal10 years a Wisconsin resident. I'll pull for any team I want. But I don't wear red.
about 12 hours ago

mikerothstein

Michael Rothstein


@Matt_Fortuna No, I don't think they gave it away, either...but played totally different in last 1:30 than had in previous 38:30.
about 12 hours ago

mikerothstein

Michael Rothstein


@Matt_Fortuna My only issue there would be the lack of ball movement. That was how they confused UK all game.
about 12 hours ago
MORE FROM ESPN NEW YORK

Check out ESPN New York, your destination for sports coverage in the Big Apple.
MOST SENT STORIES ON ESPN.COM