Chris Simms' trial begins in NYC
Updated:
May 3, 2011, 1:05 AM ET
Associated Press
NEW YORK -- A driving-while-high case against Tennessee Titans backup quarterback Chris Simms was built out of a big misconception, his lawyer told jurors Monday.
Authorities say Simms told a police officer he'd been smoking marijuana before being stopped July 1 in his Mercedes-Benz SUV. But Simms' lawyers say he actually said one of his passengers had been smoking the drug.
"What this case is about is a rush to judgment," attorney Harvey A. Steinberg said in an opening statement.

Simms
But prosecutors and police say there was ample evidence that Simms, a son of former New York Giants quarterback Phil Simms, was in no shape to drive when pulled over at a sobriety checkpoint in Manhattan at about 1 a.m.
He made a tire-squealing, "wild" turn just before the checkpoint, Officer Francisco Acosta testified Monday. Once stopped, Simms slurred his words, walked unsteadily and said there wasn't any marijuana left in the car because "he smoked it all in the car," Acosta told jurors.
"He was out of it. Like a zombie," the officer said Monday. He added that the marijuana reek from the SUV was so strong that it gave him a headache and made his tongue numb, a reaction he said he'd had before to the drug's smoke.
After Simms was taken to a police station, he promptly passed out on a holding-cell floor, prosecutor Alexandra Glazer added in an opening statement.
An alcohol breath test came back negative, and Simms declined a urine test that could have shown drug use, if any.
Acosta said he heard Simms' wife, Danielle, advising him not to take any tests. Steinberg said Simms refused because he was angry that he was being arrested first and tested later. He felt his character would be tarnished by publicity about the arrest, the lawyer said.
"'I can't get my reputation back,'" Simms thought, according to his lawyer.
The night began when Simms, his wife -- then eight months' pregnant with their daughter, Charlotte -- and two male friends went out to dinner, Steinberg said.
They were headed to trendy Balthazar for dessert when Simms decided to stop by another friend's 40th birthday party, Steinberg said. While Simms made a quick appearance at the party, his passengers stayed with his car, and one of the friends smoked marijuana, the attorney said. That friend will testify, Steinberg said.
"'What are you guys doing? Get rid of this stuff!'" Simms told his friends when he returned, Steinberg said. The group went on to Balthazar and was stopped after leaving the eatery, he said.
Simms told police "the guy in the back seat smoked marijuana," said Steinberg, a Denver-based lawyer who often represents football players. He's arguing that authorities should have questioned the passengers to determine what had happened.
Simms and his lawyers declined to comment as they left court. He told The Tennessean newspaper last summer that the arrest was embarrassing to him and his family.
"I always try and look at myself as a high-character guy, and I hope I don't get judged off this incident. But I think, in the end, everything will be OK," he told the paper.
The 30-year-old Simms could face up to a year in jail if convicted in the misdemeanor case. In January, he turned down an offer to avoid any jail time by pleading guilty to driving while impaired, a non-criminal violation. His punishment would have included a $500 fine and five days of community service.
Besides the legal consequences, a conviction or any guilty plea that entailed admitting smoking marijuana could subject Simms to a suspension under NFL policies.
A third-round draft pick by the Tampa Bay Buccaneers in 2003, he ruptured his spleen in a 2006 game against the Carolina Panthers and had to undergo emergency surgery.
After Tampa Bay released him, he went to Tennessee in 2008, played for the Denver Broncos in 2009 as an unrestricted free agent and then returned to the Titans. The Titans released him in September but then re-signed him in November. He has a 7-9 record in his 16 NFL career starts; he didn't play in any games this season.
With players locked out amid a contract dispute with the league, all teams' plans for next season are in limbo. The Titans declined to comment on Simms' trial.
Simms' father played 14 seasons with the Giants, leading them to two Super Bowls. He is now a CBS Sports announcer and analyst.

Copyright 2011 by The Associated Press
SPONSORED HEADLINES
MORE NFL HEADLINES
MOST SENT STORIES ON ESPN.COM
2011 NFL DRAFT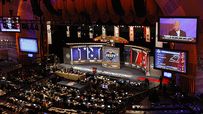 DraftTracker
|
Trade Tracker
|
Team talk
Gallery: Draft photos
|
Draft blog
PICK-BY-PICK ANALYSIS
TEAM-BY-TEAM PICKS
DIVISION DRAFT REVIEWS
ANALYSIS
NFC COLUMNS/BLOG POSTS
AFC COLUMNS/BLOG POSTS
SPORTSNATION
ESPN LOCAL DRAFT CENTERS
ESPN W
LATimesfarmer

Sam Farmer


Only now does San Diego Charger Antonio Gates fully grasp what his little sister meant to him http://t.co/Ie3MSDWaPk
43 minutes ago

mikerothstein

Michael Rothstein


I know it's late, but @RobertKlemko has been doing some really great reporting from Ferguson, Missouri. Follow him.
about an hour ago

theMMQB

The MMQB


In #Ferguson, @RobertKlemko found a high school football team still trying to play. http://t.co/2fKrJde4WS http://t.co/ZqheMV5c1M
about an hour ago

Jeff_Legwold

Jeff Legwold


Peyton Manning says "hurry, hurry'' a lot, but once in a while he says whoa..kind of like Tuesday: http://t.co/E0ckesQxgT
about an hour ago

RichCimini

Rich Cimini


Will Johnny Manziel be a bust? Players across the league answer in a confidential NFL Nation survey. http://t.co/GDkftIY8eT
about an hour ago

WilliamsonNFL

Matt Williamson


Cuse is the winner: McNabb, J Brown, Csonka, Marvin, Monk, Mackey!!!
about 2 hours ago

WilliamsonNFL

Matt Williamson


USC? Palmer,? OJ, Marcus Allen, Swann, Keyshawn, TE?
about 2 hours ago

WilliamsonNFL

Matt Williamson


And in that discussion, the best two we came up with were 1. Syracuse 2. Pitt…who are we missing? A GREAT QB and TE isn't easy to find
about 2 hours ago

WilliamsonNFL

Matt Williamson


Buds & I were discussing: Which college has best starting group (1 QB, 2 RB, 2 WR, 1 TE) ever for combo of great college & esp NFL players
about 2 hours ago

cdwill77

casey willett


Tillman goes 8 in 5-1 win. Hear the audio here @wbalradio http://t.co/n0p4RDLVd8
about 2 hours ago

DNewtonespn

David Newton


Barner trade says alot of Whittaker, Reaves http://t.co/qXcv9J5EkL #Panthers
about 2 hours ago

wingoz

trey wingo


Last thing:Butch and Sundance was the first movie I ever saw in the theater Made this moment years later even better http://t.co/SEKEz2MPH3
about 2 hours ago

Pat_Schiller

Patrick Schiller


@JHawley61 after that #Hardknocks I felt this throwback was appropriate.. #Ghost .. http://t.co/6Bwewp6ZVL
about 2 hours ago

DNewtonespn

David Newton


Here is one reason the #Panthers traded Barner to Eagles. Meet Fozzy http://t.co/MhdIqGQlA2
about 2 hours ago

jasonjwilde

Jason Wilde


I don't know how anyone can complain of #IceBucketChallenge fatigue when they read about @TShawsTruth. http://t.co/T7KdKFc3HX
about 2 hours ago

jamisonhensley

Jamison Hensley


31 #OriolesMagicNumber
about 2 hours ago

vxmcclure23

vaughn mcclure


Joe Hawley and pottery?
about 2 hours ago

vxmcclure23

vaughn mcclure


Matt Ryan not f*** around this year.
about 2 hours ago

mikerothstein

Michael Rothstein


@davebirkett @seideljeff @Mark__Snyder @cmonarrez @shawnwindsor I am more than willing to dump that bucket on Carlos.
about 2 hours ago

vxmcclure23

vaughn mcclure


Konz with the encouraging words to Yates.
about 2 hours ago
ESPN FAN SHOP
MORE FROM ESPN NEW YORK

Check out ESPN New York, your destination for sports coverage in the Big Apple.