New York jury acquits Chris Simms
Updated:
May 4, 2011, 3:37 PM ET
Associated Press
NEW YORK -- Tennessee Titans backup quarterback Chris Simms was acquitted Wednesday of driving while high on marijuana, winning a case he said stemmed from a police officer's mistake.
"I'm really just happy it's all over with," a relieved but politely indignant Simms said as he left a Manhattan courthouse with his wife, Danielle. "I love the NYPD, and I'm mad that this happened."

Simms
Jurors, who deliberated for about an hour in the misdemeanor case, declined to comment as they left court.
Simms, the 30-year-old son of former New York Giants quarterback Phil Simms, was arrested around 1 a.m. July 1 at a police sobriety checkpoint in downtown Manhattan. He was heading home to New Jersey after going out to dinner with his wife and two friends.
A police officer told jurors that Simms made a tire-squealing turn just before the checkpoint, his Mercedes-Benz SUV reeked of marijuana and Simms himself was "like a zombie." Slurring his words, Simms said there wasn't any marijuana in the car because "he smoked it all," Officer Francisco Acosta testified.
Simms denied the allegations, and he said the officer misunderstood his remark.
"The comment I made to the officer is that there was someone in the car who smoked marijuana," Simms, who didn't testify at his trial, said after it ended. With his then-pregnant wife in the car, "I said, 'You're way off-base. I'm 30 years old, and I already have a 4-year-old at home.'"
A longtime friend, former Bryant University quarterback Charles Granatell, told jurors he was solely responsible for a marijuana scent the officer said was so strong it numbed his tongue. Granatell testified that he smoked pot by the SUV while Simms popped into another friend's 40th birthday party. The party's guest of honor, movie producer and nightclub owner Noel Ashman, told jurors Simms was "very, very lucid" during his stop there.
In her closing argument, Manhattan assistant district attorney Alexandra Glazer dismissed their accounts as "one not worthy of belief, and the other irrelevant." If Granatell was indeed the only one smoking marijuana that night, she asked, "wouldn't he have said something, instead of watching his friend get arrested in front of his eight-months-pregnant wife?"
The DA's office declined to comment after the verdict.
Simms took an alcohol breath test that came back negative, and he declined a urine test that could have shown drug use, if any. His lawyer, Harvey A. Steinberg, said Simms declined the urine test because he was frustrated that he was being arrested first and tested later.
"It's a case of rush to judgment," Steinberg said in his summation.
Simms had turned down a no-jail deal that would have involved pleading guilty to a noncriminal driving-while-impaired violation.
If convicted at the trial, Simms could have faced up to a year in jail. Besides the legal consequences, a conviction or any guilty plea that entailed admitting smoking marijuana could have subjected Simms to a suspension under NFL policies.
A third-round draft pick by the Tampa Bay Buccaneers in 2003, Simms ruptured his spleen in a 2006 game against the Carolina Panthers and had to undergo emergency surgery.
After Tampa Bay released him, he went to Tennessee in 2008, played for the Denver Broncos in 2009 as an unrestricted free agent and then returned to the Titans. The Titans released him in September but then re-signed him in November. He has a 7-9 record in his 16 NFL career starts; he didn't play in any games during the 2010 season.
With players locked out amid a contract dispute with the league, all teams' plans for next season are in limbo. The Titans have declined to comment on Simms' trial.
Simms' father played 14 seasons with the Giants, leading them to two Super Bowls. He is now a CBS Sports announcer and analyst.

Copyright 2011 by The Associated Press
The NFL on ESPN.com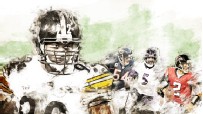 WEEK 1 PICKS
MORE NFL COVERAGE
2011 NFL PREVIEW
JOHN CLAYTON QB RANKINGS
NFL DRAFT
ESPNMondayNight

ESPN Monday Night


J.R. Smith and Anthony Mason IN THE HOUSE! #Knicks http://t.co/ByItsZ1W6Y
2 minutes ago

RichCimini

Rich Cimini


Jets have outgained the Bears, 94-80 -- and they're down two TDs. #penalties #turnovers
3 minutes ago

RichCimini

Rich Cimini


Gould, 24 FG. Bears increase lead, 17-3. March 79 yards, 15 plays. #nyj
5 minutes ago

ESPNChiBears

Jeff Dickerson


#Bears tack on a 24 yard Robbie Gould FG. #Bears 17 #Jets 3 w/ 13:54 left in 1st half.
5 minutes ago

ESPNMondayNight

ESPN Monday Night


Fun Fact: Tonight's game kicks off in summer and will end in fall.Autumn officially starts at 10:29p ET. http://t.co/fx7QSbfVEQ
5 minutes ago

SeifertESPN

Kevin Seifert


Initially thought Bennett dropped that pass, but Pryor made a nice play in the end zone to break it up. #MNF
7 minutes ago

RichCimini

Rich Cimini


End of 1: Bears 14, Jets 3. The Jets looked rattled, and their defense is one step behind Cutler & Co. Trestman outsmarting Rex. #nyj
11 minutes ago

RichCimini

Rich Cimini


Killer third down run by Cutler. Jets had 6 DBs, including Phillip Adams. #nyj
12 minutes ago

SeifertESPN

Kevin Seifert


Three runs for Bears: -4 yards, -1 yard and -2 yards. #MNF
13 minutes ago

ESPNChiBears

Jeff Dickerson


Why run? Let Cutler throw the ball 50 times tonight vs. #Jets secondary.
13 minutes ago

mikecwright

Michael C. Wright


Santonio Holmes catches a ball and the crowd boos.
14 minutes ago

RichCimini

Rich Cimini


Holmes booed after catch. #nyj
14 minutes ago

mikecwright

Michael C. Wright


Martellus Bennett had seven catches and a TD in Game 1, 8 catches and a TD in game 2.
15 minutes ago

SeifertESPN

Kevin Seifert


#Bears not even trying to run, and I'm totally on board with that. #MNF
16 minutes ago

ESPNChiBears

Jeff Dickerson


Going to be a long night for #Jets' D if Cutler has that kind of time to sit in the pocket.
17 minutes ago

RichCimini

Rich Cimini


Jay Cutler has 10 yards passing and the Jets are down, 14-3. Who would've figured that? #nyj
19 minutes ago

ESPNNFL

NFL on ESPN


Da Coach in the stands at #MNF. #Ditka #CHIvsNYJ http://t.co/6QBGigbUI5
21 minutes ago

mikerothstein

Michael Rothstein


So that Gotham TV show -- pretty good premiere.
22 minutes ago

RichCimini

Rich Cimini


Folk, 43 FG. Cuts Chicago lead to 14-3. Smith held the ball too long on second down. Can't take a sack in the red zone. #nyj
22 minutes ago

ESPNChiBears

Jeff Dickerson


#Jets manage a FG. #Bears still on top 14-3 w/3:42 left in 3rd quarter.
22 minutes ago
ESPN FAN SHOP
MORE FROM ESPN NEW YORK

Check out ESPN New York, your destination for sports coverage in the Big Apple.