New York jury acquits Chris Simms
Updated:
May 4, 2011, 3:37 PM ET
Associated Press
NEW YORK -- Tennessee Titans backup quarterback Chris Simms was acquitted Wednesday of driving while high on marijuana, winning a case he said stemmed from a police officer's mistake.
"I'm really just happy it's all over with," a relieved but politely indignant Simms said as he left a Manhattan courthouse with his wife, Danielle. "I love the NYPD, and I'm mad that this happened."

Simms
Jurors, who deliberated for about an hour in the misdemeanor case, declined to comment as they left court.
Simms, the 30-year-old son of former New York Giants quarterback Phil Simms, was arrested around 1 a.m. July 1 at a police sobriety checkpoint in downtown Manhattan. He was heading home to New Jersey after going out to dinner with his wife and two friends.
A police officer told jurors that Simms made a tire-squealing turn just before the checkpoint, his Mercedes-Benz SUV reeked of marijuana and Simms himself was "like a zombie." Slurring his words, Simms said there wasn't any marijuana in the car because "he smoked it all," Officer Francisco Acosta testified.
Simms denied the allegations, and he said the officer misunderstood his remark.
"The comment I made to the officer is that there was someone in the car who smoked marijuana," Simms, who didn't testify at his trial, said after it ended. With his then-pregnant wife in the car, "I said, 'You're way off-base. I'm 30 years old, and I already have a 4-year-old at home.'"
A longtime friend, former Bryant University quarterback Charles Granatell, told jurors he was solely responsible for a marijuana scent the officer said was so strong it numbed his tongue. Granatell testified that he smoked pot by the SUV while Simms popped into another friend's 40th birthday party. The party's guest of honor, movie producer and nightclub owner Noel Ashman, told jurors Simms was "very, very lucid" during his stop there.
In her closing argument, Manhattan assistant district attorney Alexandra Glazer dismissed their accounts as "one not worthy of belief, and the other irrelevant." If Granatell was indeed the only one smoking marijuana that night, she asked, "wouldn't he have said something, instead of watching his friend get arrested in front of his eight-months-pregnant wife?"
The DA's office declined to comment after the verdict.
Simms took an alcohol breath test that came back negative, and he declined a urine test that could have shown drug use, if any. His lawyer, Harvey A. Steinberg, said Simms declined the urine test because he was frustrated that he was being arrested first and tested later.
"It's a case of rush to judgment," Steinberg said in his summation.
Simms had turned down a no-jail deal that would have involved pleading guilty to a noncriminal driving-while-impaired violation.
If convicted at the trial, Simms could have faced up to a year in jail. Besides the legal consequences, a conviction or any guilty plea that entailed admitting smoking marijuana could have subjected Simms to a suspension under NFL policies.
A third-round draft pick by the Tampa Bay Buccaneers in 2003, Simms ruptured his spleen in a 2006 game against the Carolina Panthers and had to undergo emergency surgery.
After Tampa Bay released him, he went to Tennessee in 2008, played for the Denver Broncos in 2009 as an unrestricted free agent and then returned to the Titans. The Titans released him in September but then re-signed him in November. He has a 7-9 record in his 16 NFL career starts; he didn't play in any games during the 2010 season.
With players locked out amid a contract dispute with the league, all teams' plans for next season are in limbo. The Titans have declined to comment on Simms' trial.
Simms' father played 14 seasons with the Giants, leading them to two Super Bowls. He is now a CBS Sports announcer and analyst.

Copyright 2011 by The Associated Press
SPONSORED HEADLINES
MORE NFL HEADLINES
MOST SENT STORIES ON ESPN.COM
The NFL on ESPN.com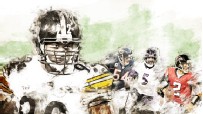 WEEK 1 PICKS
MORE NFL COVERAGE
2011 NFL PREVIEW
JOHN CLAYTON QB RANKINGS
NFL DRAFT
john_keim

John Keim


a little bit of hitting scheduled for today... #Redskins wake-up call: 3 areas to watch http://t.co/oXLaZ1qob0
11 minutes ago

john_keim

John Keim


Redskins wake-up call: 3 areas to watch: RICHMOND, VA. -- Practice at 8:35 a.m. The afternoon walk-t... http://t.co/v896vx421o #Redskins
22 minutes ago

RichCimini

Rich Cimini


Jets wake-up call: Day 5: CORTLAND, N.Y. -- Monday is a mandatory day off for the New York Jets, per the rules... http://t.co/impR9IoB00
26 minutes ago

AdamSchefter

Adam Schefter


Dee Milliner said he believe he's NFL's best CB and now Calvin Pace says Jets have NFL's best defense:http://t.co/PrKi6tqjwF
about an hour ago

mikerodak

Mike Rodak


Bills will be practicing at 6pm instead of 8am tomorrow. Storms rolling through right now (like the one that just woke me up...)
about 5 hours ago

dylllicious

Erin Andrews


Such an amazing experience! Cortland loves the Jets :-)
about 6 hours ago

GoesslingESPN

Ben Goessling


News story on Kyle Rudolph's five-year extension with the #Vikings: http://t.co/WbJrvJqwSu
about 7 hours ago

GoesslingESPN

Ben Goessling


#Vikings signing Rudolph to this deal shows how good they think he'll be in Turner's offense. They've said it; now they're acting.
about 7 hours ago

toddarcher

Todd Archer


Cowboys to be patient with Murray contract: OXNARD, Calif. -- The Dallas Cowboys have let it be known... http://t.co/LErJIPPhZ7 #Cowboys
about 7 hours ago

FieldYates

Field Yates


Jason Babin gets $3.25M over two years with the Jets. Has a base salary of $1.1M in 2014, with another $500k available via roster bonuses.
about 8 hours ago

espncowboysblog

espncowboysblog


Cowboys to be patient with Murray contract http://t.co/V4HCBTJiXe
about 8 hours ago

GoesslingESPN

Ben Goessling


Rudolph will get a $6.5 million signing bonus, a $960,000 guaranteed salary this year. Remaining $12 million is guaranteed for injury only.
about 8 hours ago

AdamSchefter

Adam Schefter


Vikings agreed to a five-year, $36.5 deal with TE Kyle Rudolph, per @goesslingESPN.
about 8 hours ago

GoesslingESPN

Ben Goessling


Rudolph will get $19.4 million guaranteed. $12 million is guaranteed for injury only.
about 8 hours ago

DNewtonespn

David Newton


Cool storm in Spartanburg. Hope it cools weather for #Panthers camp. http://t.co/MSpBbGvUAO
about 8 hours ago

toddarcher

Todd Archer


Cowboys Camp Report: Day 4: OXNARD, Calif. -- A daily review of the hot topics coming out of Dallas C... http://t.co/JBxUCZdQ19 #Cowboys
about 8 hours ago

toddarcher

Todd Archer


Matt Johnson hurts hamstring again: OXNARD, Calif. -- Once again Matt Johnson was unable to make it t... http://t.co/jBiZgbrrBg #Cowboys
about 8 hours ago

FalconsJAdams

Jay Adams


For those keeping score at home, WRs Courtney Roby and Geraldo Boldewijn have switched numbers. Roby is 15. Boldewijn is 14. #aftc14
about 8 hours ago

eric_d_williams

Eric Williams


#Chargers training camp report: Day 4 -- http://t.co/8PGVoDSibW
about 8 hours ago

GoesslingESPN

Ben Goessling


#Vikings announce they've signed Kyle Rudolph to a five-year deal. I'm told he'll get 36.5 million, and could earn up to $40 million.
about 8 hours ago
ESPN FAN SHOP
MORE FROM ESPN NEW YORK

Check out ESPN New York, your destination for sports coverage in the Big Apple.