Commentary
Pressure Point: McCoy's arm in doubt
A weekly look at a player whose performance must improve in 2011.
The Browns play in a difficult division. They have a new head coach and two new coordinators. They also have a second-year quarterback who needs all the offseason help he can get as he attempts to learn the new offensive system and get the Browns back to respectability. That is why Colt McCoy is the focus of this week's Pressure Point series.
Greg Little
could certainly help the situation.
But there is also a lot to worry about with McCoy. First, he isn't the biggest or most physical quarterback around. That could be a big problem in a division featuring the Steelers and Ravens. McCoy is going to take more than his fair share of hits. But what worries me more is that McCoy doesn't have physically overwhelming tools. Many think arm strength is overrated -- and I concede that some quarterbacks do increase their arm strength at the NFL level -- but McCoy is deficient in this category. Cleveland's coaching staff will always have to manage this young quarterback. We will see a lot of rollouts, play-action and three-step drops on an offense that features a power running game. All of that is fine, and I expect McCoy to do quite well with such play calls.
Ben Roethlisberger
and
Joe Flacco
can make those throws. I don't feel confident that McCoy can.
McCoy had some good outings last season, but as Peyton Hillis broke down late in the year and the weather became more challenging, McCoy and the Browns' offense fell apart. Apologists will say that he hit the rookie wall and that this year Cleveland should have two power runners (Hillis and Montario Hardesty) to lean on throughout the season. I still contend that this is not a good match between young quarterback and the city he plays in. McCoy threw three interceptions in Week 16 against Baltimore and three interceptions in Week 17 against Pittsburgh -- both games were played in Cleveland by the lake. I don't think that was a coincidence.
Scouts Inc. watches games, breaks down film and studies football from all angles for ESPN.com.
The NFL on ESPN.com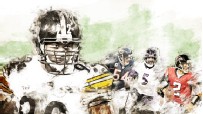 WEEK 1 PICKS
MORE NFL COVERAGE
2011 NFL PREVIEW
JOHN CLAYTON QB RANKINGS
NFL DRAFT
ESPN FAN SHOP