Troy Polamalu: Players have cause
Updated:
May 23, 2011, 3:39 PM ET
By
Arash Markazi
| ESPNLosAngeles.com
LOS ANGELES -- Pittsburgh Steelers safety Troy Polamalu doesn't know when the NFL lockout will end, but he does believe the players are representing the everyday person in their battle against the NFL.
"It's unfortunate right now. I think what the players are fighting for is something bigger," Polamalu said Sunday night. "A lot of people think it's millionaires versus billionaires and that's the huge argument. The fact is its people fighting against big business. The big business argument is 'I got the money and I got the power therefore I can tell you what to do.' That's life everywhere. I think this is a time when the football players are standing up and saying, 'No, no, no, the people have the power.'"
Polamalu, who was being honored Sunday at the annual Cedars Sinai Medical Center Sports Spectacular, has stayed productive during the lockout. The two-time Super Bowl champion and 2010 NFL defensive player of the year graduated from USC this month with a bachelor's in history.
"I've always said education is important, but I've never been able to speak about it without any authority," Polamalu said. "I can't tell a kid to go to college and school's the most important thing when I have no authority to speak without a diploma. It's like if I were to speak to anyone about being a father before I had children. Now, I feel very blessed and it's big fulfillment for myself. You can spend a lot of your life trying to achieve certain goals, but school is a huge part of that. If you fall short, it's a big disappointment."
The six-time Pro Bowl safety was surprised at how much media attention and recognition he got for an accomplishment he said he should have completed in 2004 before he was drafted by the Steelers in the first round.
"It might have felt better if I had completed it on time, but I didn't complete it on time," he said. "I just finished school. I should have finished school a long time ago. There shouldn't be so much press about me going back and finishing school when it's something I should have done in the first place."
Polamalu, who plans on using his degree to become a teacher after he retires from football, said he was on track to graduate on time eight years ago before he began training for the NFL draft.
"I had a full semester of units left my senior year while I was training for the combine," he said. "I dropped one class and then I dropped another class and I just said I can't do this. But thanks to the NFL owners and [NFL commissioner] Roger Goodell they've allowed me to finish my degree during this lockout."
Polamalu also believes the NCAA singled out his alma mater for punishment compared to the sanctions levied against other schools such as Ohio State. "The circumstances are tough to overcome. I think they are very unfair," Polamalu said. "I think if the [NCAA] just had guidelines that said this is your punishment for this and that and it was a universal way of looking at that that would be one thing, but they just pick and choose who they want to punish more than others, and I think that has been well documented."
Arash Markazi is a reporter and columnist for ESPNLosAngeles.com.
ESPNLosAngeles.com
Former columnist and writer after five years with Sports Illustrated
Markazi has also written for Slam, King, Vibe and Playboy
On board of directors for Jim Murray Memorial Foundation.
The NFL on ESPN.com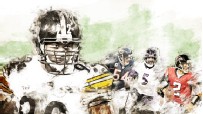 WEEK 1 PICKS
MORE NFL COVERAGE
2011 NFL PREVIEW
JOHN CLAYTON QB RANKINGS
NFL DRAFT
RyanMc23

Ryan McDowell


Another game where Brian Quick led the team in targets. Britt a bust, still. Tavon looking like a bust too & hurt. Quick is the man.
less than a minute ago

ESPNChiBears

Jeff Dickerson


#49ers receive 2nd half kickoff.
about a minute ago

le_krystaal

Krystal


@PGutierrezESPN @Justin_Ebright YESSSSS! Was just talking about this the other day. He's like the Drake of the NFL.
5 minutes ago

mikerothstein

Michael Rothstein


@TomVH and I bet they were glorious, sir
5 minutes ago

PGutierrezESPN

Paul Gutierrez


Scratch that, it says "COACH SNOOP"....
5 minutes ago

ESPN_NFLNation

ESPN NFL Nation


Failure to finish drives haunts Chiefs http://t.co/YsMmA3aRhC
6 minutes ago

mikerothstein

Michael Rothstein


Gluten- free friends, if you are ever in Charlotte, eat at Basil, a Thai restaurant. Great, great food.
7 minutes ago

PGutierrezESPN

Paul Gutierrez


Snoop rocking a Jeff Garcia #49ers jersey, but the Santa Clara Niners version says "SNOOP DOGG" on the back, rather than "GARCIA"...
9 minutes ago

PGutierrezESPN

Paul Gutierrez


BOOM! RT @Justin_Ebright @PGutierrezESPN This one? http://t.co/aR0HKfcBZn
12 minutes ago

mikecwright

Michael C. Wright


Came to a football game & caught a Snoop concert. That's fine by me. http://t.co/nISiq3Hr8L
12 minutes ago

taniaganguli

Tania Ganguli


Turnovers going Texans' way again: OAKLAND, Calif. -- No moments were more indicative of the renewed a... http://t.co/XLavCC52gK #Texans
12 minutes ago

ESPNChiBears

Jeff Dickerson


Snoop Dogg takes the stage. #Bears #49ers http://t.co/f7ygEs8f6A
12 minutes ago

PGutierrezESPN

Paul Gutierrez


Anyone got that pic of Snoop wearing the jersey of every NFL team...and a CFL one, too?!?
14 minutes ago

Jeff_Legwold

Jeff Legwold


On lighter side, Manning was asked about DT Terrance Knighton on offense: "might have to send two guys out of the game to put Terrance in''
14 minutes ago

vxmcclure23

vaughn mcclure


Physical and mental breakdowns for Falcons on defense. http://t.co/WT56vkjuXp
16 minutes ago

JamesWalkerNFL

James Walker


Joe Philbin explains end-of-first-half gaffe http://t.co/gXq4j7BipX"-Speaking of which, in case you missed it. #Dolphins
16 minutes ago

BWilliamsonESPN

Bill Williamson


#Raiders Woodson not happy http://t.co/LJDsimFhaQ
19 minutes ago

JamesWalkerNFL

James Walker


Random thought: The #Bears tried to score in the two-minute drill before the half and it resulted in a TD. Just saying. #Dolphins
19 minutes ago

wingoz

trey wingo


Brandon Marshall scores...and my fantasy team thanks him
21 minutes ago

ESPNChiBears

Jeff Dickerson


#49ers lead cut to 17-7 w/:13 left until halftime.
21 minutes ago
MORE FROM ESPN LOS ANGELES

Check out the new ESPN Los Angeles, the place for your local Los Angeles sports coverage.