Troy Polamalu: Players have cause
Updated:
May 23, 2011, 3:39 PM ET
By
Arash Markazi
| ESPNLosAngeles.com
LOS ANGELES -- Pittsburgh Steelers safety Troy Polamalu doesn't know when the NFL lockout will end, but he does believe the players are representing the everyday person in their battle against the NFL.
"It's unfortunate right now. I think what the players are fighting for is something bigger," Polamalu said Sunday night. "A lot of people think it's millionaires versus billionaires and that's the huge argument. The fact is its people fighting against big business. The big business argument is 'I got the money and I got the power therefore I can tell you what to do.' That's life everywhere. I think this is a time when the football players are standing up and saying, 'No, no, no, the people have the power.'"
Polamalu, who was being honored Sunday at the annual Cedars Sinai Medical Center Sports Spectacular, has stayed productive during the lockout. The two-time Super Bowl champion and 2010 NFL defensive player of the year graduated from USC this month with a bachelor's in history.
"I've always said education is important, but I've never been able to speak about it without any authority," Polamalu said. "I can't tell a kid to go to college and school's the most important thing when I have no authority to speak without a diploma. It's like if I were to speak to anyone about being a father before I had children. Now, I feel very blessed and it's big fulfillment for myself. You can spend a lot of your life trying to achieve certain goals, but school is a huge part of that. If you fall short, it's a big disappointment."
The six-time Pro Bowl safety was surprised at how much media attention and recognition he got for an accomplishment he said he should have completed in 2004 before he was drafted by the Steelers in the first round.
"It might have felt better if I had completed it on time, but I didn't complete it on time," he said. "I just finished school. I should have finished school a long time ago. There shouldn't be so much press about me going back and finishing school when it's something I should have done in the first place."
Polamalu, who plans on using his degree to become a teacher after he retires from football, said he was on track to graduate on time eight years ago before he began training for the NFL draft.
"I had a full semester of units left my senior year while I was training for the combine," he said. "I dropped one class and then I dropped another class and I just said I can't do this. But thanks to the NFL owners and [NFL commissioner] Roger Goodell they've allowed me to finish my degree during this lockout."
Polamalu also believes the NCAA singled out his alma mater for punishment compared to the sanctions levied against other schools such as Ohio State. "The circumstances are tough to overcome. I think they are very unfair," Polamalu said. "I think if the [NCAA] just had guidelines that said this is your punishment for this and that and it was a universal way of looking at that that would be one thing, but they just pick and choose who they want to punish more than others, and I think that has been well documented."
Arash Markazi is a reporter and columnist for ESPNLosAngeles.com.
ESPNLosAngeles.com
Former columnist and writer after five years with Sports Illustrated
Markazi has also written for Slam, King, Vibe and Playboy
On board of directors for Jim Murray Memorial Foundation.
SPONSORED HEADLINES
MORE NFL HEADLINES
MOST SENT STORIES ON ESPN.COM
The NFL on ESPN.com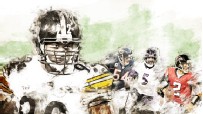 WEEK 1 PICKS
MORE NFL COVERAGE
2011 NFL PREVIEW
JOHN CLAYTON QB RANKINGS
NFL DRAFT
jamisonhensley

Jamison Hensley


So, basically, #Ravens need to cut 14 more players by Saturday and can re-sign 10 to practice squad.
about a minute ago

jamisonhensley

Jamison Hensley


#Ravens need to make 17 more roster moves to get down to 53 players. This includes putting Rice and Hill on suspended list and Cody on PUP.
2 minutes ago

jamisonhensley

Jamison Hensley


#Ravens announce they've cut 5 players: TE N.Overbay, OLB linebacker D.J. Roberts, C Reggie Stephens & DTs Levi Brown and Derrick Hopkins.
4 minutes ago

PatYazESPN

Pat Yasinskas


Bucs begin trimming roster: http://t.co/WoIuP2B9Pd
5 minutes ago

RichCimini

Rich Cimini


Rex: Jets not announcing cuts on Friday: The New York Jets are not planning to announce any cuts on Friday, co... http://t.co/m4MZi336fq
7 minutes ago

EdBouchette

Ed Bouchette


Why Landry Jones will make Steelers roster as No. 3 QB again http://t.co/h2SLYvSCUY
7 minutes ago

caplannfl

Adam Caplan


Cardinals are expected to waive WR Dan Buckner, source said.
11 minutes ago

ScottBrown_ESPN

Scott Brown


Steelers might be done with signings http://t.co/lNdnk005dR
11 minutes ago

taniaganguli

Tania Ganguli


as swearinger told @JPalmerCSN and I yesterday RT @MarkBermanFox26: NFL confirms DJ Swearinger was not fined for his hit on Wes Welker.
13 minutes ago

mikerodak

Mike Rodak


Bills' Evan Rodriguez, Dominique Jones tweet farewell messages as Bills begin final cuts: http://t.co/1lQiKQ12oT
15 minutes ago

taniaganguli

Tania Ganguli


Also hearing #Texans plan to keep Ronnie Brown. He'll be a good influence on the younger running backs, which is why I had him in my 53.
16 minutes ago

espncowboysblog

espncowboysblog


Cowboys' talent search will continue http://t.co/jLFvssdOfk
17 minutes ago

RobDemovsky

Rob Demovsky


Talked to a few agents this afternoon and there's no indication the #Packers have made any cuts yet. Last year, they waited til Saturday.
17 minutes ago

taniaganguli

Tania Ganguli


Looks like only 3 tight ends for the #Texans' 53. They'd like to keep Anthony Denham for the practice squad.
21 minutes ago

ESPNNFL

NFL on ESPN


11-year-old Sam Gordon is BACK! And she's tearing up the boys on the field again. » http://t.co/i201pcnmLC http://t.co/hSOWCsAy9U
22 minutes ago

RickGosselinDMN

Rick Gosselin


Former NFL officiating chief Mike Pereira stops by Talk of Fame Network to talk about explosion of penalty flags... http://t.co/WqvsOjI6Wv
23 minutes ago

JoeBanner13

Joe Banner


Trying to figure out why some people write things like " eagles likely to win NFC east. " who is even going to come close.
26 minutes ago

Mike_Will89

Michael Williams


Now we wait...
26 minutes ago

JamesWalkerNFL

James Walker


Jared Odrick: Big man, small car http://t.co/kQkGosJvBL"-@JaredOdrick98 shared thoughts w/ESPN.com this week on his unique car choice.
30 minutes ago

jamisonhensley

Jamison Hensley


This is the incident which led to #Ravens DT Haloti Ngata getting fined $8,268 by the NFL http://t.co/TsXmJKGcMJ via @espnnfl
31 minutes ago
MORE FROM ESPN LOS ANGELES

Check out the new ESPN Los Angeles, the place for your local Los Angeles sports coverage.