Judge halts NFL antitrust delay request
Updated:
May 23, 2011, 8:00 PM ET
Associated Press
MINNEAPOLIS -- A federal magistrate has rejected the NFL's request for more time to file a response in the pending antitrust lawsuit filed by its locked-out players.
NFL Labor Negotiations and Lockout

The NFL lockout began March 11, but an end appears near. ESPN.com Topics keeps you up to date on all the latest on the labor situation. More »
U.S. Magistrate Judge Jeanne Graham ruled Monday that the NFL must answer by June 6. The league had asked for a July 6 deadline to answer a lawsuit filed by current players but since amended to include complaints from retirees led by former Hall of Famer Carl Eller.
The 8th U.S. Circuit Court of Appeals is scheduled to hear arguments June 3 on the legality of the ongoing lockout.
"The court acknowledges that the injunction of the lockout is on appeal, but there are other significant factors weighing strongly in favor of moving forward with the rest of the case," Graham wrote. "Regardless of the ruling on appeal, this case is likely to proceed" on other grounds.

Copyright 2011 by The Associated Press
SPONSORED HEADLINES
MORE NFL HEADLINES
MOST SENT STORIES ON ESPN.COM
The NFL on ESPN.com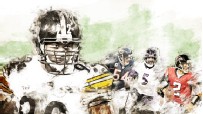 WEEK 1 PICKS
MORE NFL COVERAGE
2011 NFL PREVIEW
JOHN CLAYTON QB RANKINGS
NFL DRAFT
PGutierrezESPN

Paul Gutierrez


What about #Raiders WR @81TimBrown, does he get the @ProFootballHOF call today, too? Pic I shot in 1991/92 https://t.co/RaVLVyilX2
25 minutes ago

jsandlerESPN

Jared Sandler


Excited to have @WilliamsonNFL join @CraigHoffman and me at 230 on @KESN1033.
35 minutes ago

BuffRumblings

Buffalo Rumblings


Via @WilliamsonNFL, right tackle is #Bills' biggest need after QB. Agree or disagree? http://t.co/zqYLyhHUnl
35 minutes ago

AdamSchefter

Adam Schefter


Honored to host a @Visa panel discussion with three great players and men: @DeMarcusWare, @rcobb18, and @JasonWitten. http://t.co/Zhs9bC3ECH
35 minutes ago

john_keim

John Keim


@Snide_Remarks lauer and couric?
42 minutes ago

ESPNNFL

Pro Football on ESPN


27 years ago - Redskins thump the Broncos 42-10 in Super Bowl XXII http://t.co/slaJgSyU2x
44 minutes ago

AdamSchefter

Adam Schefter


Honored to host a panel discussion with three great players and men: DeMarcus Ware, Randall Cobb, and Jason Witten. http://t.co/K5nyP7wSWk
45 minutes ago

PGutierrezESPN

Paul Gutierrez


Does former #49ers @CharlesHaley94 get selected for the @ProFootballHOF today? From my 1991 Topps collection... http://t.co/JOrwBD1KF6
50 minutes ago

SeifertESPN

Kevin Seifert


Hiking and tweeting don't mix. See you on the other side. http://t.co/ya7d2xXPUE
about an hour ago

CraigHoffman

Craig Hoffman


On the show today - @WilliamsonNFL and @JessaMcIntyre on that large and significant football game tomorrow. #SuperBowl @KESN1033
about an hour ago

SeifertESPN

Kevin Seifert


Against my better judgment, here goes.... http://t.co/aZfsbV7cde
about an hour ago

RichCimini

Rich Cimini


Geno Smith says he wants Percy Harvin back. Calls him a "dynamic" player. #nyj
about an hour ago

RichCimini

Rich Cimini


Geno says he's have no feelings either way if Jets were to pick Mariota or Winston. More competition, he said. #nyj
about an hour ago

RichCimini

Rich Cimini


Geno Smith's Super Bowl pick: Seahawks. What, did you expect him to pick the Patriots? #smartmove
about an hour ago

RichCimini

Rich Cimini


Geno has started researching Chan Gailey's spread O. (if that becomes the Jets' O). Thinks familiarity w/ spread in college might help.
about an hour ago

RichCimini

Rich Cimini


Geno Smith, speaking to reporters in NYC, has spoken to Todd Bowles by phone. Hasn't received a definitive answer on QB situation. #nyj
about an hour ago

jamisonhensley

Jamison Hensley


Thanks to @xRAABOOSHAx, @TDizzle52, @troy_wilmore, @TopLifeWorld, @dtgordo, @baltimore1996 and @MyNFLAccount http://t.co/ZuLROdLtAm
about an hour ago

jamisonhensley

Jamison Hensley


#Ravens Mail: What happens with Lardarius Webb? http://t.co/ZuLROdLtAm
about an hour ago

MikeReiss

Mike Reiss


So much to digest with Super Bowl XLIX. Drilling down to a few specific keys for the Patriots vs. Seahawks: http://t.co/Nqr9FWE9wN
about 2 hours ago

wingoz

trey wingo


Great seeing USAF recruiters out here today http://t.co/mubpDaw5Vw
about 2 hours ago