Jags coaches question NFLCA's brief
Updated:
June 1, 2011, 2:10 PM ET
ESPN.com news services
JACKSONVILLE, Fla. -- The Jacksonville Jaguars coaching staff distanced itself Wednesday from a court brief filed last week by the NFL Coaches Association.
Coaches File Brief Supporting Players

The NFL Coaches Association filed a brief May 25 in support of the players' hope to lift the lockout. Read the brief here. PDF
Coach Jack Del Rio said his staff had no knowledge of the statement, which supported the players in the NFL's labor dispute.
"I checked with our guys and not one member of our coaching staff had knowledge of last week's brief filed by the coaches association prior to the news breaking," Del Rio said. "None were consulted or involved in any way. This action was taken without approval. Heck, it wasn't even mentioned to any of us.
"We just hope that this all gets resolved soon so we can get back to coaching up our guys."
The Washington Redskins coaching staff released a similar statement last week in response to the NFLCA's court filing.
And Saints linebackers coach Joe Vitt told the Times-Picayune last week that New Orleans' coaches were "appalled" by the brief filed by the NFLCA with the 8th U.S. Circuit Court of Appeals.
Faces of the Lockout
The ripple effects of the NFL lockout extend well beyond players and owners to those whose lives or businesses are impacted.
• Their stories: AFC | NFC
• Brandt: Primer for Friday's hearing
"We're supporting the owners," Vitt told the newspaper. "I've said this a million times, our organization has been built on trust. (Owner Tom) Benson has been great to us. Unequivocally, we support our ownership."
The NFLCA did not identify any individual coaches in its brief to the 8th Circuit.
Unlike the NFLPA, which represented every NFL player before decertifying and becoming a trade association, the NFLCA does not represent all of the NFL's coaches. It's up to the coaches whether to join. Vitt told the Times-Picayune that the Saints' coaches decided as a group in 2006 not to become part of the union.
Information from The Associated Press was used in this report.
SPONSORED HEADLINES
MORE NFL HEADLINES
MOST SENT STORIES ON ESPN.COM
The NFL on ESPN.com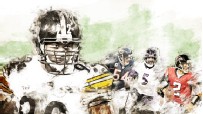 WEEK 1 PICKS
MORE NFL COVERAGE
2011 NFL PREVIEW
JOHN CLAYTON QB RANKINGS
NFL DRAFT