NFL, NFLPA meet in Chicago
NFL commissioner Roger Goodell, NFLPA leader DeMaurice Smith, along with owners and players association officials met Wednesday and Thursday in Chicago with federal mediator U.S. Magistrate Judge Arthur Boylan to try to bridge some of their significant differences.
Later Thursday, Boylan canceled mediation sessions scheduled for next Tuesday and Wednesday in Minneapolis as the court said both sides are engaged in "confidential settlement discussions."
The two sides worked into the night Wednesday and continued talks Thursday before wrapping up the meeting in the early afternoon.
"The parties met pursuant to court mediation. Owners and players were engaged in confidential discussions before Chief Magistrate Judge Boylan. The court has ordered continued confidentiality of the mediation sessions," the NFL and NFLPA said in a joint statement released Thursday afternoon.
Clearly, one day before a scheduled hearing in St. Louis in front of the Eighth Circuit Court of Appeals, the two sides are making an effort to determine whether they can work out a settlement that eventually leads to football and a collective bargaining agreement. Thursday is Day 79 of the lockout, the longest work stoppage in NFL history.
One source said any potential deal still was a ways away; however, the hope would be that the two sides could reach an agreement sooner rather than later, potentially even later this month.
With the two sides needing to be in St. Louis on Friday, Chicago made sense as a logical meeting place. The Dallas Cowboys' Jerry Jones, the New England Patriots' Robert Kraft, the Carolina Panthers' Jerry Richardson, the New York Giants' John Mara and the Pittsburgh Steelers' Art Rooney were the owners present in Chicago along with Goodell.
NFLPA representatives at the meeting, besides Smith, included Kevin Mawae, the Kansas City Chiefs' Mike Vrabel, the Indianapolis Colts' Jeff Saturday, the New York Jets' Tony Richardson and the Baltimore Ravens' Domonique Foxworth.
Both Goodell and Smith declined to comment when asked by the Chicago Tribune outside the hotel where the talks took place.
Jones also declined to comment on the nature of the talks but told the newspaper: "We're trying. I think the fact that we're meeting is good."
No lawyers -- except Smith -- were at the talks. One of the players at the meeting told the Tribune that the absence of attorneys at the talks was the goal.
"That was the point of the meeting," the player, who wasn't identified, told the newspaper. "No lawyers."
A source involved in the discussions told ESPN.com's John Clayton that the meeting was requested by the owners.
Following last week's spring meetings in Indianapolis, owners contacted Smith and Boylan to see if there could be a session before Friday's hearing. Once they agreed upon a city to hold the meeting, both sides agreed to use Tuesday as a travel day and to try to meet Wednesday and Thursday before heading to St. Louis for the hearing on Friday.
The meetings were so secretive that, as of Wednesday night there, there were other NFL owners who didn't know what was taking place.
The NFLPA was equally secretive, declining to respond to inquiries about the meeting and its leaders' whereabouts before the release of Thursday's joint statement.
The two sides have been at a stalemate throughout the spring since the NFLPA decertified and the NFL locked out the players.
Chris Mortensen is ESPN's senior NFL analyst. Adam Schefter is ESPN's NFL Insider. Senior writer John Clayton covers the NFL for ESPN.com.
SPONSORED HEADLINES
MORE NFL HEADLINES
MOST SENT STORIES ON ESPN.COM
The NFL on ESPN.com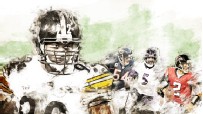 WEEK 1 PICKS
MORE NFL COVERAGE
2011 NFL PREVIEW
JOHN CLAYTON QB RANKINGS
NFL DRAFT
SeifertESPN

Kevin Seifert


@SandoESPN Only in parting instructions to his proxy…
about a minute ago

SandoESPN

Mike Sando, ESPN.com


@SeifertESPN That's not part of the hypothetical exercise, though. Would he not have recourse?
about a minute ago

SeifertESPN

Kevin Seifert


@SandoESPN Not if they know they'll have to answer to him in less than 6 weeks.
2 minutes ago

SandoESPN

Mike Sando, ESPN.com


Idea of an owner not being involved at all is interesting. Hypothetically, could the team trade away a major asset (Luck) w/o his approval?
3 minutes ago

RichCimini

Rich Cimini


Rex Ryan-coached teams are 7-3 vs. rookie starting QBs. Three losses: Manuel, Wilson and Tannehill. #nyj
3 minutes ago

MikeWellsNFL

Mike Wells


"@injuryexpert: @mikewellsnfl But he's certainly not banned from contact with them …" (excellent point)
3 minutes ago

PaulKuharskyNFL

Paul Kuharsky


Players are the ones who need to feel Irsay penalty is sufficient. I'm going to guess they will look at this and say, "double standard."
4 minutes ago

MikeWellsNFL

Mike Wells


Irsay said before that he had a hand in things w team while in rehab. Won't be case this time. His daughters will have final say.
5 minutes ago

AdamSchefter

Adam Schefter


Former Chiefs and Cowboys Pro Bowl G Brian Waters announced his retirement."After a long and wonderful career I... http://t.co/1bha1UXXWY
6 minutes ago

jamisonhensley

Jamison Hensley


Just a reminder that I'll be signing my #Ravens book @ Baltimore Summer Football Festival on Friday at Owings Mills Metro Centre from 4-10PM
7 minutes ago

DNewtonespn

David Newton


Might as well unfollow him then. @josephperson @JimIrsay
8 minutes ago

SandoESPN

Mike Sando, ESPN.com


The social media ban for Jim Irsay covers expressions "regarding any team or league matters"
9 minutes ago

DNewtonespn

David Newton


According to #Panthers game release Trai Turner will start at RG and Chase Blackburn at SLB.
9 minutes ago

SandoESPN

Mike Sando, ESPN.com


I don't come away from the Irsay suspension thinking, "Wow, can you believe how hard the league came down on him?" Do you?
11 minutes ago

jamisonhensley

Jamison Hensley


Power rankings: #Ravens in middle of pack http://t.co/UPfhQ9QUVZ
12 minutes ago

joshweinfuss

Josh Weinfuss


Tyrann Mathieu listed as starting FS ahead of Rashad Johnson. Tony Jefferson is starting SS.
12 minutes ago

DVNJr

Don Van Natta Jr.


On @ESPN's FootballToday pod, I talk about Jerry Jones with @RoFloESPN and @WilliamsonNFL. (Begins at 17 min mark) http://t.co/6CjTToqgJG
13 minutes ago

SandoESPN

Mike Sando, ESPN.com


Six games and $500k fine for #Colts owner Jim Irsay. Initial reaction: not blown away by severity of punishment.
13 minutes ago

WilliamsonNFL

Matt Williamson


Kyle Wilson is the ONLY #Jets player on current roster from 2008, 2009 AND 2010 draft classes combined!!!!
13 minutes ago

SeifertESPN

Kevin Seifert


Hence, the limited impact of an owner suspension. He doesn't lose out on profits.
13 minutes ago
ESPN FAN SHOP
MORE FROM ESPN DALLAS

Check out ESPN Dallas, the place for your local Dallas sports coverage.
MORE FROM ESPN BOSTON

Want to submit a question for Mike Reiss' weekly Patriots mailbag? Click here and come back every Tuesday around noon for the 'bag.
Latest headlines on ESPNBoston.com:
MORE FROM ESPN NEW YORK

Check out ESPN New York, your destination for sports coverage in the Big Apple.