NFL, NFLPA meet in Chicago
NFL commissioner Roger Goodell, NFLPA leader DeMaurice Smith, along with owners and players association officials met Wednesday and Thursday in Chicago with federal mediator U.S. Magistrate Judge Arthur Boylan to try to bridge some of their significant differences.
Later Thursday, Boylan canceled mediation sessions scheduled for next Tuesday and Wednesday in Minneapolis as the court said both sides are engaged in "confidential settlement discussions."
The two sides worked into the night Wednesday and continued talks Thursday before wrapping up the meeting in the early afternoon.
"The parties met pursuant to court mediation. Owners and players were engaged in confidential discussions before Chief Magistrate Judge Boylan. The court has ordered continued confidentiality of the mediation sessions," the NFL and NFLPA said in a joint statement released Thursday afternoon.
Clearly, one day before a scheduled hearing in St. Louis in front of the Eighth Circuit Court of Appeals, the two sides are making an effort to determine whether they can work out a settlement that eventually leads to football and a collective bargaining agreement. Thursday is Day 79 of the lockout, the longest work stoppage in NFL history.
One source said any potential deal still was a ways away; however, the hope would be that the two sides could reach an agreement sooner rather than later, potentially even later this month.
With the two sides needing to be in St. Louis on Friday, Chicago made sense as a logical meeting place. The Dallas Cowboys' Jerry Jones, the New England Patriots' Robert Kraft, the Carolina Panthers' Jerry Richardson, the New York Giants' John Mara and the Pittsburgh Steelers' Art Rooney were the owners present in Chicago along with Goodell.
NFLPA representatives at the meeting, besides Smith, included Kevin Mawae, the Kansas City Chiefs' Mike Vrabel, the Indianapolis Colts' Jeff Saturday, the New York Jets' Tony Richardson and the Baltimore Ravens' Domonique Foxworth.
Both Goodell and Smith declined to comment when asked by the Chicago Tribune outside the hotel where the talks took place.
Jones also declined to comment on the nature of the talks but told the newspaper: "We're trying. I think the fact that we're meeting is good."
No lawyers -- except Smith -- were at the talks. One of the players at the meeting told the Tribune that the absence of attorneys at the talks was the goal.
"That was the point of the meeting," the player, who wasn't identified, told the newspaper. "No lawyers."
A source involved in the discussions told ESPN.com's John Clayton that the meeting was requested by the owners.
Following last week's spring meetings in Indianapolis, owners contacted Smith and Boylan to see if there could be a session before Friday's hearing. Once they agreed upon a city to hold the meeting, both sides agreed to use Tuesday as a travel day and to try to meet Wednesday and Thursday before heading to St. Louis for the hearing on Friday.
The meetings were so secretive that, as of Wednesday night there, there were other NFL owners who didn't know what was taking place.
The NFLPA was equally secretive, declining to respond to inquiries about the meeting and its leaders' whereabouts before the release of Thursday's joint statement.
The two sides have been at a stalemate throughout the spring since the NFLPA decertified and the NFL locked out the players.
Chris Mortensen is ESPN's senior NFL analyst. Adam Schefter is ESPN's NFL Insider. Senior writer John Clayton covers the NFL for ESPN.com.
SPONSORED HEADLINES
MORE NFL HEADLINES
MOST SENT STORIES ON ESPN.COM
The NFL on ESPN.com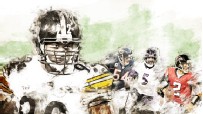 WEEK 1 PICKS
MORE NFL COVERAGE
2011 NFL PREVIEW
JOHN CLAYTON QB RANKINGS
NFL DRAFT
DanGrazianoESPN

Dan Graziano


Big Blue Morning: What's next for Giants? http://t.co/yGtJGaoScB
3 minutes ago

vxmcclure23

vaughn mcclure


RT @FalconsJAdams: Dimitroff tells @SiriusXMNFL that the Falcons are striving to have a strong 3-4 base defense: http://t.co/0M3rqhJMKq #Ri…
5 minutes ago

PaulKuharskyNFL

Paul Kuharsky


Per @jwyattsports, Al Woods' numbers: 2 years, $1M SB and bases of $900 and $2.1M. So 2014 cap is $1.4M.
7 minutes ago

GoesslingESPN

Ben Goessling


Was with Vikings yesterday RT @JosinaAnderson: Source: FA DT Henry Melton is on his way this morning to travel for a visit to Seattle.
7 minutes ago

mikecwright

Michael C. Wright


Aye @OmarKelly I'm thinking of doing the Keys again. You gon join me or punk out like last time?
7 minutes ago

eric_d_williams

Eric Williams


As @RapSheet reported, #Chargers re-sign CB Richard Marshall to a 1-year deal. Provides experience, depth and knowledge of Pagano's scheme.
7 minutes ago

john_keim

John Keim


Hall, Sherman exchange barbs. & Check out Hall's comments about RS to @granthpaulsen, @funnydanny. http://t.co/MVKczz9GeE via @espnnfl
15 minutes ago

JamesWalkerNFL

James Walker


Morning take: Finnegan to visit Dolphins http://t.co/CdBAooHsBf
18 minutes ago

espncowboysblog

espncowboysblog


Scouting Will Herring http://t.co/Sc0NXTSlcc
22 minutes ago

DanGrazianoESPN

Dan Graziano


Send in Giants Twitter mailbag questions, please. Use the #nygmail hashtag and I'll answer em Saturday.
25 minutes ago

PatMcManamon

PatMcManamon


Appreciate @TonyGrossi joining me. Said it before, say it again, Watkins at 4, Hyde at some point, #Browns can figure the rest.
25 minutes ago

PaulKuharskyNFL

Paul Kuharsky


Chat wrap: Trade talk: The chat went swimmingly.Among the topics we discussed:Free-agent visits i... http://t.co/benpCwCQTx #Titans
27 minutes ago

mikerodak

Mike Rodak


Whaley seemed comfortable with idea of Powell starting at MLB, D. Williams/Meeks/Searcy starting at FS. Thoughts, Bills fans?
30 minutes ago

john_keim

John Keim


so much happened yesterday. My head still hurts... let's reset, shall we? #Redskins free-agency update: Who's in, out http://t.co/PjwHiP65pg
31 minutes ago

mikerodak

Mike Rodak


Just to be clear, Whaley said they have "guys on campus" for MLB. Likely meant players currently on roster, not visits. Cited Ty Powell.
32 minutes ago

mikerodak

Mike Rodak


Whaley said "plan is" to have Byrd's replacement come off roster. Says "competition" between Duke Williams, Jonathan Meeks, and Searcy.
36 minutes ago

PatMcManamon

PatMcManamon


Hoo hoo! @TonyGrossi joins bandwagon, puts WR Sammy Watkins with #Browns in latest mock. Welcome to my world Tony. -- http://t.co/ExEPoAxCwu
37 minutes ago

PatMcManamon

PatMcManamon


#Browns turn attention to running back Ben Tate -- http://t.co/o7PpXIxG3P
39 minutes ago

mikerodak

Mike Rodak


Whaley says Graham will "create competition." Says it's a passing league and "can never have DBs." Cites early season injuries in '13
41 minutes ago

mikerodak

Mike Rodak


Whaley says Manny Lawson will be a "hybrid" player. But reading between lines, sounds like role will be diminished
41 minutes ago
Great American Products Indianapolis Colts 2-Piece GameBall Coffee Mug Set Shop »
MORE FROM ESPN CHICAGO

Want to submit a question for Jeff Dickerson's weekly Bears mailbag? Click here » and come back every Friday around noon for the mailbag.

The latest headlines on ESPNChicago.com:
MORE FROM ESPN DALLAS

Check out ESPN Dallas, the place for your local Dallas sports coverage.
MORE FROM ESPN BOSTON

Want to submit a question for Mike Reiss' weekly Patriots mailbag? Click here and come back every Tuesday around noon for the 'bag.
Latest headlines on ESPNBoston.com:
MORE FROM ESPN NEW YORK

Check out ESPN New York, your destination for sports coverage in the Big Apple.