NFL, NFLPA meet in Chicago
NFL commissioner Roger Goodell, NFLPA leader DeMaurice Smith, along with owners and players association officials met Wednesday and Thursday in Chicago with federal mediator U.S. Magistrate Judge Arthur Boylan to try to bridge some of their significant differences.
Later Thursday, Boylan canceled mediation sessions scheduled for next Tuesday and Wednesday in Minneapolis as the court said both sides are engaged in "confidential settlement discussions."
The two sides worked into the night Wednesday and continued talks Thursday before wrapping up the meeting in the early afternoon.
"The parties met pursuant to court mediation. Owners and players were engaged in confidential discussions before Chief Magistrate Judge Boylan. The court has ordered continued confidentiality of the mediation sessions," the NFL and NFLPA said in a joint statement released Thursday afternoon.
Clearly, one day before a scheduled hearing in St. Louis in front of the Eighth Circuit Court of Appeals, the two sides are making an effort to determine whether they can work out a settlement that eventually leads to football and a collective bargaining agreement. Thursday is Day 79 of the lockout, the longest work stoppage in NFL history.
One source said any potential deal still was a ways away; however, the hope would be that the two sides could reach an agreement sooner rather than later, potentially even later this month.
With the two sides needing to be in St. Louis on Friday, Chicago made sense as a logical meeting place. The Dallas Cowboys' Jerry Jones, the New England Patriots' Robert Kraft, the Carolina Panthers' Jerry Richardson, the New York Giants' John Mara and the Pittsburgh Steelers' Art Rooney were the owners present in Chicago along with Goodell.
NFLPA representatives at the meeting, besides Smith, included Kevin Mawae, the Kansas City Chiefs' Mike Vrabel, the Indianapolis Colts' Jeff Saturday, the New York Jets' Tony Richardson and the Baltimore Ravens' Domonique Foxworth.
Both Goodell and Smith declined to comment when asked by the Chicago Tribune outside the hotel where the talks took place.
Jones also declined to comment on the nature of the talks but told the newspaper: "We're trying. I think the fact that we're meeting is good."
No lawyers -- except Smith -- were at the talks. One of the players at the meeting told the Tribune that the absence of attorneys at the talks was the goal.
"That was the point of the meeting," the player, who wasn't identified, told the newspaper. "No lawyers."
A source involved in the discussions told ESPN.com's John Clayton that the meeting was requested by the owners.
Following last week's spring meetings in Indianapolis, owners contacted Smith and Boylan to see if there could be a session before Friday's hearing. Once they agreed upon a city to hold the meeting, both sides agreed to use Tuesday as a travel day and to try to meet Wednesday and Thursday before heading to St. Louis for the hearing on Friday.
The meetings were so secretive that, as of Wednesday night there, there were other NFL owners who didn't know what was taking place.
The NFLPA was equally secretive, declining to respond to inquiries about the meeting and its leaders' whereabouts before the release of Thursday's joint statement.
The two sides have been at a stalemate throughout the spring since the NFLPA decertified and the NFL locked out the players.
Chris Mortensen is ESPN's senior NFL analyst. Adam Schefter is ESPN's NFL Insider. Senior writer John Clayton covers the NFL for ESPN.com.
SPONSORED HEADLINES
MORE NFL HEADLINES
MOST SENT STORIES ON ESPN.COM
The NFL on ESPN.com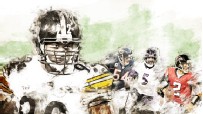 WEEK 1 PICKS
MORE NFL COVERAGE
2011 NFL PREVIEW
JOHN CLAYTON QB RANKINGS
NFL DRAFT
vxmcclure23

vaughn mcclure


Cant imagine Soliai ever losing a 1 on 1
2 minutes ago

ESPNChiBears

Jeff Dickerson


Bears camp report: Day 1 http://t.co/qX1ZAprO79
2 minutes ago

vxmcclure23

vaughn mcclure


Soliai pushes guys with such ease.
2 minutes ago

PFF

Pro Football Focus


Extra worry for Bucs fans is Oniel Cousins 1 step closer to starting. -16.1 grade on 322 snaps in '13 saw CLE fans happy to see back of him
3 minutes ago

RichCimini

Rich Cimini


Jets refuse to 'bow down' to Patriots: CORTLAND, N.Y. -- The New York Jets don't play the New England Patriots... http://t.co/Lh9qYcBEqc
5 minutes ago

AdamSchefter

Adam Schefter


Peyton Manning saying "Forza Roma", meaning "C'mon Roma." AS Roma is in Denver to play Manchester United Sat night. http://t.co/uj6M9VCGpo
7 minutes ago

Jeff_Legwold

Jeff Legwold


Man U, AS Roma, Peyton Manning and John Elway, all in one place: http://t.co/96nzEplkOQ
9 minutes ago

missi_matthews

Missi Matthews


Tomlin was asked if we will see any tackling this training camp. His response: "see you Monday." #SteelersTrainingCamp
9 minutes ago

joshweinfuss

Josh Weinfuss


Can you notice what's different about @RealPeterson21? Here's wearing @UnderArmour cleats instead of Nike. http://t.co/YiovxX6yGm
12 minutes ago

PatYazESPN

Pat Yasinskas


Nicks was guaranteed $6 million this year. But he forfeits that by walking away. However, there was some sort of financial settlement.
12 minutes ago

ScottBrown_ESPN

Scott Brown


Safety Mike Mitchell placed on PUP list with groin injury. Hurt it while training and could be out for a week.
13 minutes ago

PatMcManamon

PatMcManamon


Conditioning aftermath -- http://t.co/WjcSAbaOpG
16 minutes ago

JamesWalkerNFL

James Walker


#Dolphins camp report: Day 1 http://t.co/3lM3bnFLLQ"-Check out some notes from today's practice.
18 minutes ago

jamisonhensley

Jamison Hensley


#Ravens training camp report: Day 2 http://t.co/sVXNe8epr0 http://t.co/HaaO9usjlT
19 minutes ago

joshweinfuss

Josh Weinfuss


.@Mathieu_Era said he would play tomorrow but said 6-8 weeks is more likely.
20 minutes ago

vxmcclure23

vaughn mcclure


Love the way Jon Asamoah was trying to toss around Tyson Jackson. That's not easy.
21 minutes ago

toddarcher

Todd Archer


Garrett: Romo won't practice Friday afternoon: OXNARD, Calif. – Despite proclaiming earlier in the we... http://t.co/Gmb7NFJgYf #Cowboys
22 minutes ago

jamisonhensley

Jamison Hensley


une into @Wbalradio from 6 pm-9 pm as I host SportsLine tonight. Guests include @masnRoch, @BmoreEisenberg, @mzenitz and @ScottBrown_ESPN.
23 minutes ago

AdamSchefter

Adam Schefter


Former Bucs and Saints G Carl Nicks: "After careful consideration, I have made the decision to step away from the game."
24 minutes ago

vxmcclure23

vaughn mcclure


Biermann sorry.
24 minutes ago
Rawlings Indianapolis Colts Quick Toss Softee Football Shop »
MORE FROM ESPN CHICAGO

Want to submit a question for Jeff Dickerson's weekly Bears mailbag? Click here » and come back every Friday around noon for the mailbag.

The latest headlines on ESPNChicago.com:
MORE FROM ESPN DALLAS

Check out ESPN Dallas, the place for your local Dallas sports coverage.
MORE FROM ESPN BOSTON

Want to submit a question for Mike Reiss' weekly Patriots mailbag? Click here and come back every Tuesday around noon for the 'bag.
Latest headlines on ESPNBoston.com:
MORE FROM ESPN NEW YORK

Check out ESPN New York, your destination for sports coverage in the Big Apple.