NFL, NFLPA meet in Chicago
NFL commissioner Roger Goodell, NFLPA leader DeMaurice Smith, along with owners and players association officials met Wednesday and Thursday in Chicago with federal mediator U.S. Magistrate Judge Arthur Boylan to try to bridge some of their significant differences.
Later Thursday, Boylan canceled mediation sessions scheduled for next Tuesday and Wednesday in Minneapolis as the court said both sides are engaged in "confidential settlement discussions."
The two sides worked into the night Wednesday and continued talks Thursday before wrapping up the meeting in the early afternoon.
"The parties met pursuant to court mediation. Owners and players were engaged in confidential discussions before Chief Magistrate Judge Boylan. The court has ordered continued confidentiality of the mediation sessions," the NFL and NFLPA said in a joint statement released Thursday afternoon.
Clearly, one day before a scheduled hearing in St. Louis in front of the Eighth Circuit Court of Appeals, the two sides are making an effort to determine whether they can work out a settlement that eventually leads to football and a collective bargaining agreement. Thursday is Day 79 of the lockout, the longest work stoppage in NFL history.
One source said any potential deal still was a ways away; however, the hope would be that the two sides could reach an agreement sooner rather than later, potentially even later this month.
With the two sides needing to be in St. Louis on Friday, Chicago made sense as a logical meeting place. The Dallas Cowboys' Jerry Jones, the New England Patriots' Robert Kraft, the Carolina Panthers' Jerry Richardson, the New York Giants' John Mara and the Pittsburgh Steelers' Art Rooney were the owners present in Chicago along with Goodell.
NFLPA representatives at the meeting, besides Smith, included Kevin Mawae, the Kansas City Chiefs' Mike Vrabel, the Indianapolis Colts' Jeff Saturday, the New York Jets' Tony Richardson and the Baltimore Ravens' Domonique Foxworth.
Both Goodell and Smith declined to comment when asked by the Chicago Tribune outside the hotel where the talks took place.
Jones also declined to comment on the nature of the talks but told the newspaper: "We're trying. I think the fact that we're meeting is good."
No lawyers -- except Smith -- were at the talks. One of the players at the meeting told the Tribune that the absence of attorneys at the talks was the goal.
"That was the point of the meeting," the player, who wasn't identified, told the newspaper. "No lawyers."
A source involved in the discussions told ESPN.com's John Clayton that the meeting was requested by the owners.
Following last week's spring meetings in Indianapolis, owners contacted Smith and Boylan to see if there could be a session before Friday's hearing. Once they agreed upon a city to hold the meeting, both sides agreed to use Tuesday as a travel day and to try to meet Wednesday and Thursday before heading to St. Louis for the hearing on Friday.
The meetings were so secretive that, as of Wednesday night there, there were other NFL owners who didn't know what was taking place.
The NFLPA was equally secretive, declining to respond to inquiries about the meeting and its leaders' whereabouts before the release of Thursday's joint statement.
The two sides have been at a stalemate throughout the spring since the NFLPA decertified and the NFL locked out the players.
Chris Mortensen is ESPN's senior NFL analyst. Adam Schefter is ESPN's NFL Insider. Senior writer John Clayton covers the NFL for ESPN.com.
The NFL on ESPN.com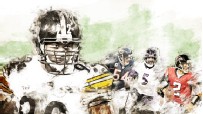 WEEK 1 PICKS
MORE NFL COVERAGE
2011 NFL PREVIEW
JOHN CLAYTON QB RANKINGS
NFL DRAFT
WilliamsonNFL

Matt Williamson


A Fish Called Wanda just started! So great
38 minutes ago

DanGrazianoESPN

Dan Graziano


Thinking Kentucky holds on.
about an hour ago

JamesWalkerNFL

James Walker


#Dolphins spending big to catch Patriots http://t.co/ptuRQfH5o1
about an hour ago

mgoblog

mgoblog


should I quit blogging about Michigan and dedicate myself to UFRing episodes of "Coach"?RT for YESFAV for NO
about an hour ago

TerryBlountESPN

Terry Blount


Good news/bad news Sonics fan. The NBA is adding an expansion team. The bad news? It's the Kentucky Wildcats.
about an hour ago

mikerothstein

Michael Rothstein


This is fantastically fantastic news. RT @EW: NBC reviving #Coach with Craig T. Nelson: http://t.co/a0pMcl8nId http://t.co/OoQIU7kIBO
about an hour ago

WilliamsonNFL

Matt Williamson


So in the end, I traded Hyde for Mathews, Spiller, Riddick, 3.01, 3.08 & what should be early 2016 2nd @DynastyTrades #BeActive!!!
about an hour ago

joshweinfuss

Josh Weinfuss


Arizona needs to be patient in a 2-1-2 vs Xavier's 1-3-1 and overload one side.
about an hour ago

ESPNdirocco

Michael DiRocco


I'm gonna go watch I hate Christian Laettner again.
about 2 hours ago

WilliamsonNFL

Matt Williamson


.@Chris_Gregg05 @DynastyTrades Well said, people giving away 2016s picks like crazy…I just keep eating them up…gives us great flexibility
about 2 hours ago

JamesWalkerNFL

James Walker


Twitter mailbag: DeVante Parker or Todd Gurley for #Dolphins? http://t.co/gCqCepU5Tr
about 2 hours ago

WilliamsonNFL

Matt Williamson


Let's get @JustInTimeNFL to 1,000 Followers…newest member of our dynasty league
about 2 hours ago

ESPNdirocco

Michael DiRocco


At what point in the second half does Cal get Ashley Judd some minutes?
about 2 hours ago

ESPNdirocco

Michael DiRocco


Ok, this is ridiculous.
about 2 hours ago

WilliamsonNFL

Matt Williamson


ANOTHER trade: I sent 1.11 for T Riddick, 3.01, 3.08 & 2016 2nd, which should be early…11 to 25th @DynastyTrades
about 2 hours ago

ESPNdirocco

Michael DiRocco


Hey, did you guys know Aaron Rodgers is at the Wisconsin-NC game?
about 2 hours ago

SeifertESPN

Kevin Seifert


So many complaints about sluggish play in college hoops. My pet peeve: Too many timeouts in crunch time. Take some away please, NCAA.
about 2 hours ago

WilliamsonNFL

Matt Williamson


Like #Vikings (Zimmer) grabbing Newman…really can go just about any direction in draft, but I would target Schreff
about 2 hours ago

WilliamsonNFL

Matt Williamson


.@PTOOHS44 Funchess or Coleman won't be on my Dynasty teams…pretty sure of that
about 3 hours ago

WilliamsonNFL

Matt Williamson


.@DynastyTrades I would K Allen is a great target to use your 1.11 for
about 3 hours ago

MORE FROM ESPN DALLAS

Check out ESPN Dallas, the place for your local Dallas sports coverage.
MORE FROM ESPN BOSTON

Want to submit a question for Mike Reiss' weekly Patriots mailbag? Click here and come back every Tuesday around noon for the 'bag.
Latest headlines on ESPNBoston.com:
MORE FROM ESPN NEW YORK

Check out ESPN New York, your destination for sports coverage in the Big Apple.
MOST SENT STORIES ON ESPN.COM