NFL, players acknowledge talks
Updated:
June 9, 2011, 4:51 PM ET
Associated Press
NEW YORK -- Whether they are meeting in secret locations or in the middle of Times Square at rush hour, talks between NFL owners and players are a good sign.
Commissioner Roger Goodell has been saying that ever since the lockout began on March 12. Players, agents and lawyers familiar with the negotiating process second the notion.
Both sides met Wednesday for a second straight day in New York, with Judge Arthur Boylan joining Goodell and NFLPA chief DeMaurice Smith. It was the second time this week that the sides got together. Last week, they met twice near Chicago.
NFL Labor Negotiations and Lockout

The NFL lockout began March 11, but an end appears near. ESPN.com Topics keeps you up to date on all the latest on the labor situation. More »
Also on hand were five team owners and five players. That's a critical component for reaching a new collective bargaining agreement.
"Having meetings on a regular basis is not nearly as important as having productive talks," said agent Ben Dogra, whose clients include Patrick Willis and Sam Bradford. "If having productive talks encompasses meeting on a regular basis, then it is a good for them to meet as often as possible."
Both sides seem ready to do that as they await a ruling about the legality of the lockout from the federal appeals court in St. Louis. The factions aren't due back in court until August. On Wednesday, Judge Susan Nelson moved up a hearing for the league's motion to dismiss the players' antitrust suit from Sept. 12 to Aug. 29 -- nine days before the regular season is scheduled to begin.
"NFL owners and players continue to be engaged in confidential discussions before Chief Magistrate Judge Boylan," the two sides said in a joint statement. "Both sides met again this week as part of ongoing court mediation. Those discussions are expected to continue."
A person familiar with the talks told The Associated Press that the owners and players will meet again "soon and often. That means in the near future, not in a month or anything like that."
The person spoke on condition of anonymity because the talks were supposed to remain confidential.
On hand at the latest talks were owners John Mara of the New York Giants, Jerry Richardson of the Carolina Panthers, Robert Kraft of the New England Patriots, Clark Hunt of the Kansas city Chiefs and Dean Spanos of the San Diego Chargers.
Representing the players were NFLPA President Kevin Mawae, Mike Vrabel, Tony Richardson, Domonique Foxworth and Jeff Saturday.
Goodell told Buccaneers ticket holders Wednesday that "any time we're talking that's a positive because I believe both sides want to find solutions."
"I believe it's the objective of everybody involved with the NFL to play a full 2011 season," Goodell said during the conference call. "That's certainly what we're working towards, and I think the players are working towards that, too. It's for the good of the game, it's for the good of the people involved in the game, and it's absolutely good for the fans."
But don't get too excited about the recent talks.
"I don't think having the meetings is necessarily a sign for optimism," Dogra said. "But the fact both sides are meeting and will continue to meet in undisclosed locations, and that ownership is present, is a good sign that both parties are continuing to talk through the issues."
Added Don Yee, agent for Tom Brady and an adjunct law professor at Southern Cal: "I think it is far too early for optimism. Generally, nothing in the sports business happens until the very last minute, and we're nowhere close to that yet."
Still, the timing is crucial. Although June usually is a slow month in the NFL, teams already would have signed free agents and some rookies; held mini-camps and offseason training activities; and laid out plans for a full training camp beginning at the end of July.
But other than conducting the draft in late April, the NFL has been dormant.
"I'm still optimistic we're going to have 16 games," said Bengals guard Bobbie Williams, an alternate player representative. "July is not here yet, and June just started. We still have time here to get this thing done. Now when July starts running out, then it's a different ballgame. Come ask me again."

Copyright 2011 by The Associated Press
SPONSORED HEADLINES
MORE NFL HEADLINES
MOST SENT STORIES ON ESPN.COM
The NFL on ESPN.com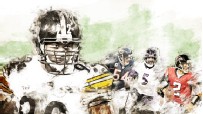 WEEK 1 PICKS
MORE NFL COVERAGE
2011 NFL PREVIEW
JOHN CLAYTON QB RANKINGS
NFL DRAFT
SeifertESPN

Kevin Seifert


Thursday, I'll get a chance to ask Frank Caliendo for a live impression on NFL Nation TV. Who should I ask him to do?
5 minutes ago

RichCimini

Rich Cimini


A wrap-up/analysis of the Jets' first day in Cortland: The Babin signing, CJ2K, Mo's contract situation, etc. #nyj http://t.co/KgJtfy1afr
8 minutes ago

RichCimini

Rich Cimini


Jets position battles in training camp, with fearless predictions. (video) #nyj http://t.co/jX3GUpQVcb
11 minutes ago

TerryBlountESPN

Terry Blount


Great win for Bubba Wallace at Eldora. And nice to see a KBM truck win that didn't have KB driving it.
14 minutes ago

DanGrazianoESPN

Dan Graziano


Giants Camp Report: Day 2 http://t.co/AIRlug4Yt1
18 minutes ago

PGutierrezESPN

Paul Gutierrez


"@Alleycat17: 1-2-3 inning for Aaron Sanchez in his @MLB debut. #BlueJays @BlueJays http://t.co/yVklrmm0r5" #BarstowHigh alum...
35 minutes ago

wingoz

trey wingo


Food please http://t.co/09olPFOSHB
about an hour ago

PatMcManamon

PatMcManamon


For Johnny Manziel, the party-time is over and now it's time to go to work — #Browns — http://t.co/0tGKmy603m
about an hour ago

RichCimini

Rich Cimini


Jets camp report: Reporting day: CORTLAND, N.Y. -- A few hot topics from Wednesday at the New York Jets' train... http://t.co/mKppsEhbAZ
about an hour ago

toddarcher

Todd Archer


Cowboys explain Kyle Orton decision: OXNARD, Calif. -- All offseason the Dallas Cowboys operated unde... http://t.co/YFyTGlPsk5 #Cowboys
about an hour ago

DanGrazianoESPN

Dan Graziano


Coughlin gives Giants chance to cool down http://t.co/DgZQg3ukWA
about an hour ago

espncowboysblog

espncowboysblog


Cowboys explain Kyle Orton decision http://t.co/MT4OeW9zr4
about an hour ago

PatYazESPN

Pat Yasinskas


Carl Nicks' status uncertain:http://t.co/EeMoqLblam
about an hour ago

RichCimini

Rich Cimini


Notes: Wilkerson is no holdout: CORTLAND, N.Y. -- New York Jets DE Muhammad Wilkerson arrived at the Jets faci... http://t.co/GOHd5BaLJc
about an hour ago

nwagoner

Nick Wagoner


#Rams rookie QB Garrett Gilbert found some unique ways to stay in tune with his playbook before training camp. ... http://t.co/zVwvm04nm8
about an hour ago

toddarcher

Todd Archer


Cowboys alter conditioning, practice plans: OXNARD, Calif. -- Injuries have played a big part in why ... http://t.co/77jf9kdbuy #Cowboys
about an hour ago

espncowboysblog

espncowboysblog


Cowboys alter conditioning, practice plans http://t.co/ZbZfvMqis9
about 2 hours ago

mikerothstein

Michael Rothstein


What the Tate & Ansah PUP injuries mean for the #Lions at the start of camp: http://t.co/ySAdqnFaFv
about 2 hours ago

ESPNNFL

NFL on ESPN


JUST IN: Troubled LB Aldon Smith is expected to meet with Roger Goodell as soon as next week » http://t.co/XBWFxYkZRh http://t.co/NFpoWsmg36
about 2 hours ago

espncowboysblog

espncowboysblog


Jones: 'Brent deserves an opportunity' http://t.co/YCloPAu4fQ
about 2 hours ago

MORE FROM ESPN BOSTON

Want to submit a question for Mike Reiss' weekly Patriots mailbag? Click here and come back every Tuesday around noon for the 'bag.
Latest headlines on ESPNBoston.com:
MORE FROM ESPN NEW YORK

Check out ESPN New York, your destination for sports coverage in the Big Apple.