NFL, players acknowledge talks
Updated:
June 9, 2011, 4:51 PM ET
Associated Press
NEW YORK -- Whether they are meeting in secret locations or in the middle of Times Square at rush hour, talks between NFL owners and players are a good sign.
Commissioner Roger Goodell has been saying that ever since the lockout began on March 12. Players, agents and lawyers familiar with the negotiating process second the notion.
Both sides met Wednesday for a second straight day in New York, with Judge Arthur Boylan joining Goodell and NFLPA chief DeMaurice Smith. It was the second time this week that the sides got together. Last week, they met twice near Chicago.
NFL Labor Negotiations and Lockout

The NFL lockout began March 11, but an end appears near. ESPN.com Topics keeps you up to date on all the latest on the labor situation. More »
Also on hand were five team owners and five players. That's a critical component for reaching a new collective bargaining agreement.
"Having meetings on a regular basis is not nearly as important as having productive talks," said agent Ben Dogra, whose clients include Patrick Willis and Sam Bradford. "If having productive talks encompasses meeting on a regular basis, then it is a good for them to meet as often as possible."
Both sides seem ready to do that as they await a ruling about the legality of the lockout from the federal appeals court in St. Louis. The factions aren't due back in court until August. On Wednesday, Judge Susan Nelson moved up a hearing for the league's motion to dismiss the players' antitrust suit from Sept. 12 to Aug. 29 -- nine days before the regular season is scheduled to begin.
"NFL owners and players continue to be engaged in confidential discussions before Chief Magistrate Judge Boylan," the two sides said in a joint statement. "Both sides met again this week as part of ongoing court mediation. Those discussions are expected to continue."
A person familiar with the talks told The Associated Press that the owners and players will meet again "soon and often. That means in the near future, not in a month or anything like that."
The person spoke on condition of anonymity because the talks were supposed to remain confidential.
On hand at the latest talks were owners John Mara of the New York Giants, Jerry Richardson of the Carolina Panthers, Robert Kraft of the New England Patriots, Clark Hunt of the Kansas city Chiefs and Dean Spanos of the San Diego Chargers.
Representing the players were NFLPA President Kevin Mawae, Mike Vrabel, Tony Richardson, Domonique Foxworth and Jeff Saturday.
Goodell told Buccaneers ticket holders Wednesday that "any time we're talking that's a positive because I believe both sides want to find solutions."
"I believe it's the objective of everybody involved with the NFL to play a full 2011 season," Goodell said during the conference call. "That's certainly what we're working towards, and I think the players are working towards that, too. It's for the good of the game, it's for the good of the people involved in the game, and it's absolutely good for the fans."
But don't get too excited about the recent talks.
"I don't think having the meetings is necessarily a sign for optimism," Dogra said. "But the fact both sides are meeting and will continue to meet in undisclosed locations, and that ownership is present, is a good sign that both parties are continuing to talk through the issues."
Added Don Yee, agent for Tom Brady and an adjunct law professor at Southern Cal: "I think it is far too early for optimism. Generally, nothing in the sports business happens until the very last minute, and we're nowhere close to that yet."
Still, the timing is crucial. Although June usually is a slow month in the NFL, teams already would have signed free agents and some rookies; held mini-camps and offseason training activities; and laid out plans for a full training camp beginning at the end of July.
But other than conducting the draft in late April, the NFL has been dormant.
"I'm still optimistic we're going to have 16 games," said Bengals guard Bobbie Williams, an alternate player representative. "July is not here yet, and June just started. We still have time here to get this thing done. Now when July starts running out, then it's a different ballgame. Come ask me again."

Copyright 2011 by The Associated Press
SPONSORED HEADLINES
MORE NFL HEADLINES
MOST SENT STORIES ON ESPN.COM
The NFL on ESPN.com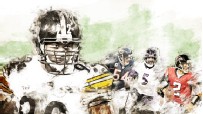 WEEK 1 PICKS
MORE NFL COVERAGE
2011 NFL PREVIEW
JOHN CLAYTON QB RANKINGS
NFL DRAFT
PaulKuharskyNFL

Paul Kuharsky


Titans' offensive tackles still up in the air: NASHVILLE, Tenn. -- Chris Spencer will be playing cente... http://t.co/EqWtjrmUCi #Titans
less than a minute ago

AdamSchefter

Adam Schefter


So Ray Rice is now immediately reinstated and can sign with any team any time.
about a minute ago

joshweinfuss

Josh Weinfuss


Only select areas of the country will get to see #AZCardinals-Falcons on Sunday on Fox: http://t.co/Hcckhw4bJJ
3 minutes ago

RobDemovsky

Rob Demovsky


League could fine Rodgers since Grape Crush is not a Gatorade/Pepsi product.
3 minutes ago

jamisonhensley

Jamison Hensley


Whether Ray Rice (who won his appeal) signs with another team has no effect on #Ravens cap. He counts $4.75M this year and $9.5M in 2015.
4 minutes ago

RobDemovsky

Rob Demovsky


Asked Aaron Rodgers if he was fined for drinking Grape @crushsoda in his postgame presser at Minn. He said: "No comment."
4 minutes ago

1500ESPNJudd

Judd Zulgad


McKinnon listed as doubtful by Vikes, admits he won't play Assuming McKinnon was being honest, also assume he will be told to be less honest
6 minutes ago

PatMcManamon

PatMcManamon


Third-and-short: #Browns, #Bills share trade secrets, from @JFowlerESPN -- http://t.co/nFvsA9jAwH
6 minutes ago

AdamSchefter

Adam Schefter


Judge believes Ray Rice did not lie.
8 minutes ago

DanGrazianoESPN

Dan Graziano


3:00 Black Friday news dump is the most NFL news dump ever.
8 minutes ago

AdamSchefter

Adam Schefter


Judge believes Ray Rice did not lie.
9 minutes ago

AdamSchefter

Adam Schefter


Ray Rice has won his appeal, per sources.
10 minutes ago

AdamSchefter

Adam Schefter


Ray Rice has won his appeal, per sources.
10 minutes ago

PatMcManamon

PatMcManamon


Today's shoutout to @NJS_Phd, CLE native Nathan Sessoms who's done great work in minority communities in LA, now at @LoyolaMarymount
16 minutes ago

JamesWalkerNFL

James Walker


#Dolphins G Mike Pouncey also said his #Gators will upset Florida State this weekend. I don't know about that one.
16 minutes ago

JamesWalkerNFL

James Walker


#Dolphins G Mike Pouncey on #Jets: "I don't think they like us and we don't like them."
16 minutes ago

vxmcclure23

vaughn mcclure


William Moore listed as probable on the injury report coming off short-term IR with shoulder separation. Harry Douglas (foot) probable, too.
18 minutes ago

GoesslingESPN

Ben Goessling


#Vikings list Jerick McKinnon as doubtful for Sunday. Chase Ford and Sharrif Floyd are questionable. All others are probable.
18 minutes ago

john_keim

John Keim


David Amerson: I let the team down: ASHBURN, Va. -- Washington Redskins cornerback David Amerson put... http://t.co/S5m17QazMM #Redskins
18 minutes ago

ColeyHarvey

Coley Harvey


Mailbag time. Got #Bengals questions? Tweet them to me now. We'll get them answered on the blog Saturday morning.
18 minutes ago
MORE FROM ESPN BOSTON

Want to submit a question for Mike Reiss' weekly Patriots mailbag? Click here and come back every Tuesday around noon for the 'bag.
Latest headlines on ESPNBoston.com:
MORE FROM ESPN NEW YORK

Check out ESPN New York, your destination for sports coverage in the Big Apple.