Kenny Britt arrested again in N.J.
Updated:
June 9, 2011, 10:48 PM ET
Associated Press
NEWARK, N.J. -- Tennessee Titans wide receiver Kenny Britt was arrested again in New Jersey, a day after appearing in court for a previous arrest on traffic charges.
Police said the former Rutgers star was charged with resisting arrest after two plainclothes officers suspected he was carrying a marijuana cigar and attempted to handcuff him at a Hoboken car wash Wednesday evening.

Britt
Hoboken Detective Sgt. Sam Williams said the detectives from the city's vice squad, Det. Steven Aguiar and Det. David DiMartino, were in line to pay at the car wash when they detected an odor of marijuana, and Aguiar noticed Britt allegedly holding a brown, rolled cigar they believed to be the source.
Both detectives identified themselves as police, Williams said, and attempted to handcuff Britt, who allegedly tried to wrestle free and push away while attempting to crush the cigar in his fist. Williams said police believe a man who was with Britt may have disposed of the cigar in the scuffle as police wrestled Britt to the floor and handcuffed him; the other man has not been charged.
Britt is charged with obstructing the administration of the law, resisting arrest and tampering with or fabricating evidence. Police did not recover the cigar or find any drugs on Britt, and he has not been charged with any drug-related offenses. Britt was released on his own recognizance, according to police, and has a June 16 court date.
The Associated Press left a message for Britt's attorney Thursday afternoon.
New Titans coach Mike Munchak said he didn't know much about Britt's latest arrest when asked by reporters after an event at the team's headquarters with Special Olympics athletes and others. Coaches can't contact players during the NFL lockout, and Munchak said they are trying to find out details on what he called probably a case of "making some bad decisions."
Kuharsky: Wake Up!

As an offensive weapon, Kenny Britt ranks as high as second on the Titans behind Chris Johnson. If he doesn't wake up soon, he's going to sink down the list, ESPN.com's Paul Kuharsky writes. Blog.
"Unfortunately, he's had a few things that've come up for him in the offseason," Munchak said in video posted on the team's website. "That's something we'll deal with when he comes in."
Britt pleaded guilty Tuesday to separate motor vehicle violations related to an April arrest on speeding charges in his hometown of Bayonne. He must pay a fine of more than $400 as part of that plea deal on careless driving charges. He was not present when the plea was entered Tuesday during a municipal court hearing, and Britt will have to sign a court affidavit before the plea can become official.
Britt initially faced felony charges in the April 12 incident. Bayonne police said Britt drove his Porsche at 71 mph in a 55 mph zone and then led police on a chase. Those charges were dropped last week by Hudson County prosecutors, who cited Britt's lack of a criminal record.
Hudson County Prosecutor Edward DeFazio said Thursday he was reviewing Britt's Hoboken arrest and would determine which jurisdiction would handle the matter.
Britt has had several other run-ins with authorities. He was arrested last year for three outstanding traffic tickets and is accused of not paying a bail bond he helped secure for a friend.
Nashville police stopped him in August during training camp, ticketing him for driving without a license because he obtained a photo ID after misplacing his license.
He was also accused of being involved in a bar fight Oct. 22 in Nashville, but authorities later decided not to charge him.
Former Titans coach Jeff Fisher benched Britt after repeated mistakes during a preseason game.
Britt left Rutgers after his junior season and was the Titans' first-round draft pick in 2009. He tied for second on the Titans with 42 catches in 2010 and led all Tennessee receivers with nine touchdowns and a per-catch average of 18.5 yards.

Copyright 2011 by The Associated Press
The NFL on ESPN.com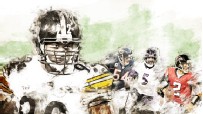 WEEK 1 PICKS
MORE NFL COVERAGE
2011 NFL PREVIEW
JOHN CLAYTON QB RANKINGS
NFL DRAFT
MORE FROM ESPN NEW YORK

Check out ESPN New York, your destination for sports coverage in the Big Apple.
MOST SENT STORIES ON ESPN.COM