Cedric Benson says he wants to stay
Updated:
June 15, 2011, 5:23 PM ET
Associated Press
CINCINNATI -- By carrying the ball in the rain with his former Bengals teammates, running back Cedric Benson sent the front office another reminder that he wants to be the centerpiece of Cincinnati's all-new offense.
The free agent joined his former teammates for a voluntary workout Wednesday at the University of Cincinnati, acting much more like someone who's ready to lead rather than leave. Benson has topped the team in rushing each of the last three seasons, but didn't get a contract extension.

Benson
During the NFL's lockout, free agents can't negotiate or sign with teams. The 28-year-old running back from Texas not only wants to stay, but is ready to become one of the leaders in an offense undergoing dramatic change.
"I've been very passive the past three years, maybe just because I had to," said Benson, who revived his career in Cincinnati after tough times in Chicago. "I'm not saying I'm a totally different person or that I'd be crazy vocal or nothing like that, but I'd be a little more expressive on work ethic and passion for the game just because that's how I am."
The Bengals plummeted to 4-12 last season, when reality-show hosts Terrell Owens and Chad Ochocinco became the faces of an offense that had a lot of self-promotion but not nearly enough production. The defending AFC North champions put the focus on their look-at-me receivers, and ended up in last place.
The TOcho show has been canceled, and quarterback Carson Palmer -- the face of the franchise since 2004 -- says he isn't coming back. While the NFL and its players try to resolve their labor dispute, Benson is trying to remind the front office that he's ready for a much bigger part in a new-look offense.
"Cedric wants to be more than the guy who gets the ball in the backfield," quarterback Jordan Palmer said, after a morning workout in the rain. "He wants to be a leader. He wants to be the identity of the team and the franchise, and I'm all for that."
He attracted the attention of his former teammates by flying in from Texas to join them for several voluntary workouts.
AFC North blog

ESPN.com's Jamison Hensley writes about all things AFC North in his division blog.
"To have a guy like Cedric out here -- unsigned, showing his leadership by being here -- that's tremendous," offensive tackle Andrew Whitworth said.
Benson was the focal point of the offense when the Bengals won the division in 2009, then lost to the Jets in the first round of the playoffs. The Bengals decided to emphasize the passing game last season, a move that backfired. Benson thought it was a mistake to de-emphasize the running game.
Offensive coordinator Bob Bratkowski was fired after the season. Replacement Jay Gruden is bringing in an entirely new scheme, one that's more West Coast style. The Bengals drafted TCU quarterback Andy Dalton in the second round as Carson Palmer's eventual replacement.
With the quarterback position in flux, the Bengals need a dependable running back to carry the load.
"You have an offensive coordinator who's coming in and saying that we're having a running identity," Jordan Palmer said. "And you have an uncertain quarterback situation, which is going to mean more carries. That's a green light for him. I know he wants to be here. He's close with these guys.
"I think he's one of the best running backs in the league and he's going to be primed to have the best year of his career. I want him here more than anybody."
Benson likes the changes so far.
"Change can be good," he said. "Considering the way things went a year ago, it's time for change. I think it's going to be a good look."

Copyright 2011 by The Associated Press
SPONSORED HEADLINES
MORE NFL HEADLINES
MOST SENT STORIES ON ESPN.COM
The NFL on ESPN.com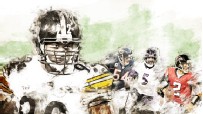 WEEK 1 PICKS
MORE NFL COVERAGE
2011 NFL PREVIEW
JOHN CLAYTON QB RANKINGS
NFL DRAFT
MikeReiss

Mike Reiss


Quick-hit thoughts around the NFL and with the Patriots (Edelman/Welker, Lone Survivor, Leon Washington etc.). http://t.co/mGJIgqSZoW
41 minutes ago

AdamSchefter

Adam Schefter


Despite being listed as Q for today's game, Cards QB Carson Palmer (elbow, ankle) and WR Larry Fitzgerald (concussion) are expected to play.
about an hour ago

AdamSchefter

Adam Schefter


Despite being listed as questionable with a hamstring injury, Jaguars RB Maurice Jones-Drew is expected to play today.
about an hour ago

AdamSchefter

Adam Schefter


Nine teams have opportunity to clinch playoff spots today: Patriots, Bengals, Ravens, Dolphins, Saints, Panthers, 49ers, Eagles and Bears.
about an hour ago

RichCimini

Rich Cimini


Sunday notes: Can Jets do better than Rex?: Our weekly take on the New York Jets:1. Slim pickings: Before ow... http://t.co/jojt9zISCL
about an hour ago

PGutierrezESPN

Paul Gutierrez


Who knew that ***** Last Resort in San Dawg was a #Raiders hangout?!?
about 6 hours ago

mikerothstein

Michael Rothstein


RT @DJJazzyJody: What MJ told Trey Burke: "He said, 'Keep working. You're doing really good. Just stay healthy.' Those words will stick wit…
about 6 hours ago

mikerothstein

Michael Rothstein


If I'm Stanford here, I'm letting Zak Irvin catch this inbounds if anyone. Make the freshman hit key shot
about 8 hours ago

TDESPN

Trent Dilfer


RT @SolomonTheeBrbr: @TDESPN Add a "CRISPY" Dime 2 #Dilfer'sDimes! We use CRISPY 2 describe many things! A tight spiral N2 coverage, that'…
about 8 hours ago

PaulKuharskyNFL

Paul Kuharsky


Nashville people, enjoying JAX. http://t.co/1FlpGFWeWN
about 9 hours ago

wingoz

trey wingo


RT @HistoryInPics: The original Michelin Man, c. 1910. http://t.co/3dtEhflia0
about 10 hours ago

mikerothstein

Michael Rothstein


Keep playing like he has and he'll have a shot, for sure. RT @BVaryaSkins: @mikerothstein Last one. Burke's chances at ROTY?
about 10 hours ago

joshweinfuss

Josh Weinfuss


I feel bad for these Potato Bowl camera men. Looks like they're doing everything they can to avoid showing the crowdless crowd.
about 10 hours ago

mikerothstein

Michael Rothstein


Stanford, but ends up being one of the best bowl games of the year RT @darby_doolittle: @mikerothstein who wins: MSU or Stanford?
about 10 hours ago

mikerothstein

Michael Rothstein


Under. RT @kesseltine: @mikerothstein ...stafford picks over/under ....my pick over 2.....yours?
about 10 hours ago

mikerothstein

Michael Rothstein


Agree RT @boomshaka9: @mikerothstein Well, all things considered, I'd say they have one of the most loyal fan-bases in sports. What say you?
about 10 hours ago

mikerothstein

Michael Rothstein


WR or CB, IMO. RT @darby_doolittle: @mikerothstein what position do the lions attack in first round in next years draft?
about 10 hours ago

joshweinfuss

Josh Weinfuss


#AZCardinals WR Larry Fitzgerald's concussion kickstarts conversation about safety of onside kicks: http://t.co/G3Dhx1lRzq
about 10 hours ago

mikerothstein

Michael Rothstein


Chance? Yes. But a lot has to happen RT @MrRevolution712: @mikerothstein in your honest opinion...any chance of the playoffs this season?
about 10 hours ago

mikerothstein

Michael Rothstein


Think Lions win tomorrow. Unsure on GB/CHI RT @mork1215: does it end tomorrow or do we get one more heartbreaking tease next week?
about 10 hours ago

Nike Men's Cincinnati Bengals Tri-Blend Script Black T-Shirt Shop »