Source: NFL talks in the 'right direction'
Updated:
June 23, 2011, 6:38 PM ET
ESPN.com news services
NFL owners and players wrapped up two days of face-to-face talks Thursday afternoon at a resort in Hull, Mass., about 20 miles south of Boston.
Owners' CBA Proposal in Perspective
Since 2006, the players have seen a steady decline in their percentage in all revenues, with 2010 equaling the lowest since 2000. In the owners' new proposal, they are asking the players to take 48 percent of all revenues, the lowest in the salary cap era.
Players' "all revenue" percentages,
last 5 years
2010
50.5
2009
50.6
2008
51.0
2007
51.8
2006
52.7
powered by

Face-to-face negotiations on a new collective bargaining agreement are expected to resume next week, sources told ESPN senior NFL analyst Chris Mortensen. However, the sides have continued to work on issues outside their formal meetings, and that is expected to remain the protocol.
NFL commissioner Roger Goodell and NFLPA leader DeMaurice Smith stood together addressed the media following the meetings. The two shook hands before departing.
"You obviously know we met over the last couple of days," Goodell said. "We are under court order as far as what we can discuss so our comments will be brief. But obviously we're all working hard. The players and owners were here over the last two days. De and I were here for the entire meetings also. And it's complicated and it's complex, but we're working hard and we understand the fans' frustration. But I think both of us feel strongly that we're going to continue to work hard at it."
A source told ESPN's Sal Paolantonio that Wednesday's talks were "very fruitful" and the expectation is that discussions will continue until a deal is reached.
"We are headed in the right direction," the source said. "There is a desire on both sides to reach an agreement sooner rather than later."
The talks took place at the Nantasket Beach Resort, which released a statement Thursday saying "they had a great stay with us and hopefully had a productive series of meetings at the resort."
The two sides have exchanged proposals on a variety of issues after meetings over the last three weeks. The main topic has been how to divide revenues -- $9.3 billion last year -- and league owners were briefed this week on a plan that would give the players 48 percent of total income. An off-the-top expense credit of about $1 billion that went to the owners would be eliminated.
Players believe they can justify a 48 percent take because of the projected revenue growth, as well as built-in mechanisms that require teams to spend close to 100 percent of the salary cap, a source told ESPN.com's John Clayton. The mandatory minimum spending increase is an element that concerns lower-revenue clubs, sources say.
For example, if the 2011 salary cap is determined to be $120 million, a team would have to have a cash payroll of close to that amount. In the previous collective bargaining agreement, the team payroll floor was less than 90 percent of the salary cap and was only in cap figures, not cash.
"Someone asked me whether I was optimistic. I think we're both optimistic when we have the right people in the room," said Smith. "We know we're talking about the right issues and that we're working hard to get it done. It is extremely complicated, it requires a lot of hard work by a lot of people, but we're committed to getting something done and we're going to keep working at it. Just to wrap up: we're working hard, we understand the fans' frustration, I know our players' frustration. We're going to keep working hard and try to make sure we get a deal done."
Among the topics that have not been on the front burner but are now being discussed are a rookie wage scale and a more specific breakdown of benefits for retired players.
NFL Labor Negotiations and Lockout

The NFL lockout began March 11, but an end appears near. ESPN.com Topics keeps you up to date on all the latest on the labor situation. More »
Atlanta Falcons president Rich McKay has become the point person for the NFL in discussions with the NFLPA on how the two sides should structure rookie salaries.
As the negotiating teams for owners and players continue to work on a long-term economic model, a number of ancillary issues are being discussed, including a short-term idea that would allow teams to exercise three right-of-first-refusals on their own free agents for this year only, according to sources.
A right-of-first-refusal option would allow teams to match any offer that its free agent player signs with another club; in essence, operating under the "transaction" tag model in the previous collective bargaining agreement. It would seem to be an unlikely provision the players would agree to, inasmuch many of the fourth-and-fifth year free agents were unable to enjoy unrestricted free agency in 2010 under the rules of an uncapped year.
There even has been some disapproval from a handful of clubs that have aggressive plans to pursue some of the estimated 500 unrestricted free agents. Clubs often have resisted signing players that give the original club an opportunity to match the contract.
Some teams believe that the short football calendar due to the lockout needs such a concept -- according to one team executive, NFL teams average 15.5 free agents and have had no opportunity to negotiate with their own players because of lockout rules and the pre-lockout uncertainty of 2011 salary cap figures.
One solution that has been discussed would allow teams to have an exclusive three-to-five day negotiation window with its own unsigned players before free agency commences.
A new agreement will return to free agency norms prior to 2010 -- players without contracts who have four minimum years in the league will become unrestricted agents.
In Wednesday's negotiations, Goodell and his negotiating team were able to share some of the feedback from Tuesday's Chicago owners' meetings with Smith and his team -- specifically the owners' response to the framework of a new deal presented by Goodell.
Smith scheduled a noon ET conference call with team player representatives to update them on where the talks stand, one of the player reps told ESPN. It is not known yet what message Smith delivered to the players.
If and when an agreement is reached, all players whose contracts have expired and have four or more years of experience are expected to be unrestricted free agents, sources familiar with the talks told ESPN NFL Insider Adam Schefter. Certain tags will be retained, but that still is being discussed.
Thursday is Day 100 of the lockout, which is the NFL's first work stoppage since 1987 and the longest in league history.
Information from ESPN senior NFL analyst Chris Mortensen, ESPN reporter Sal Paolantonio, ESPN.com senior NFL writer John Clayton, ESPN NFL Insider Adam Schefter and The Associated Press was used in this report.
SPONSORED HEADLINES
MORE NFL HEADLINES
MOST SENT STORIES ON ESPN.COM
The NFL on ESPN.com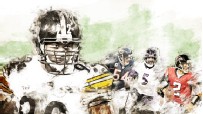 WEEK 1 PICKS
MORE NFL COVERAGE
2011 NFL PREVIEW
JOHN CLAYTON QB RANKINGS
NFL DRAFT
mikerodak

Mike Rodak


Kyle Williams has a leg injury. Did not practice today.
about a minute ago

ColeyHarvey

Coley Harvey


RT @caplannfl: Former #Bengals C Kyle Cook is retiring, I'm told. He was clearly the best available center left in free agency.
4 minutes ago

vxmcclure23

vaughn mcclure


Mike Smith " I think Matt is an excellent leader" on Ryan
6 minutes ago

ESPNdirocco

Michael DiRocco


"@BoKnowsBCB: I was a little weary of critical of @ESPNdirocco but his analysis this offseason on #jaguars has been quite good." Thank you!
7 minutes ago

SandoESPN

Mike Sando, ESPN.com


Heads up: Next #NFL chat begins at 10 a.m. PT slash 1 p.m. ET. Hope to see you there. So much to discuss. http://t.co/05zcIHzEyz
8 minutes ago

ESPNdirocco

Michael DiRocco


If airlines would actually enforce their size restrictions on carry-on bags maybe there'd be room to get everyone's bag on the plane.
8 minutes ago

JamesWalkerNFL

James Walker


#Dolphins TE Charles Clay said he feels he's ready to play after a good week of practice. But he/team won't know for sure until tomorrow.
11 minutes ago

DNewtonespn

David Newton


#Panthers coach Ron Rivera says in his mind Newton 100 per.
11 minutes ago

MikeReiss

Mike Reiss


Weekly @ESPNBoston Patriots chat recap (Garoppolo, Fiedorowicz, Easley, Collins, White etc.). http://t.co/3A7qCavnLQ
11 minutes ago

DNewtonespn

David Newton


Out for #Panthers against #Pantriots: LB Blackburn, G Turner, SS Harper, T Chandler, DE Johnson, S Boston. TE McNeil, RB Reaves game time.
12 minutes ago

ColeyHarvey

Coley Harvey


Injured, still working MT @MarvinJonesJr: Crutches can't stop me from that Work...!! S/O to @terencenewman1 for this! http://t.co/qiV5SVpeyK
12 minutes ago

jamisonhensley

Jamison Hensley


Correction: LB Elvis Dumervil was a late arrival at #Ravens practice. He was suited up for practice.
13 minutes ago

jamisonhensley

Jamison Hensley


#Ravens CBs Jimmy Smith (chest) and Lardarius Webb (back) still not practicing. TE Owen Daniels (leg fatigue) not present as well.
13 minutes ago

jamisonhensley

Jamison Hensley


LB Elvis Dumervil is among the #Ravens players not present during media viewing portion of Thursday's practice
14 minutes ago

vxmcclure23

vaughn mcclure


Soliai just did the ice bucket challenge after practice
14 minutes ago

espncowboysblog

espncowboysblog


Cowboys must figure out fullback's value http://t.co/Hq5GY67PMY
16 minutes ago

JamesWalkerNFL

James Walker


The #Dolphins are wrapping up a light walkthrough today. Next up are the Dallas #Cowboys in preseason game No. 3.
22 minutes ago

toddarcher

Todd Archer


Romo at No. 61 in ESPN #NFLRank program: IRVING, Texas -- ESPN has kicked off is #NFLRank program in ... http://t.co/AyWPWfIc54 #Cowboys
25 minutes ago

nwagoner

Nick Wagoner


And along with that, the kids from McCluer and McCluer North found some much-needed normalcy at Rams Park on Wed. ... http://t.co/Jd0MrCuXC0
25 minutes ago

JamesWalkerNFL

James Walker


Ryan Tannehill excited for dress rehearsal http://t.co/LpWeX52ejM"-#Dolphins
26 minutes ago
MORE FROM ESPN BOSTON

Want to submit a question for Mike Reiss' weekly Patriots mailbag? Click here and come back every Tuesday around noon for the 'bag.
Latest headlines on ESPNBoston.com: