Commentary
Pressure Point: Wilson's role to change?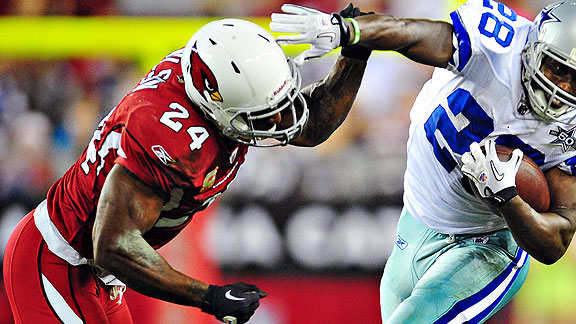 Mark J. Rebilas/US PresswireA new defensive coordinator could put Adrian Wilson in a role similar to Troy Polamalu's.
A weekly look at a player whose performance must improve in 2011.
Like so many Arizona Cardinals players, Adrian Wilson needs to step up his play from last year. The Cardinals were awful at quarterback -- a situation that could be improved in the coming weeks -- and the offense often put Arizona's defense in difficult situations. But talented playmakers like Wilson, Darnell Dockett and Dominique Rodgers-Cromartie also let this team down.
Wilson's best season as a pro was 2009. Last year, he became too ordinary. He has a huge body and is hard to miss on the field, which has led to some overvaluing of his contributions. The big plays and game-changing aspects of his game did not come with the same regularity last season. He is capable of more than he showed last year, and changes to his role could be coming.
Wilson is nearly equal parts linebacker and safety. But contrary to popular belief, Wilson isn't a great player against the run. He is not a liability, but Wilson missed far too many tackles last year and too often found himself out of position. Wilson also took a lot of penalties last year -- usually in coverage -- and wasn't a very effective blitzer. The previous coaching regime used him less as a blitzer in 2010 than in previous seasons. Still, he is a unique talent and a much better coverage player than often given credit for -- if he is used properly.
The hiring of Ray Horton as defensive coordinator could be key. Horton comes over from the Steelers and will look to employ more principles from the vaunted Pittsburgh defense in Arizona. Wilson should take on a role like Troy Polamalu's -- a wild card who can line up in many spots on the field and be used in a wide variety of ways. This seems like a perfect role for Wilson, but by no means is Wilson Polamalu's equal in movement. That will limit what Horton can do with his new strong safety.
Arizona should be vastly improved at cornerback with the drafting of Patrick Peterson. Although Dockett had a sub-par year last season, I believe in the Cardinals' defensive line, which has three high-end starters. The inside linebackers (Gerald Hayes, Quan Sturdivant and Daryl Washington) and free safety (Kerry Rhodes) seem to be quite solid. Washington could become an every-down star. Unlike the model, the Steelers' defense, Arizona is highly deficient at outside linebacker. But there are a few guys at that position -- O'Brien Schofield or a free agent addition -- who could bolster the pass rush under Horton's tutelage. Of course, better offensive play with better ball control should help the Cards' defense quite a bit. All of that sets up pretty well for Wilson.
Horton will stress shutting down the run on early downs and getting the opponent into passing situations, when he can unleash a diverse blitz package. Again, that should help Wilson. Better corner play could allow Wilson to be near the line of scrimmage a high percentage of the time, and Horton should devise ways to better use him as a blitzer. But coaching, scheme and his supporting cast will go only so far. Wilson needs to play better.
Scouts Inc. watches games, breaks down film and studies football from all angles for ESPN.com. Follow Matt Williamson on Twitter @WilliamsonNFL
ESPN.com
Joined ESPN in 2005
Was an NFL and college scout for the Cleveland Browns
SPONSORED HEADLINES
MORE NFL HEADLINES
MOST SENT STORIES ON ESPN.COM
The NFL on ESPN.com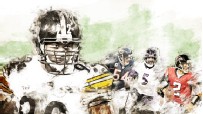 WEEK 1 PICKS
MORE NFL COVERAGE
2011 NFL PREVIEW
JOHN CLAYTON QB RANKINGS
NFL DRAFT