N.Y. AG investigating NFL lockout
Updated:
July 7, 2011, 4:47 PM ET
Associated Press
ALBANY, N.Y. -- New York's attorney general has started an antitrust investigation into the NFL lockout, requesting information from both the league and the players' association about the economic impact of pro football's labor impasse.
"While we are hopeful that the NFL and its players will reach an agreement to end the ongoing lockout in the near future, this office will take all appropriate steps to protect New Yorkers, many of whom rely on the significant economic activity generated by the NFL," Attorney General Eric Schneiderman said Thursday.
Assistant Attorney General Richard Schwartz wrote this week to NFL commissioner Roger Goodell, saying the lockout will "inflict significant economic injuries statewide," starting with losses of upstate training camps, and the AG's office is obliged to investigate whether it is lawful.
"In particular, we are deeply troubled by the possible antitrust implications of the NFL's conduct under the New York State Donnelly Act, as well as certain contractual violations it may have prompted," Schwartz wrote.
Besides revenue, employment and contract information, he also requested within 10 days all NFL documents since 2008 concerning: the question of whether to lock out players or suspend play; the actual lockout that began March 12; and, the decertification of the NFL Players Association as the players' union representative in contract talks.
NFL spokesman Brian McCarthy said the league is examining the letter with its attorneys and will respond.
NFL Labor Negotiations and Lockout

The NFL lockout began March 11, but an end appears near. ESPN.com Topics keeps you up to date on all the latest on the labor situation. More »
The fundamental antitrust issue is whether the 32 football teams acted as an illegal cartel since there's no place else for the players to go. Under New York law, the attorney general can seek triple any damages, estimated at millions of dollars to players and businesses in New York like hotels, restaurants and merchants.
Player representatives and team owners were meeting in New York on Thursday in hopes of resolving the lockout.
While the New York Jets and New York Giants play their games in New Jersey, their summer training camps are typically held upstate in Cortland and Albany, respectively, drawing thousands of fans. The Buffalo Bills' summer camp is in Rochester, their games in suburban Buffalo.
Schwartz noted that the Jets have already canceled their camp at the state college in Cortland. That alone generates an estimated $4.5 million in business activity yearly, according to the attorney general's office.
From the NFL Players Association, Schwartz requested the names of all team members living in New York. Players filed a federal antitrust suit against the league in Minneapolis soon after the lockout began.

Copyright 2011 by The Associated Press
The NFL on ESPN.com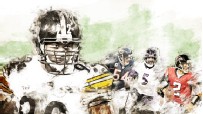 WEEK 1 PICKS
MORE NFL COVERAGE
2011 NFL PREVIEW
JOHN CLAYTON QB RANKINGS
NFL DRAFT
WilliamsonNFL

Matt Williamson


.@ChrisWesseling My new Indian Princess name? The Lizard King
about an hour ago

PGutierrezESPN

Paul Gutierrez


So, yeah, tomorrow, special guest @GotBoz44 joins me & @ColeyHarvey for @ESPN_NFLNation @spreecast, 1 pm ET/10 am PT: http://t.co/RjBuwJHqHZ
about 2 hours ago

WilliamsonNFL

Matt Williamson


There are places I remember all my life, though some have changed. Some forever, not for better, some have gone and some remain-In My Life
about 2 hours ago

PGutierrezESPN

Paul Gutierrez


.@MontePooleCSN, pic I snapped of #Lakers #BigGame @JamesWorthy42 in Oct. 1993 at UNLV's @ThomasAndMack: http://t.co/8ea6o2KNUy
about 2 hours ago

Clin_tog

Clint Blezien


@mikecwright the other "elite" qbs within 1% win% of Cutler: Mike Vick, Alex Smith, Rex Grossman, Matt Moore, and Matt Hasslebeck
about 2 hours ago

WilliamsonNFL

Matt Williamson


http://t.co/LwgGbIPA0f
about 3 hours ago

danpompei

Dan Pompei


3. Cutler has the highest salary in NFL this season & the second most turnovers (at 10, he's 1 behind leader Kirk Cousins). Big problem.
about 3 hours ago

WilliamsonNFL

Matt Williamson


.@NFL_CFB How awesome would that be if it actually came true!
about 3 hours ago

SacServer

TheServer


@mikecwright Emery said Elite QB ' s have a winning %. He did not say a winning % makes you elite.
about 3 hours ago

mikecwright

Michael C. Wright


OK, so I didn't read that wrong then? Thought it was just me.
about 3 hours ago

WilliamsonNFL

Matt Williamson


@RoFloESPN Will send ya a Terrible Towel!
about 3 hours ago

PressCoverage16

Eli


@mikecwright daaaaamn why u gotta bring all that up lol
about 3 hours ago

mikecwright

Michael C. Wright


Just saying Mark Sanchez & Rex Grossman have higher winning %s than Cutler. They elite?
about 3 hours ago

mikecwright

Michael C. Wright


Was checking out Emery's chat. Maybe I read it wrong. He said "elite" QBs have winning records & put Cutler in that category.
about 3 hours ago

DanGrazianoESPN

Dan Graziano


It was with the Giants. RT @MJacquesTWCNews: Dion Lewis had an NFL workout today. Find out where coming up on Sports Night.
about 3 hours ago

DVNJr

Don Van Natta Jr.


You had me at "Dear *****." RT @VeraMBergen: This is amazing. RIP, Ben Bradlee http://t.co/aMx7Nd8HMm http://t.co/hcX7lVxG2t
about 4 hours ago

richarddeitsch

Richard Deitsch


In honor of Ben Bradlee: The (pitch-perfect) ending scene of All The Presidents Men: https://t.co/x2aLEETGXS
about 4 hours ago

RichCimini

Rich Cimini


Great work by @MichaelRapaport on #WhenTheGardenWasEden (@ESPN3030). What a team, what a time.
about 4 hours ago

DNewtonespn

David Newton


Rivera said couldn't punish guys so maybe this will motivate @savage0145 @ESPNNFL
about 4 hours ago

DNewtonespn

David Newton


It was either that or get cut then. "@GarrettWaits: @DNewtonespn Godfrey got a raw deal being asked to play a position he's not suited for."
about 4 hours ago
MORE FROM ESPN NEW YORK

Check out ESPN New York, your destination for sports coverage in the Big Apple.