N.Y. AG investigating NFL lockout
Updated:
July 7, 2011, 4:47 PM ET
Associated Press
ALBANY, N.Y. -- New York's attorney general has started an antitrust investigation into the NFL lockout, requesting information from both the league and the players' association about the economic impact of pro football's labor impasse.
"While we are hopeful that the NFL and its players will reach an agreement to end the ongoing lockout in the near future, this office will take all appropriate steps to protect New Yorkers, many of whom rely on the significant economic activity generated by the NFL," Attorney General Eric Schneiderman said Thursday.
Assistant Attorney General Richard Schwartz wrote this week to NFL commissioner Roger Goodell, saying the lockout will "inflict significant economic injuries statewide," starting with losses of upstate training camps, and the AG's office is obliged to investigate whether it is lawful.
"In particular, we are deeply troubled by the possible antitrust implications of the NFL's conduct under the New York State Donnelly Act, as well as certain contractual violations it may have prompted," Schwartz wrote.
Besides revenue, employment and contract information, he also requested within 10 days all NFL documents since 2008 concerning: the question of whether to lock out players or suspend play; the actual lockout that began March 12; and, the decertification of the NFL Players Association as the players' union representative in contract talks.
NFL spokesman Brian McCarthy said the league is examining the letter with its attorneys and will respond.
NFL Labor Negotiations and Lockout

The NFL lockout began March 11, but an end appears near. ESPN.com Topics keeps you up to date on all the latest on the labor situation. More »
The fundamental antitrust issue is whether the 32 football teams acted as an illegal cartel since there's no place else for the players to go. Under New York law, the attorney general can seek triple any damages, estimated at millions of dollars to players and businesses in New York like hotels, restaurants and merchants.
Player representatives and team owners were meeting in New York on Thursday in hopes of resolving the lockout.
While the New York Jets and New York Giants play their games in New Jersey, their summer training camps are typically held upstate in Cortland and Albany, respectively, drawing thousands of fans. The Buffalo Bills' summer camp is in Rochester, their games in suburban Buffalo.
Schwartz noted that the Jets have already canceled their camp at the state college in Cortland. That alone generates an estimated $4.5 million in business activity yearly, according to the attorney general's office.
From the NFL Players Association, Schwartz requested the names of all team members living in New York. Players filed a federal antitrust suit against the league in Minneapolis soon after the lockout began.

Copyright 2011 by The Associated Press
The NFL on ESPN.com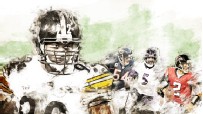 WEEK 1 PICKS
MORE NFL COVERAGE
2011 NFL PREVIEW
JOHN CLAYTON QB RANKINGS
NFL DRAFT
RichCimini

Rich Cimini


Winters struggles: FLORHAM PARK, NJ – If there was a weak link on the Jets offensive line last week in a 31-24... http://t.co/qGsgKPY3Ej
3 minutes ago

RichCimini

Rich Cimini


Injury Report: Bellore doesn't practice: FLORHAM PARK, NJ -- New York Jets linebacker and special teams stalwa... http://t.co/kJ5RsYDJdM
3 minutes ago

DNewtonespn

David Newton


The #Panthers @CameronNewton: 'Sensei of Nicknames' http://t.co/50wMkTNVZk
4 minutes ago

vxmcclure23

vaughn mcclure


Also will be interesting to see if Matt Ryan exposes Bucs MLB Dane Fletcher with Mason Foster out. Foster had pick-6 vs. Ryan last year.
8 minutes ago

vxmcclure23

vaughn mcclure


Also helps that Bucs don't have 1-2 punch at running back with Bobby Rainey and Doug Martin, with Martin out.
11 minutes ago

vxmcclure23

vaughn mcclure


Let's see if the Falcons take advantage of DT Gerald McCoy being out of the lineup for the Bucs. Gave Falcons fits last year.
12 minutes ago

vxmcclure23

vaughn mcclure


Jake Matthews set to start at left tackle, as expected, coming off ankle injury. Expect to see Lamar Holmes at right tackle.
14 minutes ago

vxmcclure23

vaughn mcclure


Alson inactive for the Falcons are Renfree, Arenas, Starr, Stone, Schraeder, Cliff Matthews.
16 minutes ago

rentzbj

Brian Rentz


@GoesslingESPN Think he will become an official? He likes signaling 1st downs.. Side note, how will I know the vikings gained 1st down now?
19 minutes ago

vxmcclure23

vaughn mcclure


Falcons officially announce Roddy White (hamstring) inactive.
24 minutes ago

AdamSchefter

Adam Schefter


And Bucs have deactivated RB Doug Martin.
24 minutes ago

GoesslingESPN

Ben Goessling


Didn't need due process on that one, not when Simpson continued to get in trouble. He might have a hard time finding another NFL job.
26 minutes ago

AdamSchefter

Adam Schefter


Falcons deactivated WR Roddy White, listed as questionable due to hamstring injury, per team official.
26 minutes ago

GoesslingESPN

Ben Goessling


#Vikings never had a statement on Jerome Simpson. Effectively, they just made one: They release him.
30 minutes ago

mikecwright

Michael C. Wright


Yeah, but Bears knew a long time ago. And B's sat on this info for YEARS. His image would've been just fine. @MattGuilfoyle2
32 minutes ago

PatMcManamon

PatMcManamon


#Browns hope to take away #Ravens run http://t.co/n8ZklhWU9w
38 minutes ago

TerryBlountESPN

Terry Blount


Earl Thomas says he's about to go on a tear after finding his championship feeling again: http://t.co/4bQGtGtoSg
42 minutes ago

joshweinfuss

Josh Weinfuss


#AZCardinals-49ers game on Sunday at @UOPStadium is sold out. 87th straight.
47 minutes ago

SheridanScribe

Phil Sheridan


Marcus Smith still trying to get on field: PHILADELPHIA -- It might be cynical to see Marcus Smith's m... http://t.co/kaTws4rPbo #Eagles
53 minutes ago

RobDemovsky

Rob Demovsky


From @janesports, Jets' Sheldon Richardson fined for incident vs. #Packers. http://t.co/QNjQ7xMXO4
about an hour ago
MORE FROM ESPN NEW YORK

Check out ESPN New York, your destination for sports coverage in the Big Apple.