Giants are miles ahead of the competition
In the race for NFC playoff positioning, the Giants are miles ahead of their competitors.
Originally Published:
December 4, 2008
By
Mike Sando
| ESPN.com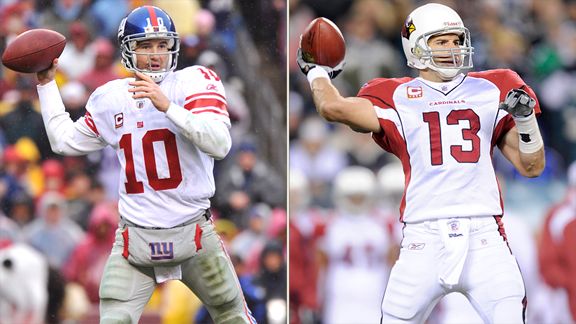 Larry French/Rob Tringali/Getty ImagesEli Manning is trying to get the Giants back to the Super Bowl, while Kurt Warner is trying to get the Cardinals into the playoffs for the first time since 1998.
The road to the most recent Super Bowl went through Florida, Texas and Wisconsin for the eventual champion
New York Giants
.
More Playoff Outlook
•
The contenders:
AFC
|
NFC
•
Clayton:
Potential dark horses
•
The big picture:
Who's in now?
•
Watch:
Countdown Daily
•
Listen:
Football Today

The only mileage relevant to the NFC playoff race this season separates the Giants from the rest of the contending teams in the conference.
The Giants are the class of the conference by almost any measure, and certainly by the most important one. Their 11-1 record heading into the final month of the season leaves them in prime position to secure home-field advantage throughout the playoffs.
The home-field edge isn't a guarantee, but the Giants are the surest bet in the NFC.
Our NFC bloggers explain why in a team-by-team look at the contenders:
NFC EAST
New York Giants (11-1, first)
Analysis: The Giants can clinch the NFC East with a win over the Eagles on Sunday. They are the hottest team in the league, although it will be interesting to see if the Plaxico Burress suspension and possible punishment for Antonio Pierce could slow the team down.
Remaining schedule
Sunday: vs. Philadelphia
Dec. 14: at Dallas
Dec. 21: vs. Carolina
Dec. 28: at Minnesota

Tom Coughlin has done a tremendous job helping this team overcome adversity. And the four-game suspension of Burress was a strong message that no one is above the team. The Giants certainly don't have an easy last four games, but that's how they like it. They stacked up wins in the first half against the dregs of the league. Now, they've won six consecutive games against winning teams.
Eli Manning
is playing at an elite level, and they have the best running game in the league. If this team doesn't represent the NFC in the Super Bowl, it will be a pretty big surprise.
Difference-maker: Depending on what happens to Pierce, linebacker Chase Blackburn could play an even larger role in the playoffs. He has proven to be a versatile player. I think he'll be a guy whom a lot of Giants fans will be talking about in early February. When someone goes down on this team, there's always a guy ready to step in. Blackburn might be that guy.
Ticket to Tampa? Book it. Who poses a serious challenge? Do the Panthers or Bucs scare you? No. Anyone from the NFC North? Heck, no. The Cardinals can't beat the Giants. The Cowboys? Hmmm.
Analysis: They have a big game at Pittsburgh on Sunday, but the season's not over if they lose. Ten wins is still the magic number for this team. The problem right now is that they are tied with the Falcons, who own the tiebreaker with a better conference record. The Cowboys need to be tied with the Bucs, because they'd have the head-to-head tiebreaker.
Remaining schedule
Sunday: at Pittsburgh
Dec. 14: vs. New York Giants
Dec. 20: vs. Baltimore
Dec. 28: at Philadelphia

The Cowboys can beat the Ravens in what probably will be the last game in Texas Stadium, and then they finish on the road against the Eagles. Keep your eyes on
Marion Barber
and his injured pinkie toe. The Cowboys need to be able to run in cold-weather spots such as Pittsburgh and Philadelphia. If Barber can't go, the Cowboys could be in serious trouble.
Difference-maker: Tight end Jason Witten is Tony Romo's favorite target, but Romo has started looking for Martellus Bennett around the goal line. Bennett looked like a petulant player in the making on HBO's "Hard Knocks," but he has emerged as a big part of the offense.
The bright lights of December won't scare Bennett. In fact, he craves the attention. Look for him to keep scoring touchdowns.
Ticket to Tampa? Look for refundable fares. This team has the best chance of upsetting the Giants -- if they somehow make the tournament. The Cowboys want to be the Giants of 2007. But those types of runs don't come on an annual basis.
Analysis: The Redskins appeared to be in great shape heading into the bye weekend with a 6-3 record and two impressive NFC East road wins. But they've squandered that cushion with losses to the Cowboys and Giants at FedEx Field, and they're in danger of fading completely out of the playoff picture.
Remaining schedule
Sunday: at Baltimore
Dec. 14: at Cincinnati
Dec. 21: vs. Philadelphia
Dec. 28: at San Francisco

Teams are selling out to stop
Clinton Portis
and the running game -- and it's working. As Jim Zorn pointed out, the Redskins' receivers are having trouble getting any separation. And
Jason Campbell
's having trouble finding any type of rhythm. They haven't played poorly on defense, although Eli Manning did expose the secondary in the first half of Sunday's game. This game against neighboring Baltimore is a must-win. The problem is that Ravens rookie quarterback
Joe Flacco
improves every week, and the Ravens have a tremendous defense. The Redskins' remaining opponents have a combined record of 19-27-2. That's by far the easiest schedule in the NFC East at this point.
Difference-maker: The Redskins are in desperate need of a breakout game from Santana Moss. He can disappear at times, and part of that's because teams pay so much attention to him. If Devin Thomas or Malcolm Kelly could at least pose some type of threat, it could do wonders for Moss.
At this point last season, Moss was struggling big-time. But something lit a fire under him and he finished really strong. The Redskins need him to be a playmaker to have any chance at the playoffs.
Ticket to Tampa? Check airfares. In October, they were one of the most compelling stories of the season. But a November swoon has brought the Redskins back to earth. They need to go 3-1 in December, which isn't impossible with their relatively easy schedule.
Analysis: The win over the Cardinals kept them on the outskirts of the playoff race, but a win over the Giants would actually make them a threat. Quarterback Donovan McNabb's future is hanging in the balance. If he somehow gets on a roll, who knows what can happen?
Remaining schedule
Sunday: at N.Y. Giants
Dec. 15: vs. Cleveland
Dec. 21: at Washington
Dec. 28: vs. Dallas

The Eagles have made their living this season against the inferior NFC West. They need a signature win, and that's what a victory in the Meadowlands would be. The Eagles still have shots at the Redskins and Cowboys, as well. It's a tough schedule, but it's an opportunity to make up some serious ground. Are they ready to make a December run? Not likely. But it will certainly be fun to watch them try.
Difference-maker: It's time for a wide receiver on this team to become a consistent threat. DeSean Jackson has been really good at times, but it's too much to ask him to do it every game. The Eagles don't have a legitimate threat at tight end, and they can't run against elite teams such as the Giants.
They need
Kevin Curtis
and
Reggie Brown
to make plays. But for the Eagles to make a run, they need to start getting more turnovers. And
Lito Sheppard
is a player that has feasted on the Cowboys in the past. If he can take his contract frustrations out on three NFC East opponents, the Eagles have a chance to make some noise.
Ticket to Tampa? Check with the scalpers. The Eagles must be perfect in December -- and that's not happening.
-- Matt Mosley, NFC East blogger
NFC WEST
Analysis: The Cardinals are still seeking the quality victory needed to validate them as contenders. Strange as it sounds, their best chance might come in the playoffs.
Remaining schedule
Sunday: vs. St. Louis
Dec. 14: vs. Minnesota
Dec. 21: at New England
Dec. 28: vs. Seattle

Arizona needs one more victory or a
San Francisco 49ers
loss to secure the NFC West title and a home playoff game. With three of its remaining four games at home, including a Week 14 matchup with the 2-10
St. Louis Rams
, the Cardinals are a safe bet to win the division sooner rather than later.
The Cardinals have proven difficult to beat at home, winning seven of their past eight games at University of Phoenix Stadium. They have averaged a league-leading 33.1 points a game during that stretch.
Though tough at home, the Cardinals remain a flawed team. Their one-dimensional offense could make them vulnerable once teams step up their game-planning for the playoffs. Arizona also remains among the most penalized teams in the league, and its defense often fails to finish off opponents.
Difference-maker: The Cardinals' stars are readily identifiable. Kurt Warner, Larry Fitzgerald and Anquan Boldin lead a high-powered passing game. Adrian Wilson, Darnell Dockett and Karlos Dansby lead a hard-hitting defense.
But Dominique Rodgers-Cromartie has shown the potential to become a big-play threat in the secondary since assuming a more prominent role in the second half of the season. He picked off Seattle's Matt Hasselbeck twice to secure a road victory over the Seahawks. He has 10 passes defensed in the last six games.
Ticket to Tampa? Better see a scalper. The NFC is too tough. The Cardinals remain a work in progress. They're better than they've been in decades, but they still haven't arrived.
Reaching the Super Bowl would most likely require winning one or two road games in the playoffs. Arizona wasn't good enough to beat an injury-depleted Giants team at University of Phoenix Stadium. It's a stretch to think they could beat a more focused Giants team at the Meadowlands.
-- Mike Sando, NFC West blogger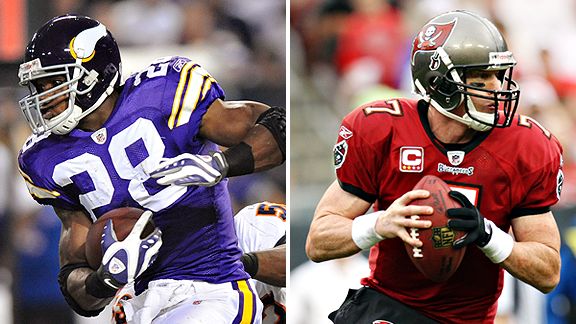 Getty ImagesAdrian Peterson, on pace for 1,700 yards-plus rushing, has shown he can carry the Vikings; Jeff Garcia, who has a 92.5 QB rating, has led the Bucs to the top of the NFC South.
NFC NORTH
Analysis: Whether or not they have the services of defensive tackles Kevin Williams and Pat Williams, the Vikings have a relatively workable road to the 2008 playoffs.
Remaining schedule
Sunday: at Detroit
Dec. 14: at Arizona
Dec. 21: vs. Atlanta
Dec. 28: vs. New York Giants

Their 34-14 victory over Chicago last Sunday night has put them in the driver's seat in the NFC North, and they almost certainly will win the division if they defeat Detroit on Sunday and then win one of their three remaining games to finish 9-7.
The Vikings have all the key ingredients of a playoff team. They have steadily improved over the course of the season, having won seven of 10 games after an 0-2 start. Their past two victories have come by a combined 38 points, they have a transcendent player in tailback Adrian Peterson and a defense that will be at near-full strength if the Williamses are able to continue playing.
Even if they aren't, winning two of the final four games -- with the Lions as one of the victories -- is a doable task for a team that hasn't won its division since 2000.
Difference-maker: Recent history has shown us that Adrian Peterson can be stopped, or at least slowed, by determined defensive game-planners. That's where Bernard Berrian comes in.
It's no accident that the Vikings have won all four of his 100-yard games. While he might not be an All-Pro-caliber receiver, Berrian is good enough to beat most single coverage, and can punish teams if they load up to stop Peterson.
Defenses that respect Berrian will give Peterson an advantageous front to run against. In either event, it's a nearly foolproof way for the Vikings to move the ball -- as long as Berrian continues to produce.
Ticket to Tampa? Probably only as spectators.
Analysis: The Bears have lost three of their past four games, two by at least 20 points, and will need an immediate turnaround -- along with some help -- to make the playoffs.
Remaining schedule
Sunday: vs. Jacksonville
Dec. 11: vs. New Orleans
Dec. 22: vs. Green Bay
Dec. 28: at Houston

They'll get a significant boost from the schedule, playing three consecutive games at Solider Field before closing out the season at Houston. But the Bears will need to make some substantive improvements for that home-field advantage to mean anything.
The No. 1 task is re-establishing the rhythm their passing game established earlier in the season, one that has been largely absent since quarterback Kyle Orton sprained his ankle Nov. 2 against Detroit. It's difficult to know whether the injury has affected Orton's play, but the bottom line is the Bears are 1-3 in the four full games since it occurred.
There have been plenty of justified complaints against the Bears' defense, but the Bears' passing offense is what carried them during their early-season run in first place of the NFC North.
Difference-maker: Devin Hester's return game has completely dissolved this season, but as a receiver he gives the Bears their best chance for some easy scores and big offensive plays. Turning a five-yard slant into a 50-yard touchdown at the right time can ignite the team just like a long return.
Hester has made some big plays this season, most recently a 65-yard touchdown reception against Minnesota. But he'll need to be counted on for consistent scoring and multiple receptions per game if the Bears are going to make a move toward the playoffs.
Ticket to Tampa? Call a scalper.
-- Kevin Seifert, NFC North blogger
NFC SOUTH
Analysis: The Bucs currently are in line for the No. 2 seeding in the NFC, and nailing that down would make the road through the playoffs a lot easier. But Tampa Bay still has some big hurdles to clear before winning its second consecutive division title and securing a bye.
Remaining schedule
Monday: at Carolina
Dec. 14: at Atlanta
Dec. 21: vs. San Diego
Dec. 28: vs. Oakland

The next two games (Monday night at Carolina and Dec. 14 at Atlanta) probably will go a long way in deciding Tampa Bay's fate. The Bucs close the season with home games against San Diego and Oakland, and both of those should be wins.
At worst, Tampa Bay should finish with 11 wins, but it could be critical for them to get that number to 12. That could be the difference between winning the division and getting a week off or having to go in as a wild card and playing on the road.
Jon Gruden took a lot of heat last year for resting his starters at the end of the season because the team already had clinched the division. But that scenario might not be practical this year. The Bucs have to make sure they hold off the Panthers and Falcons.
They also have a chance to slide into the No. 1 seed if they run the table and the Giants falter.
Difference-maker: Running back Carnell Williams has played in two games since returning from major knee surgery, but already he has shown he can handle a fair amount of carries. His load is likely to increase down the stretch.
With Earnest Graham out with an injury, the Bucs also have veteran Warrick Dunn. But the Bucs have to be careful not to make Dunn's load too heavy. That's where Williams factors in. He gives the Bucs a player who can run between the tackles and help the offense control the clock. That could help keep a very good defense fresh when it matters most.
Ticket to Tampa?
The Bucs would love to be the first team to play a Super Bowl at home. With a little more consistency on offense and a stumble by the Giants, this could be a possibility.
Analysis: They haven't looked particularly sharp lately, but the Panthers used a soft early schedule to run up a bunch of wins. Now comes the tough part.
Remaining schedule
Monday: vs. Tampa Bay
Dec. 14: vs. Denver
Dec. 21: at New York Giants
Dec. 28: at New Orleans

Carolina almost has to win Monday night's game against Tampa Bay to have any shot at winning the division, and the Panthers were horrible in their previous meeting with the Bucs. The bright side is this game is at home, and the Panthers are undefeated in Bank of America Stadium.
They also started some momentum by going into Lambeau Field and squeezing out a win last week. The defense has struggled of late, but coach John Fox is good at fixing things as he goes along, and he also has a knack for having his team ready for big games.
The Panthers have to catch lighting in a bottle the way they did in their 2003 Super Bowl season. That's not going to be easy, because they have the toughest remaining schedule of any NFC South team.
Fox's tenure has been filled with streaks, and he has a chance to take this team far if the Panthers can close the season with momentum building. If the Panthers can get by Tampa Bay and Denver, suddenly anything becomes possible. The Panthers have a late-December trip to the Meadowlands to play the Giants. In the playoffs after the 2005 season, Fox went into Giants Stadium, coached the game of his life and shut out the Giants.
Difference-maker: Steve Smith's numbers aren't quite what they usually are. But that can be traced to his being suspended for the first two games and a couple of rocky midseason games by quarterback Jake Delhomme.
But Smith has a history of stepping up in big games. The Panthers also know he's their most explosive offensive weapon, and they're going to make it a point to get him the ball consistently with their season on the line.
Ticket to Tampa? Better get a refundable fare. The Panthers have to knock off the Bucs and finish strong, or else they'll have to travel a difficult road as a wild card.
Analysis: The Falcons are a game behind the Panthers and Bucs, and that means a division title will be tough to win. But this team is very much in the race for a wild-card berth.
Remaining schedule
Sunday: at New Orleans
Dec. 14: vs. Tampa Bay
Dec. 21: at Minnesota
Dec. 28: vs. St. Louis

They also might be catching a bit of a break. Two of their upcoming games are against New Orleans and Minnesota, teams that have been hit hard with suspensions of players who tested positive for banned substances. They also close out their season at home against a struggling St. Louis team that doesn't have much to play for.
The Falcons seem to get better each week, and rookie quarterback Matt Ryan has become a model of consistency. The Falcons rarely make mistakes, and they have good veteran leadership. This isn't a team that's likely to collapse down the stretch. If they do what they're supposed to, the Falcons should reach the playoffs.
If Tampa Bay and Carolina stumble at all, the Falcons could even go from worst to first.
Difference-maker: Every defense knows all about Ryan, running back Michael Turner and receiver Roddy White. But the guy to keep an eye on might be No. 2 receiver Michael Jenkins. He's finally playing to his potential this year, and he and Ryan have developed a strong chemistry.
With everyone focusing on Turner and White, Jenkins might be able to make some more big plays.
Ticket to Tampa? At the start of the season, it would have been ridiculous to think the Falcons could get anywhere near a winning record. But they've gone out just about every week and shown the world that anything is possible. Perhaps they hold the golden ticket.
-- Pat Yasinskas, NFC South blogger
NFL Insider
ESPN Insider NFL columnist and blogger
Covered the NFL since 1998
Member of Pro Football Hall of Fame selection committee
EDITORS' PICKS
Mastery of the salary cap's intricacies, with its spending limits and minimums, is a necessity in today's NFL.
Ashley Fox »

How much does the combine matter in draft analysis? Look at Kevin White's surge up Mel Kiper's board.
Mock 3.0

Durable, fiery and talented, Ndamukong Suh would thrive on any NFL team. We size up his leading suitors.
Dominik

MOST SENT STORIES ON ESPN.COM