Commentary
Lions fans struggle alongside their city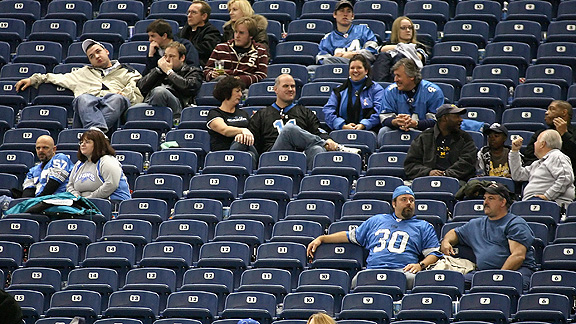 Christian Petersen/Getty ImagesAnother game, another loss this season. Some fans, however, wait it out -- staying through the final moments of the Nov. 23 game against the Tampa Bay Buccaneers at Ford Field. The Bucs beat the Lions 38-20.
HAMTRAMCK, Mich. -- They called this patch of mom-and-pop shops and punk-rock watering holes one of the hippest neighborhoods in America. Now, the man sipping Budweiser says, nobody goes out anymore. Unemployment is filed online and doled out in plastic debit cards; Sunday hearts are broken in the privacy of quiet living rooms. A couple of weeks back, a bar on the edge of town had a special -- buy a beer and get a Lions ticket. The two seats, which supposedly were second-row, went unused.
"Everybody's worried about their job," Jerry Wnuk says. "Nobody wants to buy anything."
More on lousy Lions
•
Merrill: Lions, city struggle
•
Seifert: How to fix them
•
Jemele Hill: Go for 0-16!
•
Page 2: Worst pro teams ever
•
Scouts: 10 Lions to keep
•
Wickersham: Crystal ball
•
Watch: Fantasy vs. reality
•
Watch: Ex-Lion Lomas Brown
•
Watch: Countdown Daily
•
Football Today: Lions talk

The sky, predictably, sends down cold, nagging sprinkles Sunday, when Wnuk walks into the Motor City Sports Bar and has to ask the bartender to turn on the Lions game. In Detroit, nothing is a given anymore. Down the street at American Axle, men and women in overalls wait to see if Washington will extend its heavy hand, and if they'll have jobs next year. The suspense is over for Wnuk. Two weeks ago, he lost his job when the A&R Packing plant burned down. In Big Three country, it barely made the news, the firefighters dousing flames as they dodged pigs' feet, the 60-hour-a-week paychecks suddenly gone.
Tomorrow, Wnuk looks for a job. Today, he follows a ritual that has lasted more than three decades: He watches his beloved Lions. After the game, they are two losses from making history, from becoming the first team in the NFL to go 0-16 in a season. Wnuk, who spent the better part of his youth in a conversion van outside the Silverdome, is surprisingly passive about this. He watches because he has to, and for a little comic relief.
Like most of greater Detroit these days, he has bigger things to worry about than whether the Lions win a football game.
"Ahhh, it's not that bad," he says. "It's a going joke to everybody. We don't expect them to win anymore.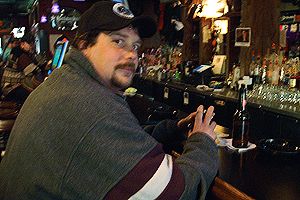 Elizabeth Merrill/ESPN.comJerry Wnuk says he and other fans don't expect the Lions to win anymore.
"I miss working. I gotta get back. I miss just being at work, bull----ting with the guys. But I read the paper every day. I read about the Lions every day. In the newspaper, they said today Detroit could've beaten the '72 Dolphins … but then, they said, it's because the Dolphins are 60 years old now. I got another one. What can you get out of a dollar that you can't get out of the Lions? Four quarters."
He laughs and glances up at the TV. The Lions are losing. The morning paper, his friends, his family. That, Wnuk says, is what he looks forward to these days.
He's told that the newspapers in Detroit are about to chop home delivery to a few days a week, another casualty of the economy.
"That's horrible," he says.
"I guess I'll get the USA Today."
---
The thing about Detroit is that its fans, awash with August hope, are always predicting nine wins. A W at Chicago helps get us to nine, a loss in Indy and Green Bay, maybe, won't matter. Book it this year, they say: 9 and 7.
In early September, when the Lions capped a 4-0 preseason, anything seemed possible. Jon Kitna, the head-shaven, outspoken quarterback who boldly said he'd be disappointed if the team didn't win 10 games in 2007, was at the controls again and a team captain. He had megatalented Calvin Johnson and Roy Williams as targets.
They didn't really fall for it, did they? Seventeen seasons and no playoff wins, their great collapse of '07, and all of a sudden the Lions were world-beaters?
Four months and four quarterbacks later, Kitna's and Williams' jerseys hang in the $19.97 clearance racks at sporting goods stores, both players long gone from the Lions' active roster.
[+] Enlarge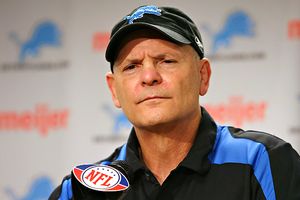 Christian Petersen/Getty ImagesCoach Rod Marinelli is an optimist, proud of a team that keeps trying. He was 7-9 last season and is 0-14 so far this season.
History, and a long line of failed drafts, told them it was inevitable.
On Sept. 7, the Lions opened the season at Atlanta, a 2007 doormat. The Falcons' Michael Turner ran for 220 yards, and the Honolulu blue and silver were glum after a 34-21 loss.
There would be other reasons to frown in the Detroit metro area. Unemployment for October crept up to 9 percent, far above the national average of 6.5 percent. The credit crunch hit Detroit's automakers especially hard. Ford, Chrysler and General Motors are scaling back operations.
"I think the situation in Detroit, in Michigan as a whole, has been bad for a long time," Lions safety Dwight Smith says. "I think it's just now hitting the airwaves because the auto industry is involved.
"Detroit is real blue collar," Smith says. "A lot of people from here have never been given anything; they work for everything they've got. They're hard on people regardless because they've had to work for what they've got."
[+] Enlarge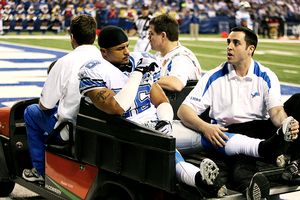 Brian Spurlock/US PresswireLions safety Dwight Smith, taken off the field Sunday, grew up on the west side of Detroit. He's just happy he gets to play the game he loves and gets paid to do it.
Nobody on the Lions' roster knows that better than Smith. He grew up in the hardscrabble streets on the west side of Detroit, right around the corner from Chargers tight end Antonio Gates. They relied on each other for meals and occasional encouragement. When the power would get shut off in Smith's home, the family would string extension cords together and borrow juice off a neighbor. Twenty years, and the smell of kerosene still turns Smith's stomach. They used it to heat the house.
About a month ago, around Thanksgiving, he gave out 260 turkeys at the Save-On in his old neighborhood. To him, 0-16 seemed unfathomable then. After some random thank-yous, the next comment was generally the same.
When are y'all going to win a game?
"You have to hear it from every which way," Smith says. "You go to the barbershop and you hear [it]. It's hard for me to hide, being from here.
"It's like a dark cloud over this place now. The thing is, I'm glad it happened while I'm here in Detroit. I still see my friends, and I see what I could be if I didn't have this job. As in not working. As in sleeping in abandoned homes, things like that. So forget the record. I get a chance to go play the game I love and get paid to do it. How could I ever feel bad coming to work?"
---
These Lions don't quit. They might be 0-14, they might have been blown out so badly in the Thanksgiving game against Tennessee that antacid sales spiked in the Great Lakes region. But Marinelli says he's proud because his team keeps trying.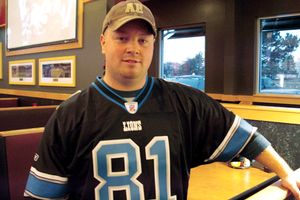 Elizabeth Merrill/ESPN.comFan Eric Gambrell finds it difficult to have faith in a Lions lead.
It's halftime Sunday, and half-covered eyes turn away from the television when Peyton Manning puts the Colts ahead by double digits. But the Lions keep coming. They pull within two with less than 13 minutes to go. They tie it on a two-point conversion.
In bars and living rooms all over Detroit, people sit motionless.
"It's exciting when they take a lead," says Eric Gambrell, who's sitting in front of a big screen at a Buffalo Wild Wings in nearby Livonia.
"But you know they're going to blow it."
---
OK, so they blow it. A stalled drive here, a fumble that eventually is called a non-fumble. Winners get the breaks; losers just get a little more broken. An hour after the game, the sports-talk phone lines are hopping. Conspiracy theorists say Colts coach Tony Dungy went easy on Lions coach Rod Marinelli because they used to work together in Tampa; half-fullers wonder whether Dan Orlovsky is the quarterback of the future.
A caller named Hawkeye asks whether he'll ever see a playoff game again in his lifetime. One of the hosts, who's stationed at a Hooters in Troy, says no, then thinks about it.
"Are you a healthy guy?"
[+] Enlarge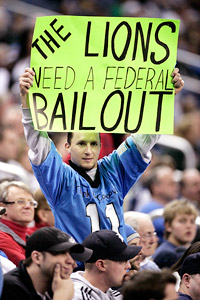 AP Photo/Duane BurlesonA bailout for Detroit automakers? Lions fans could use one, too.
By the end of the night, one thing is clear -- a decent number of Lions fans are actually rooting for 0-16. It's like the stock market. Detroit needs to bottom out, they say, send owner William Clay Ford Sr. a message, before it can build itself back up. History? Bring it on. Might as well get something out of the season. Perception? Are 1-15 and 0-16 really that different?
Mike Moceri, a financial consultant and lifelong Lions fan, says there's a huge difference. He was at a holiday party Sunday afternoon, cheering as if Barry Sanders were stretching for a touchdown that put Detroit in the playoffs. He says true Lions fans would never want to see their team lose.
"That's something," Moceri says, "that will live with our city forever."
During the day, he takes calls from clients who need to dip into their retirement funds just to put food on the table. At night, he goes home and turns on 97.1 The Ticket to get his mind off the roiling economy. The Red Wings make fans happy. This summer, they won the Stanley Cup.
But lately, even sports radio has been filled with talk of subprime lending, foreclosures and mass layoffs. In Detroit, Moceri says, it's magnified because of the Big Three. Nearly two hours of airtime was filled with talk of the economy Monday.
"Everybody knows somebody whose life is tied into the auto industry," Moceri says. "When you look at the bigger picture, the Lions are unimportant.
"But you kind of hope to escape to the Lions to give you some kind of joy. You can't even do that."
---
It is Monday afternoon, the day after loss No. 14, and Marinelli steps in front of a microphone and speaks in a library-soft tone. He is dressed in khakis and a gray shirt with the sleeves rolled up. His days appear to be numbered, but he is ready to go to work.
In most seasons gone bad in Detroit, defensive lineman Shaun Cody says, players tended to pack it in early. Meetings got shorter, workouts seemed longer, and young men's thoughts drifted away. That hasn't happened with this team, Cody says. Marinelli wouldn't allow it.
The day starts at 8 a.m. Monday in the weight room, and, by all appearances, the Lions' locker room is no different from that of any playoff contender. On one end, Orlovsky tells reporters he loves playing with a team that no doubt will be gutted in a few months. A few chairs down, one of the young running backs marvels over the sheer toughness of Colts' tight end Dallas Clark.
[+] Enlarge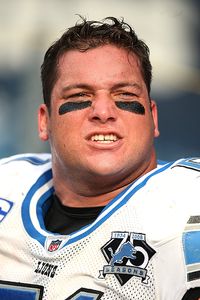 Joe Robbins/Getty Images"My thoughts are that they think we don't care," lineman Dominic Raiola says. "We do."
Toward the back, center Dominic Raiola stands near his locker wearing a Run DMC T-shirt, looking contrite. At the previous home game, Raiola drew a fine for flipping off some hecklers. With a little time and a few hundred miles' distance, Raiola comes close to apologizing for acting out a thought that undoubtedly has bounced around inside a few other helmets.
"Honestly, [the crowd atmosphere] is bad," he says. "But I don't fault people for that. I know the economy is struggling and we don't give them reason to come to the game. I think ultimately, as a player, you create the atmosphere. And if you give them something to cheer about, guaranteed, they'll come around.
"It's frustrating. People think we just come in here, mess around, and go out there and play a game on Sunday. This is my livelihood. I've never won here, and to hear that… My thoughts are that they think we don't care. We do."
Across town, at Ford Field, a smattering of fans sift through a giant clearance table filled with party cups and Kitna cards. One of the upsides of 0-14, season-ticket holder David Cousins says, is that there are plenty of bargains.
He and his wife, Linda, snatch up socks, magnets and Santa hats, trinkets for the boys for Christmas. Three months ago, Linda says, the lines for the store stretched out into the concourse. Now there is an employee for every late-Monday customer.
Cousins predicts there will be 20,000 empty seats Sunday for the home finale against New Orleans.
"I don't boo 'em," he says. "But god, they're like Charlie Brown. They just can't get it right."
He looks in the bag and hopes his kids don't throw away the gifts because they're too embarrassed. No, he says, a win can't change what is happening to Detroit. He bundles up and heads for the door, and the cold wind confirms what he already knew. It's going to be a rough winter.
Elizabeth Merrill is a senior writer for ESPN.com. She can be reached at merrill2323@hotmail.com.
Senior writer for ESPN.com
Formerly at "The Kansas City Star" and "The Omaha World-Herald"
EDITORS' PICKS
Expect Chip Kelly's Eagles to stay busy when free agency begins. We predict each team's activity level.
NFL Nation »

With Marshawn Lynch signed and happy, Seattle cleared a major hurdle in its challenging offseason.
Blount »

Mike Maccagnan has devised an aggressive plan aimed at making the Jets winners today -- and beyond.
Cimini »
Nike Women's Home Game Jersey Detroit Lions Ndamukong Suh #90 Shop »

MOST SENT STORIES ON ESPN.COM