DBs score twice in rout of Texans
The Colts are counting on a trio of rookie DBs to help improve their defense and make the team more balanced.
Originally Published:
November 16, 2004
By
James C. Black
| ESPN.com
The Colts are well aware of the perception that they're a one-dimensional team. And their statistical rankings on offense (third) and defense (31st) certainly support that notion. However, with the emergence of a few first-year defensive backs, coach Tony Dungy expects the defense to improve during the season's second half.
Cornerbacks Von Hutchins and Jason David and free safety Bob Sanders combined for 20 tackles, an interception, a fumble recovery and two touchdowns during the Colts' 49-21 victory over Houston on Sunday.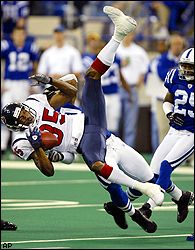 Bob Sanders lays a big hit on Houston WR Corey Bradford.
"I thought our young guys showed up (Sunday)," Dungy said. "(Sanders) and Von did a good job, and (rookie cornerback) Jason David. Bob is a big-play guy, and that's what we were looking for when we drafted him."
Essentially, the Colts have been looking for someone on defense aside from third-year end Dwight Freeney to consistently make plays. Yet, they had been unable to count on such playmaking from Sanders for much of the campaign. The second-rounder from Iowa missed all of training camp in a contract dispute, then needed time to rehabilitate a stress fracture in his foot.
Sanders didn't make his debut until Week 8, but registered nine tackles in the loss to Kansas City. He made his first start a week later and had five tackles in the win over Minnesota. But it wasn't until the rout over Houston in which Sanders made a "big play."
With Indy already ahead 28-0 in the third quarter, Sanders returned a David Carr fumble 37 yards for his first touchdown.
"He's a monster out there," cornerback Nick Harper said of Sanders. "All he wants to do is make plays. He's learning the defense, but he's tremendous. My hat's off to him."
And with the Colts well on their way to their sixth victory, Hutchins padded the score.
The sixth-rounder from Mississippi returned a Carr interception 77 yards in the fourth quarter to provide the final tally.
This season, the Colts have scored three touchdowns on returns. The first was David's 34-yard interception return in a Week 5 win over the Raiders.
Each Tuesday during the regular season, ESPN.com reviews rookie performances. Here are some notes on other rookies throughout the league:
LB Karlos Dansby, Arizona
Like his alma mater Auburn in the collegiate polls and BCS Standings, Dansby is coming on strong. The second-rounder had a pair of sacks and also knocked down a pass on Sunday as the Cardinals knocked off the Giants. Dansby is now tied for second on the team with four sacks.

Observations
Keeping up with the Joneses
Greg Jones and Kevin Jones were among the top running back prospects last spring. On Sunday, Kevin, Detroit's first-rounder, was the game's leading rusher with career highs of 19 carries and 81 yards, while Greg had the more memorable day. Jacksonville's second-rounder had his first career touchdown as the Jaguars returned from their bye week with an overtime victory over Detroit.
Join the crowd
With Ben Roethlisberger and Craig Krenzel piling on the victories, the New York Giants are hoping for the same with Eli Manning. The first overall selection, traded from San Diego for fellow quarterback Philip Rivers and draft picks, was announced as the starter for Sunday's game against the Falcons. "He's the future of the New York Giants -- and it starts now," coach Tom Coughlin said Monday. J.P. Losman, the last of four signal callers taken in the first round, saw his first action against the Patriots in Week 10 and could get a start for the Bills before season's end.
Bad to worse
Redskins safety Sean Taylor's less-than-stellar reputation took another hit this week. Bengals wide receiver T.J. Houshmandzadeh confronted the first-round pick after Cincinnati's 17-10 victory because Taylor alleged spat on him during the contest. Bengals coach Marvin Lewis didn't single out the players, but confirmed the incident. "We had a player spit on yesterday, and that is not right," Lewis said on Monday. "It has been something that has been escalating from certain players." Taylor had no comment on the situation.
CB Lance Frazier, Dallas
Monday night was not a good one for the undrafted free agent from West Virginia. Frazier, assuming a new role on special teams, muffed his first punt return of the night, but recovered it. Later in the period after the Cowboys forced a three-and-out, Frazier muffed another punt and this one was recovered by the Eagles. Four plays later, the Eagles scored on a Dorsey Levens run to go up 14-0. And if that was enough, he was hit in the helmet by Brian Westbrook's knee during a tackle and banged his right elbow into teammate Terence Newman's knee during a scramble for a lose ball.
RB Steven Jackson, St. Louis
The first-rounder from Oregon State had one of his more productive games as the Rams completed a season sweep of the Seahawks. Jackson helped continue St. Louis' fast start with a four-yard scoring run in the first quarter for a 14-0 lead and finished with 47 yards on 10 carries as Rams accumulated 202 rushing yards.
LB Landon Johnson, Cincinnati
The third-rounder from Purdue was a major contributor to the Bengals winning their first game away from home this year. Johnson registered his first career sack with 11:49 to go in the third quarter and had a team-high nine tackles in the win over Washington.
QB Craig Krenzel, Chicago
He's not as heralded and his numbers aren't as flashy, but the Ohio State alumnus has something in common with Pittsburgh's Ben Roethlisberger -- he's still undefeated as a starter. Krenzel completed just 10 of 28 passes and threw two interceptions, but was the recipient of great defensive and special teams performances as the Bears defeated Tennessee in overtime for their third straight win. "There's still a great amount of hope in Craig Krenzel that he gives this offense," offensive coordinator Terry Shea said. "He makes things happen with his feet. … He's just got to learn from this point to complement what our defense is doing so well and not give the ball back."
WR Roy Williams, Detroit
The first-rounder from Texas continues to play, but not have an overwhelming impact on the offense because of a bad ankle. Williams, who has just 12 catches since a nine-reception outing in Week 3, had two grabs for 64 yards in the Lions' loss to Jacksonville.

James C. Black is NFL Editor II for ESPN.com.
SPONSORED HEADLINES
MORE NFL HEADLINES
MOST SENT STORIES ON ESPN.COM
EDITORS' PICKS
NFC divisional matchups grab the spotlight.
Week 14 Previews »

The 49ers have to prove they can still play with Seattle.
Chadiha »

The Cowboys have changed since Jerry Brown's death.
Taylor »