Williams scores pair of second-half TDs
With Charles Rogers sidelined, Roy Williams had to transition from complimentary player to lead receiver.
Updated:
September 22, 2004, 6:26 PM ET
By
James C. Black
| ESPN.com
Roy Williams factored mightily into the Detroit Lions' plans of escaping from the NFC North cellar. What he didn't count on was instantly becoming the focal point on offense.
Williams, the seventh pick in April's NFL draft, inherited the role of go-to receiver when Charles Rogers, the team's first-round pick in 2003, broke his collarbone in the season opener. With Rogers out for the season, Williams is now the featured receiver and has already connected with third-year quarterback Joey Harrington for some big catches.
The Texas alumnus, with relatives from Odessa attending the game, scored his first two career touchdowns during Sunday's 28-16 victory over Houston.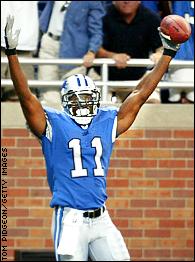 Getty ImagesWilliams has half of the Lions' four offensive TDs this season.
"He is a natural receiver who uses his hands as well or better than any receiver I've seen," said Harrington, the team's first-round pick in 2002. "When you combine his size and speed, there aren't many 5-foot-10, 180-pound defensive backs that can cover him."
No matter their size, foes have had difficulty covering Williams in the opening two weeks of the season. He either led or tied for the team-high with four catches in both Detroit victories and leads all rookies with 142 receiving yards.
"I just had to step up, but I know that Charles would have made the same plays if he was out there," Williams said.
Which means that Rogers would have been shut out in the first half on Sunday. Williams, who had a Longhorns school record of 241 receptions, didn't catch a pass in the first half against Houston in part because of mistakes he made in route-running.
"I didn't do what I was supposed to do and I went to the sideline and coach (Steve Mariucci) got on me a little bit," Williams said.
That wasn't the case in the second half. On Detroit's second possession following intermission, Williams had a 20-yard grab on third down to put the ball in Houston territory. Three plays later, he capped the drive with a 31-yard touchdown. The 6-foot-2 target followed up the previous Lions possession by pulling in two more receptions, the second being a 14-yard score that resulted in the final tally. Williams became the first Lion to score two touchdowns in a game since Rogers did so in Week 1 last year against Arizona.
"Losing Charles hurt," Harrington said. "That's pretty obvious, but I don't think we'll miss a beat because Roy is picking it up pretty quickly."
Williams and the Lions face their biggest test of the young season when they play the three-time NFC East champion Eagles on Sunday.
Each Tuesday during the regular season, ESPN.com reviews rookie performances. Here are some notes on other rookies throughout the league:
Observations
Empty feeling
Nathan Vasher's first career interception came during a game he might otherwise forget. Not only did the Bears lose, but the Texas alumnus was beat on Philadelphia's only touchdown on a possession that was set up in part by his gaffe. In the second quarter, Vasher ran into punt returner R.W. McQuarters, who mishandled the ball and the Eagles recovered the muffed return. Four plays later, Terrell Owens beat Vasher on a quick slant that resulted in an 11-yard touchdown pass.
Juggling act
Madieu Williams is not the only Bengal DB being asked to learn another position. Cornerback Keiwan Ratliff, taken in the second round with Williams, took over at free safety against the Steelers when starter Rogers Beckett apparently suffered another concussion. "We are young. We know that," Ratliff, who was in on three tackles, told the Cincinnati Post. "But once you get on the field, you throw out all the years of experience and just play."
SS Michael Boulware, Seattle
The former Florida State linebacker seems to be adjusting quite well at his new position. One week after making a big special teams tackle and interception in the win over New Orleans, Boulware helped preserve Seattle's victory over the Buccaneers with a pick on Tampa Bay's final possession. In addition, Boulware has also knocked down three passes on the season.
WR Michael Clayton, Tampa Bay
With Joey Galloway sidelined and Keenan McCardell holding out, Clayton has become Tampa Bay's leading receiver. The former LSU standout leads the team in both receptions (13) and receiving yardage (114), but is still looking for his first score. The Bucs offense has not scored a touchdown this season and has only produced three field goals.
WR Keary Colbert, Carolina
The absence of Steve Smith has given the USC alumnus an opportunity to make plays for the Panthers. Colbert, not even a first option last year for the Trojans, had three catches for 46 yards and his first career touchdown in the win at Kansas City. "I've been telling everyone: This guy is very, very capable," safety Mike Minter said.
DB Erik Coleman, NY Jets
After giving up 52 points in their first two games, the Jets clearly have some tweaks to make with their "new" defense. One person that seems to be doing OK, however, is Coleman. The fifth-round pick from Washington State has recorded interceptions in each of his first two games in addition to recovering a fourth-quarter fumble in the win over San Diego on Sunday. "It's a great system and I fit in well with the defense," Coleman told the Newark Star-Ledger. "Hopefully I'll be playing here for a long time."
RB Steven Jackson, St. Louis
The first-round pick from Oregon State has had an up-and-down first two weeks in the league. Jackson, projected to lighten the load for Marshall Faulk, gained just 10 yards on three carries in Sunday's loss to the Falcons. Even worse, he was flagged for a taunting penalty following a kickoff return in the fourth quarter which backed the ball up to St. Louis' 10-yard line. "I guess he just did it without thinking," coach Mike Martz told the St. Louis Post-Dispatch. "He was upset. You just have to have better control of your emotions, you just do."
RB Kevin Jones, Detroit
While fellow first-rounder Roy Williams made a big splash on Sunday, Jones quietly went about his business in the win over Houston. The Lions' new starting running back gained 57 yards on 12 carries and also had a 13-yard reception. "It means a lot to me to come in and help and make a difference," Jones told a reporter from the Booth Newspapers. "It does for all the rookies. It's a new team, we got a new attitude. We're just trying to go out there and make plays for the team."

James C. Black is the assistant NFL editor for ESPN.com.
EDITORS' PICKS
It was a night to remember as Peyton Manning broke the NFL career TD pass record and Denver rolled.
Rapid Reaction »

The Seahawks sit at 3-3 largely because their O-line continues to falter.
Blount »

Dez Bryant synced up with Tony Romo for a huge game as the Cowboys won their sixth in a row.
Archer »