Taylor, Boulware have big impact
DBs Michael Boulware and Sean Taylor both made big plays in Week 6, but only one with a victorious team.
Updated:
October 19, 2004, 7:36 PM ET
By
James C. Black
| ESPN.com
Michael Boulware quietly went about his business. In terms of production, Sean Taylor simply had been quiet. But Sunday, the first-year safeties made a lot of noise on the field, though only one had reason to celebrate afterward.
Taylor, the fifth overall pick in this year's draft, recorded his first career sack and interception as the Washington Redskins snapped a four-game skid with a 13-10 victory against the Chicago Bears.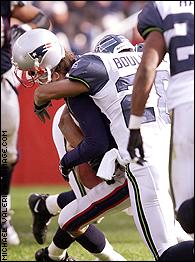 Boulware's big hit on Tom Brady sent the QB's helmet flying.
Boulware, a converted linebacker from Florida State, had his third pick of the season and landed one of the day's biggest hits. However, the
Seattle Seahawks
followed a stunning Week 5 loss with a 30-20 defeat to the
New England Patriots
.
Taylor's had an inauspicious start to his career. In the course of two months, he switched agents twice -- ultimately rehiring the initial one he signed, Drew Rosenhaus. He was fined in June for leaving the NFL's rookie symposium early. Then after being labeled as the top safety prospect since Ronnie Lott, Taylor found himself backing up another Lott -- Andre -- on opening day.
In Washington's first two games, Taylor was a spare part -- contributing on special teams and totaling just three tackles. He was inserted into the starting lineup in Week 3 against the Cowboys. He deflected two passes but didn't register any other "big plays" in that contest or the next two.
"There's been balls right there that I just couldn't get to," the Miami alumnus said.
The first of Taylor's two big plays against the Bears occurred late in the third quarter with Washington ahead 10-7. On third-and-3 from the Redskins' 44-yard line, Taylor sacked Jonathan Quinn for a six-yard loss, forcing the Bears to punt.
Then on Chicago's final possession, Taylor stepped in front of Bobby Wade for an interception and returned it 45 yards to seal Washington's first victory since opening day.
"He has grown playing safety," Washington coach Joe Gibbs said. "He is getting more comfortable and is making a lot of plays. He covers a lot of ground back there."
Boulware, on the other hand, had no such trouble breaking into the starting lineup. He opened the season making plays against the Saints and has been a factor ever since.
With Seattle down 20-9 after three quarters, the second-rounder did his part to spark the Seahawks.
On the first play of the final period, with New England facing a third-and-7, Boulware put a jarring hit on Tom Brady. The Patriots quarterback was forced out of the pocket and took off toward the first-down marker. One yard short of first down, Seahawks defensive end Chike Okeafor got a hold on Brady. Then came Boulware, who blasted Brady so hard that the quarterback lost his helmet and the ball. Seattle defensive tackle Rocky Bernard recovered the fumble.
"I didn't know the whole hit was me," Boulware admitted. "I thought it was someone else. It stunned me a little when I saw him lying there. I just kind of cleaned him up, and I just kind of fell into the play."
On New England's next possession, Boulware intercepted Brady. The Seahawks responded with a touchdown and two-point conversion to narrow the deficit to 20-17.
In addition to leading the Seahawks with three interceptions, Boulware also has four pass deflections.
Each Tuesday during the regular season, ESPN.com reviews rookie performances. Here are some notes on other rookies throughout the league:
DT Tommie Harris, Chicago
The first-rounder from Oklahoma is the Bears' fifth-leading tackler with 20. However, his presence up the middle hasn't made Chicago more effective against the run, so far. After being shredded for 171 yards by Clinton Portis in a loss to Washington on Sunday, the Bears are ranked 29th against the run -- one spot lower than what they finished a year ago.
| | | |
| --- | --- | --- |
| | " | I don't know what to say. Humbly speaking, I've been doing this for years. I'm just doing my job." |
| | | —Vikings RB Mewelde Moore in the St. Paul Pioneer Press |
K Nate Kaeding, San Diego
The Chargers were so impressed with Kaeding before the draft that they used a third-round pick on him. In contrast, many rookie kickers are either second-day draft picks or signed as non-drafted free agents. But through six games, the Iowa alumnus is proving his worth. Kaeding kicked a career-high 53-yard field goal in the loss to Atlanta on Sunday and has converted all nine of his field goals and 19 PATs. He's already hit two 50-plus yard field goals.
RB Mewelde Moore, Minnesota
The fourth-rounder has looked so good in his first two starts that the question already has been raised -- what happens when and if the Vikings' three veteran running backs are all healthy? Moore followed up an impressive outing in Week 5 with 187 offensive yards in Sunday's victory against the Saints. Moe Williams saw some action against New Orleans, but Onterrio Smith has two more weeks of a suspension to serve and the return of Michael Bennett is uncertain. "Mewelde was a luxury," Vikings offensive coordinator Scott Linehan said. "Now he's a necessity." The Vikings have announced that Moore, who has accumulated 201 rushing and 168 receiving yards in the past two weeks, will start against Tennessee on Sunday even if Bennett is ready to play.
QB Ben Roethlisberger, Pittsburgh
The first-rounder's official nickname is Big Ben. But don't be surprised if folks also start calling him Mr. Efficient. In the past two weeks, the Miami (Ohio) alumnus has completed 37 of 46 passes and is just one of four quarterbacks in the league with a 100 passer rating. "We're starting to expand our playbook more and more," Steelers wide receiver Hines Ward said after the team's win over Dallas. "The more reps he gets in practice, the better it gets. The kid's good. I'm just glad to be a part of it."
WR/KR Wesley Welker, Miami
A week after filling in for injured kicker Olindo Mare, the Texas Tech alumnus was able to focus on his top priority -- special teams. Welker returned four kicks for 80 yards and also had a punt return of five yards in the loss to Buffalo.

James C. Black is NFL Editor II for ESPN.com.
EDITORS' PICKS
Is Houston for real? How about Detroit? Here's how our experts view the six teams at 3-1.
Power Rankings »

Tom Brady is off to the worst start of his career. Our panel probes the cause of his woes.
Roundtable »

Draft-day trades are bold. But rarely does the capital gained match the price paid.
TMQ »