Commentary
Rookie Watch: Pouncey looks promising
For the sake of this column, I went out of my way Monday night to really watch Steelers center Maurkice Pouncey. Early in the second quarter, Pouncey went down with a right knee injury, but he returned right before halftime as Steelers Nation breathed a collective sigh of relief.
Few centers in this league move as well or get to the second level as well as Pouncey. He is terrific at it and does it consistently. He is a natural knee-bender who also changes directions fluidly, which you see when he gets into space.
This guy is 21 years old. Rarely do centers enter the league and make a huge impact, as they have to deal with quick penetrators and massive nose tackles to go along with all the mental aspects of the position. Pouncey entered the league after his junior year in college. His body and power will continue to improve as he ages.
He is next in a long line of great Steelers centers. Pouncey's twin brother, Mike, will be a high pick in the next draft. With the success the Steelers have had with Maurkice, they should strongly consider adding his brother to play right guard, which is the weakest spot on Pittsburgh's offensive line.
Ranking
Player, position (draft position)
Last week

1

Sam Bradford, Rams QB (first round, No. 1)
Bradford and the Rams were on bye, but there is no reason to remove him from his top spot. This week, they travel to San Francisco -- which also was on bye -- for a crucial divisional contest.

1

2

Ndamukong Suh, Lions DT (first round, No. 2)
And he even kicks extra points! Well, he at least attempts extra points.

2

3

Mike Williams, Buccaneers WR (fourth round, No. 101)
Williams is now one of the best deep threats in the NFL. He is getting a ton of targets -- and deserves every one of them.

3

4

Dez Bryant, Cowboys WR (first round, No. 24)
Bryant still looks like one of the only Cowboys who has yet to cash it in this season. Will his role increase even further with Jason Garrett as the head coach?

4

5

Tony Moeaki, Chiefs TE (third round, No. 93)
He keeps doing what he does week after week on an extremely consistent basis for a rookie. He led the Chiefs in catches (six) in Week 9 and had a near-miss touchdown reception.

5

6

Eric Berry, Chiefs S (first round, No. 5)
After a rough patch early in the season, Berry has been on fire lately and is living up to his high draft slot. He probably should have been back on this list last week. In Week 9, he added two sacks to his résumé.

NR

7

Aaron Hernandez, Patriots TE (fourth round, No. 5)
New England got blown out in Cleveland, but Hernandez was exceptional. He might just be Tom Brady's best weapon right now.

NR

8

Maurkice Pouncey, Steelers C (first round, No. 18)
Losing this guy could have derailed Pittsburgh's season.

NR

9

Alterraun Verner, Titans CB (fourth round, No. 104);
Verner became a starter in Week 4 and has been simply exceptional ever since. He probably deserved to be in the top 10 earlier.

NR

10

Jahvid Best, Lions RB (first round, No. 30)
Best took over the lead back role once again, relegating Kevin Smith to backup duty. The question here is, "Can Best stay healthy?"

8
Other notables:
Colt McCoy
, Browns QB (third round, No. 21);
Lamarr Houston
, Raiders DE (second round, No. 44);
Devin McCourty
, Patriots CB (first round, No. 27);
Earl Thomas
, Seahawks FS (first round, No. 14);
T.J. Ward
, Browns S (second round, No. 38);
Brandon Spikes
, Patriots ILB (second round, No. 62);
LeGarrette Blount
, Buccaneers RB (undrafted)
Scouts Inc. watches games, breaks down film and studies football from all angles for ESPN.com.
ESPN.com
Joined ESPN in 2005
Was an NFL and college scout for the Cleveland Browns
NFL WEEK 10 PREVIEW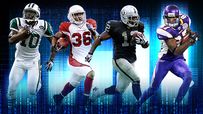 POWER RANKINGS
PICKS
FINAL WORD
MIDSEASON REPORT
HOT READ: NEW QB WAVE
FALCONS 26, RAVENS 21
COMMENTARY/BLOG POSTS
MNF: Eagles at Redskins, 8:30 ET
FANTASY FOOTBALL
NFL BLOG NETWORK
FOLLOW US ON TWITTER