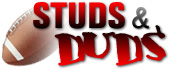 Week 13: Young duo keeps Fins afloat
Originally Published:
December 6, 2009
ESPN.com
STUDS

Henne
Chad Henne/Davone Bess: Henne and Bess helped the Dolphins stay alive in the AFC East. Henne threw for a career-high 335 yards and directed a 51-yard drive for the winning field goal with 1:02 left, lifting Miami past New England 22-21. Bess, a second-year wideout, also had a big day, catching 10 passes for 117 yards and one touchdown.

Gradkowski
Bruce Gradkowski: Gradkowski might be more than just a short-term solution for the Raiders. Gradkowski threw for a career-high 308 yards and three TDs, including a pair to Louis Murphy in the final six minutes, to lead Oakland to a 27-24 victory at Pittsburgh. Gradkowski and Murphy connected on the game-winning scoring strike, an 11-yarder, with nine seconds left.

Campbell
Jason Campbell: The Redskins lost a heartbreaker to New Orleans, but Campbell enjoyed his most productive game of the season. Campbell completed 30 of 42 passes for 367 yards and three touchdowns (he also had one interception) in Washington's 33-30 overtime loss. The Redskins racked up 455 yards of total offense, a season high.

Meachem
Robert Meachem: Meachem set career highs in receptions (eight) and receiving yards (142), and had two TDs in the Saints' victory. Meachem's first score was one for the highlight reel. In the second quarter, Washington's Kareem Moore intercepted a Drew Brees pass and ran 14 yards before Meachem stripped the ball and sprinted down the sideline for a 44-yard TD.

Ochocinco
Chad Ochocinco: Ochocinco has been urging the Bengals to throw more -- especially downfield. Cincinnati heeded his advice on Sunday. Ochocinco caught nine passes for a season-high 137 yards and one TD in the Bengals' 23-13 victory over Detroit. It was Ochocinco's first 100-yard receiving game since Week 7 and his highest receiving yardage total since Sept. 23, 2007 (against Seattle).

Witten
Jason Witten: The Cowboys generated 424 yards of offense -- and fell short. Although the Giants handed Dallas a 31-24 loss, they couldn't slow Witten, who repeatedly found open space in New York's defense. Witten included his 500th career catch among a career-best 14 receptions for 156 yards.

Broncos
The Broncos' running game: The two-headed rushing attack of Correll Buckhalter and Knowshon Moreno helped the Broncos roll over the Chiefs. Buckhalter ran for 113 yards on only 12 carries and Moreno rushed for 86 yards and two touchdowns, powering Denver to a 44-13 victory.

Fitzgerald
Larry Fitzgerald/Anquan Boldin: Speaking of two-headed attacks, the Cardinals had one of their own against Minnesota. Fitzgerald (8 catches, 143 yards, one TD ) and Boldin (7 catches, 98 yards, 2 TDs) helped Arizona cruise to a 30-17 victory.
DUDS

Brady
Tom Brady: Brady a dud? It doesn't happen very often, but Brady qualified on Sunday, despite throwing for 352 yards in the Patriots' 22-21 loss in Miami. Trying to extend New England's 21-19 lead late in the fourth quarter, Brady was intercepted in the end zone by rookie Vontae Davis. After Miami kicked the go-ahead field goal with 1:02 remaining, Brady threw a second pick, which sealed New England's second straight loss.

Peterson
Adrian Peterson: Another player who hardly ever finds himself on this list, Peterson was shut down by the Cardinals. Peterson rushed for a season-low 19 yards on 13 carries (a 1.5-yard average) in the Vikings' 30-17 loss to Arizona. Peterson had rushed for at least 55 yards in every game this season.

Suisham
Shaun Suisham: The Redskins were headed toward an emotional home victory over the undefeated Saints. But Suisham couldn't close the deal. With the Redskins leading 30-23 late in regulation, Suisham was wide right on a gimme 23-yard field goal attempt that would have iced the victory for Washington. The miss opened the door for Brees and the Saints, who rallied for an overtime victory.


Freeman
Josh Freeman: Freeman threw five interceptions -- three near the goal line -- in the Buccaneers' 16-6 loss to Carolina. The rookie's biggest error came on fourth-and-goal from the Panthers' 2-yard line with Tampa Bay trailing 13-6 early in the fourth quarter. Freeman's pass into the end zone was picked off by Chris Harris.

Rams
The Rams' offense: Besides Steven Jackson, there are very few bright spots for the Rams. Jackson rushed for 112 yards in St. Louis' 17-9 loss to Chicago, but the Rams' offense was feeble as a whole. The Rams were 2-of-14 on third-down conversions, and QB Kyle Boller threw for just 113 yards and got sacked three times.
NFL WEEK 13 COVERAGE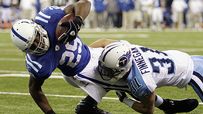 MNF: Packers 27, Ravens 14
COMMENTARY/BLOGS