Super Bowl predictions: Our experts weigh in
Originally Published:
February 1, 2008
ESPN.com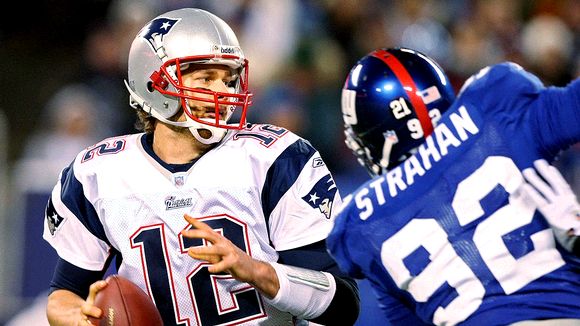 Al Bello/Getty ImagesTom Brady's ability to avoid the Giants pass rush will go far in determining Sunday's winner.
More Super Bowl Picks
Bill Simmons: Expect the Patriots to romp
Gene Wojciechowski: 15 reasons Pats will win
Sunday Countdown: Ditka, Emmitt & more
NFL Experts: Jaws, Mortensen, others
ESPN Radio: Golic, Greenberg, Tirico, Cowherd


Ex-NFL players: Jerry Rice, Jim Kelly, others


Celebrities: From Paul Newman to Carrot Top
Madden Sim: Patriots will win by eight
AccuScore: How the computer sees it
SportsNation: Your turn: Which team will win?
PHOENIX -- Who'll win Super Bowl XLII? It could be the Patriots in a blowout. Or maybe they'll sweat it out in the final minutes. Or maybe the Giants in a stunner. After all, few people give them a chance to knock off an unbeaten New England team that has already been lauded in some corners as the best in NFL history.
"I think it will be a shock-the-world thing," veteran Giants cornerback Sam Madison said. "But it's not going to shock us. We know we can play with these guys."
Teammate Plaxico Burress certainly thinks so -- he predicted a 23-17 Giants win earlier this week. Of course, while Burress gets a chance to actually influence the outcome of Sunday's game, the rest of us must be content with just making our predictions, sitting back and watching.
So how do our experts see it? The Pats are the heavy favorites, to be sure, but it's certainly not unanimous. The only thing we know is that everybody has an opinion on the game.
---
Jeffri Chadiha: Giants, 24-23
The Giants will benefit from having played New England once already. They're confident that quarterback Eli Manning can make big plays against the Patriots secondary and that their pass rush is also capable of causing problems for New England QB Tom Brady.
The Giants also watched two different teams hold Patriots wide receiver Randy Moss to just one catch. If the Giants can shut down Moss and harass Brady, the game won't even be this close. But since it's hard to do both, expect this one to come down to a last-second field goal and a Giant -- as in colossal -- upset.
---
John Clayton: Patriots, 38-24
Patriots coach Bill Belichick has been a master of making his players accountable. Even when they were blowing out teams by 25 or more points early in the season, players spent more time after games talking about their mistakes instead of the good plays they made. That kind of focus has made them more efficient.
Expect Tom Brady, despite the high ankle sprain, to win the Super Bowl MVP because the Patriots will go back to the four- and five-receiver pass plays that allowed him to throw for 50 touchdown passes. Meanwhile, the defense won't allow the four red zone touchdown passes that the Giants managed in their regular-season meeting.
Belichick needs to squeeze one more game and one more win out of this talented group. No team in football is better at finishing games -- and now the Pats will apply that mindset to finishing their perfect season.
---
Matt Mosley: Patriots, 31-17
I think the Giants will use Brandon Jacobs and Ahmad Bradshaw to keep the Patriots off the field in the first half. I also think Steve Spagnuolo's defense will sack Tom Brady twice in the first half.
The Giants will be up, 10-7, at the half. But in the second half, Brady will start finding Wes Welker across the middle. He's the guy who killed the Giants in the Meadowlands in Week 17, and rookie cornerback Aaron Ross can't match up with him. You'll also see Patriots linebacker Mike Vrabel catch the 11th touchdown pass of his career.
Spagnuolo wants to play a lot of man coverage, and I just don't think Sam Madison and Corey Webster can hold up for an entire game. Brady will finish 25-of-34 for 285 yards and three touchdowns. Eli Manning will play well, but I think the Giants will struggle in the red zone.
---
Len Pasquarelli: Patriots, 31-20
The outcome will come down to in-game adjustments, and no one is better at that than Bill Belichick and his staff, who are always tough to beat when they have two weeks to prepare.
The Giants will play fearlessly, as they did in the regular-season finale, but New England will make a few more big plays.
---
Mike Sando: Patriots, 30-20
Since beating the Bills, 56-10, for their 10th win of the season, the Patriots haven't been nearly as dominant. They won those first 10 games by an average of 25 points; in their last eight wins (including playoffs), they've won by a 10-point average. But this should not be cause for alarm. The 1962 Green Bay Packers, arguably the greatest team in NFL history, won by an average score of 32-7 in their first nine games, but only 23-15 over their final six. They still won it all.
The Giants might pull the upset -- Eli Manning is playing like a champion -- but picking against New England is like hitting on 18 in blackjack. You get credit for good fortune, not smarts, if you happen to draw a three.
More expert picks
ESPN.com NFL editors
Name
Score
Why?
John Banks
Patriots 42,
Giants 21
Plaxico Burress and the Giants are talking a good game, but this Super Bowl has the look and feel of a blowout. Expect it to be over by halftime.
Mike McAllister
Patriots 34,
Giants 24
At some point, probably early in the fourth quarter of a close game, it will suddenly hit Eli Manning. We may just win this friggin' thing. He'll tighten up. He'll make a mistake. It might be his only one -- but it will be huge. Momentum will change. The Pats will pounce. Game over.
Scott Symmes
Giants 27,
Patriots 24
The Giants didn't have much incentive to play hard or much karma in Week 17, yet they nearly ruined the Pats' bid for a perfect regular season. Now the G-Men have both, and the stars just seem to be aligned for a monumental upset.
Sheldon Spencer
Giants 27,
Patriots 23
A Patriots' rally falls short inside the Giants' 10-yard-line in the final minute.
Scouts Inc.
Name
Score
Why?
Jeremy Green
Patriots 27,
Giants 23
The Pats will win but it won't be quite as wild as the first meeting. The Giants will continue their hot play, but the Patriots are just too loaded across the board.
Keith Kidd
Patriots 27,
Giants 20
Simply put, the Patriots are the best team in football. They have been spectacular all season long and while the Giants are playing with a lot of confidence, the Patriots will finish the season undefeated.
Matt Williamson
Patriots 33,
Giants 20
New England will score quickly and grab this game by the throat. The Giants will score late to make the game closer than it really was, but the Pats will win to go down as the best team of all time.
Ken Moll
Patriots 28,
Giants 17
Both teams are playing with great confidence and believe they can win, but the Patriots win this game going away in the fourth quarter as they are clearly the better ball club. If Eli Manning and the Giants play mistake-free football, the game will be close at the end, but I think the Giants will have some turnovers in this contest.
Doug Kretz
Patriots 31,
Giants 17
Bill Belichick will find some way to eliminate either Plaxico Burress or Brandon Jacobs (more than likely Burress) and frustrate Eli Manning. In their attempt to play catch-up ball, the Giants will make some costly mistakes and lose this game.
Marwan Maalouf
Patriots 28,
Giants 27
Both defenses will play well, thanks to being familiar with the opposing offenses due to their Week 17 meeting. The Patriots will come from behind to beat the Giants in the final minute.
Gary Horton
Patriots 31,
Giants 20
Any time you give Bill Belichick two weeks to prepare for an opponent, you're going to see a unique game plan and he'll have one that will frustrate Eli Manning and the Giants. Also, on a good field with perfect weather conditions, the Patriots simply have too many offensive weapons for the Giants to contend with.
ESPN.com writers
Name
Score
Why?
Bill Simmons
Patriots 42,
Giants 17
If this Patriots season really is a perfect storm, then the Super Bowl should end like that Clooney movie. In other words, the Patriots would charge out to an early lead, throw all over the place, make a couple of big plays, put the Giants on their heels, force the Giants to abandon their running game and put Eli Manning in the position of playing from behind.
Greg Garber
Patriots 38,
Giants 21
Nice weather enables Pats' offense.
Gregg Easterbrook
Giants 20,
Patriots 19
This was the score 17 years ago when the Giants staged the most recent major Super Bowl upset over the heavily favored Bills, who had a record-setting offense.
Jemele Hill
Patriots 38,
Giants 31
Tom Brady becomes quarterback immortal.
Wright Thompson
Giants 35,
Patriots 3
Ole Miss (Manning) finally gets revenge on Michigan (Brady) for the 1991 Gator Bowl. The ghost of Greg Skrepenak is exorcised. (Note to all those who think I've lost my mind: This.Is.A.Joke.)
SPONSORED HEADLINES
MORE NFL HEADLINES
MOST SENT STORIES ON ESPN.COM
SUPER BOWL XLII

In one of the great Super Bowl upsets, the Giants defeated the Patriots 17-14 in Super Bowl XLII in Glendale, Ariz.
Super Bowl Central

• Hashmarks blog: Mosley, Sando in Arizona


Game coverage
•
Belichick ready to move on from Super Bowl loss
•
Nevada sports books lose record $2.6M
•
View to a thrill: Record 97.5 million watch XLII
•
Giants' win shatters viewership records
•
Clayton: Can the Giants repeat?
•
Simmons: Free fallin'
•
Giants spoil Pats' perfect season
•
Wojciechowski: Blame Pats for this debacle
•
Wickersham: Brady dazed and confused
•
Clayton: Eli lets instincts take over
•
Clayton: N.Y. 'misfits' harass Brady
•
Sando: Was Brady rattled?
•
Mosley: Belichick left a second early
•
Chadiha: Ten things we learned
•
Garber: Tyree's catch one for the ages
•
Zoom galleries
1
|
2
|
Great SB upsets
•
SportsNation: Best Super Bowl?
•
SportsNation: Biggest SB upset?
•
SportsNation: Your favorite commercials?
Commentary/Features
•
Clayton: Top five contenders for the next SB
•
'72 Fins breathe sigh of relief after Giants win
•
Chadiha: Giants enjoy underdog role
•
Sando: Coughlin, Giants made it work
•
Super Bowl picks: Our experts weigh in
•
Merrill: Nine previously perfect Patriots
•
Merrill: Harrison deals with his rep just fine
•
Clayton: Giants' O-line worthy of accolades
•
Pasquarelli: Tip Sheet
•
Pasquarelli: Tip Sheet notes

•
Wojciechowski: 15 reasons Patriots will win
•
E-ticket: Patriots' man of mystery
•
Sunday Countdown
•
Clayton's First and Goal
•
Chadiha: Giants miss Shockey
•
Garber: Injured war vet inspires Giants
•
Pasquarelli: The Pats' crucial cameos
•
Garber: In Brady's world, insecurity remains
•
Merrill: Hixon's traumatizing season
•
Football Outsiders: SB numbers crunching
•
Pasquarelli: Patriots' silent sentinel
•
Wojciechowski: Unflappable Eli
•
Sando: Brady rising among all-time QBs
•
Chadiha: Giants' rookies playing prominent role
•
Fleming: Cardinals/Pottsville Curse
•
Clayton: Youth serving Giants well
•
Chadiha: Ranking the best QBs by decade
•
Klancnik: Top QBs by jersey number
•
Hashmarks: Media day coverage
|
Gallery
•
Pasquarelli: Pats' old-school LBs
•
Helyar: Marketing windfall for Eli Manning
•
Garber: Seau's ring quest
•
Pasquarelli: Bruschi's full-circle journey
•
Animated plays
•
From the research room
•
Chadiha: Pierce just wants to win
•
Wojciechowski: Explaining Bill Belichick
•
Helyar: Recession? Not at Super Bowl!
•
Giants' Snee doesn't stray from roots
•
Sando: Seymour in eye of storm
•
Merrill: Welker scales new heights for Pats
•
Pasquarelli: Brady is ready to play
•
Garber: The preservation of Plaxico
•
Pasquarelli: Hill's spirit lives on
•
Clayton: Giants' juggling act at CB works
•
Wickersham: Giant ideas
•
Klosterman: All too perfect
•
Crown Jewels: A look at Super Bowl rings
•
FB Outsiders: Giants one of worst SB teams
•
Helyar: Patriots will drive TV ratings
•
Clayton: First and goal
•
Chadiha: Giants' glory road
•
Mosley: Brady's ankle saves the week
•
Woj: Preseason predictions revisited
•
Merrill: David Woodley's dark spotlight
• Former SB QBs:
Plunkett
|
Rypien
|
Ferragamo
• More:
Morton
|
Humphries
|
Hostetler
|
Eason
•
Starting matchups of Super Bowl QBs
• Ranking the QB performances:
1-40
|
41-82
•
Jaworski: Six Super Bowl surprises

•
Joyner: Brady's bad decisions

•
Clayton: Eli's managing fine
•
Chadiha: Focused Giants
•
AccuScore simulation: Pats to prevail
•
Chadiha: First Look at the Super Bowl
•
Playoff schedule
Spy Games
News
•
Vermeil doubts spying made difference for Pats
•
Fish: Ex-Ram Warner suspicious of Pats in SB XXXVI
•&nbsp
Report: Pats taped Rams' SB walk-through
•
Specter to Goodell: Let's talk
•
Fish: Possible 'Spygate' witness surfaces
Commentary
•
Easterbrook: NFL can blame itself for scandal's timing
•
Munson: Congressional interest serious
•
Pasquarelli: Specter should stick with politics
•
Clayton: Spy saga won't distract Patriots
•
Hashmarks at Goodell's news conference
Letters
•&nbsp
Specter to Goodell (.pdf)
•&nbsp
Goodell to Specter (.pdf)
Page 2
•&nbsp
Gallo: Five stages of heartbreak for Pats' fans
•
Hill: Best Super Bowl parties
•
Hill: Teflon Tom Brady
•
Popculture roundtable on the Super Bowl
•
Hill: Raiders quit on Moss
•
Flem File at the Super Bowl
•
Fleming: Defining greatness
•
Best teams never to win a title
•
TMQ: Title-game analysis
•
Why Boston teams are so good
•
Gallo: Countdown to kickoff
•
More from Page 2
News
•
Brady ankle not on injury report
•
Brady on Plax prediction: Only 17 points for Pats?
•
Carey named first black Super Bowl referee
•
Brady practices in Pats' first Super Bowl session
•
Ross gets sick as unified Giants face flu
•
NFL not worried about spying
•
Security high for Super Bowl
•
Williams to be honored during Super Bowl
•
Bootless Brady departs for Arizona
•
Tickets reselling for average of $4,300
•
Burress: Giants' receivers are better
Scouts Inc.
•
Roundtable: Seven scouts weigh in
•
Super Bowl XLII X Factors
•
Coaching comparison: Styles vary, results same
•
Defensive line breakdowns
•
Horton: Notes from the film room (Day 5)
•
Matchups to watch in Super Bowl XLII
•
Running-game breakdown
•
Horton: Notes from the film room (Day 4)
•
QB tale of the the tape
•
Horton: Notes from the film room (Day 3)
•
Ranking NFL QBs 1-64
•
Take II on Super Bowl XLII
•
Giants' DBs overmatched or underrated?
•
Horton: Notes from film room (Day 2)
•
Horton: 10 things to watch in SB XLII
•
Horton: Notes from the film room (Day 1)
•
A tale of two underrated O-lines
•
Take I on Super Bowl XLII
•
Players ranked Nos. 1-106

SportsNation
• Vote:
Which team will win?
• Vote:
Who wins the head-to-head matchups?
• Vote:
Which team are you rooting for?
• Conversation:
Talk Super Bowl XLII
• Map:
Which states are picking the Giants?
• Quiz:
42 Super Bowl history questions
• Chat:
Buzzmaster: Hello from Arizona!
• Chat:
Buzzmaster: Live from Media Day
• Chat:
Buzzmaster: Live with oddsmaker
• Chat:
Buzzmaster: Live with Matt Hasselbeck
• Chat:
Buzzmaster: Live with Gregg Easterbrook
• Rank:
Super Bowl's best individual performances
• Rank:
Super Bowl coaches
• Rank:
Super Bowl careers
• Rank:
Super Bowl teams
• Rank:
Super Bowl games
• Rank:
Greatest all-time quarterbacks
• Vote:
Potential for QB greatness?
• Quiz:
Greatest quarterbacks
• ABCNews:
Super Bowl or Super Tuesday?
• Chat Rewind:
When did undefeated talk start?
• Vote:
Can we proposition you?
• Pulse:
What is SportsNation saying about XLII?