1:00 PM ET, October 20, 2013
Georgia Dome, Atlanta, GA
Top Performers
Passing: M. Ryan (ATL) - 273 YDS, 3 TD
Rushing: D. Martin (TB) - 11 CAR, 47 YDS
Receiving: H. Douglas (ATL) - 7 REC, 149 YDS, 1 TD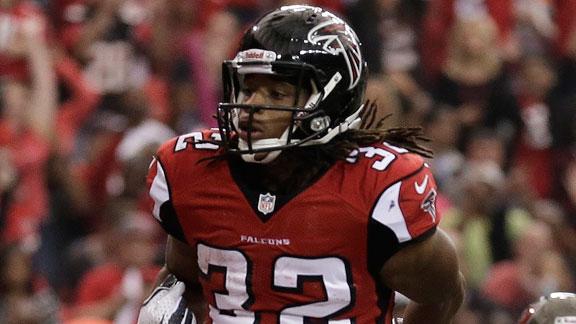 Sunday Blitz: Buccaneers-Falcons Recap
Sunday Blitz: Buccaneers-Falcons Recap
VIDEO PLAYLIST
The Atlanta Falcons and Tampa Bay Buccaneers have had plenty of trouble staying healthy during their difficult starts to the season, but the Falcons suffered perhaps their most significant loss before their bye week.
Atlanta leading receiver Julio Jones is out for the year, and it also won't have Roddy White available when it hosts the winless Buccaneers on Sunday.
The Falcons (1-4) lost Jones to a foot injury that required surgery, and it was announced Friday that White would miss a game for the first time in his nine-year career due to hamstring and ankle problems.
Running back Steven Jackson will sit out his fourth consecutive game because of an ailing hamstring.
One of Atlanta's other running backs, Jason Snelling, suffered a concussion in a 30-28 loss to the New York Jets on Oct. 7 but could return this week. Left tackle Sam Baker was forced to sit out that game with a knee injury and is out again this week, linebacker Akeem Dent (ankle) is questionable.
"We're in a difficult streak with injuries right now, but I think as coaches we look at it as a challenge," offensive coordinator Dirk Koetter said. "No one thinks you have a chance right now, so let's try to figure out a way to get this done."
The absences of Jones and White could mean that Matt Ryan might have to continue to rely on veteran tight end Tony Gonzalez as his top target. Gonzalez has 22 catches for 246 yards and two touchdowns in the last two games.
The Buccaneers (0-5) are still dealing with the effects of an outbreak of MRSA, a staph infection that is resistant to many antibiotics. Guard Carl Nicks was forced to have surgery on his foot because of his infection and kicker Lawrence Tynes remains out.
"Whatever the distractions are, we collectively have to push them to the side," coach Greg Schiano said. "It doesn't mean you don't care about them. It doesn't mean you don't do the things that are needed to be done. But we're here for a reason. To win football games. We need to do that. We haven't, but we're going to."
A third infected player, rookie cornerback Johnthan Banks, was cleared to play in a 31-20 defeat to Philadelphia last Sunday. With rookie quarterback Mike Glennon making his second start, Tampa Bay trailed 21-20 early in the fourth quarter before allowing the Eagles to pull away.
Glennon threw for 273 yards and two touchdowns while getting picked off once. He had 193 yards, one TD and two interceptions in his pro debut, a 13-10 defeat to Arizona on Sept. 29.
The Buccaneers have suffered three of their five losses by three points or fewer during their worst start since beginning 0-7 in 2009.
"Every team is going through their issues," Schiano said. "We need to find a way to get it done, and that's what we need to do this week."
All four of the Falcons losses have been by seven or fewer points.
"We've got to do what we've got to do to stay close as a team so we can turn this thing around," wide receiver Harry Douglas said. "You can't moan and complain. You can't point fingers. And that's one thing we do a great job of. We've owned up to the mistakes we've made in games. Now we just have to turn the ship around."
Atlanta has won seven of the last nine matchups with its NFC South rivals but fell 22-17 at home in the most recent one Dec. 30. Doug Martin had a 40-yard touchdown run late in the third quarter and finished with 142 yards for the Buccaneers.
Martin has been limited to a combined 112 yards in the past two contests, and the status of receiver Mike Williams is uncertain after he missed last week's game due to a sore hamstring.
Vincent Jackson had nine catches for 114 yards and two touchdowns with Williams out after registering 10 receptions, 138 yards and no TDs in his previous three games.
More from ESPN.com
Boise State interviews Falcons OC Koetter
Atlanta offensive coordinator Dirk Koetter has talked to Boise State about its head coaching position, head coach Mike Smith confirmed Monday.
Glennon bounces back as Bucs blow out Bills
Rookie Mike Glennon rebounded from one of his worst performances of the season to throw two touchdown passes and lead the Tampa Bay Buccaneers a 27-6 victory over the struggling Buffalo Bills on Sunday.
Packers convert key turnover, halt skid at 5
Matt Flynn threw for 258 yards and the Packers' struggling defense forced a key fourth-quarter turnover in a 22-21 win Sunday over the Atlanta Falcons to snap a five-game winless slide.
Falcons' DeCoud (head injury) won't return
Atlanta Falcons starting free safety Thomas DeCoud is out for the rest of Sunday's game against the Green Bay Packers after suffering a head injury.
Matchup
TB

ATL

W-L
0-6
2-4
Avg Points
14.5
25.5
Avg Points Allowed
22.0
26.2
Home Record
0-3
2-2
Road Record
0-3
0-2
Division Record
0-2
1-1
Conference Record
0-4
2-1
Complete Standings
Team Averages & NFL Ranks
TEAM OFFENSE
TEAM
PER GAME AVERAGE
Total Yards
TB

291
ATL

349
Yards Passing
TB

181
ATL

268
Yards Rushing
TB

111
ATL

81
TEAM DEFENSE
TEAM
PER GAME AVERAGE
Yards Allowed
TB

342
ATL

379
Pass Yds Allowed
TB

238
ATL

246
Rush Yds Allowed
TB

104
ATL

134
Head to Head Matchups (Since 2001)
Series tied 12-12
Dec 30, 2012
TB 22, @ATL 17
Nov 25, 2012
TB 23, ATL 24
Jan 1, 2012
TB 24, @ATL 45
Sep 25, 2011
TB 16, ATL 13
Dec 5, 2010
TB 24, ATL 28
Nov 7, 2010
TB 21, @ATL 27
Jan 3, 2010
TB 10, ATL 20
Nov 29, 2009
TB 17, @ATL 20
Dec 14, 2008
TB 10, @ATL 13
Sep 14, 2008
TB 24, ATL 9
Dec 16, 2007
TB 37, ATL 3
Nov 18, 2007
TB 31, @ATL 7
Dec 10, 2006
TB 6, ATL 17
Sep 17, 2006
TB 3, @ATL 14
Dec 24, 2005
TB 27, ATL 24
Nov 20, 2005
TB 30, @ATL 27
Dec 5, 2004
TB 27, ATL 0
Nov 14, 2004
TB 14, @ATL 24
Dec 20, 2003
TB 28, ATL 30
Sep 21, 2003
TB 31, @ATL 10
Dec 8, 2002
TB 34, ATL 10
Oct 6, 2002
TB 20, @ATL 6